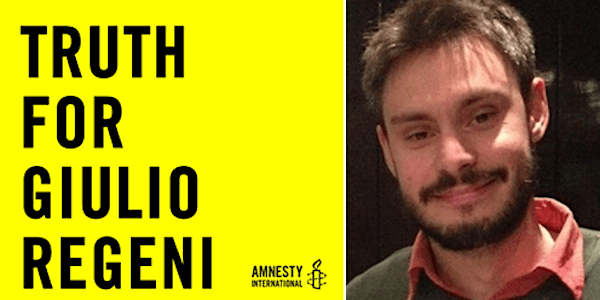 Truth for Giulio Regeni: State Crime and Justice for Egypt's Disappeared
Location
Queen Mary University of London
Mile End Road
London
E1 4NS
United Kingdom
Description

International State Crime Seminar Series 2016-17

'Truth for Giulio Regeni: State Crime and Justice for Egypt's Disappeared'
Dr. Anne Alexander, University of Cambridge
Shane Enright, Amnesty International, UK's Trade Union Campaigner
Giulio Regeni disappeared on 25 January 2016 in Cairo, where he was researching independent trade unions for his PhD in Development Studies at the University of Cambridge. On 3 February his body was found bearing signs of severe torture which human rights groups say are the hallmarks of the Egyptian security forces.
Amnesty International's research has exposed how Giulio's case is not an isolated incident but part of a broader state policy in Egypt where enforced disappearances and torture have become all too common. The ongoing human rights abuses by the Egyptian security forces and judiciary pose a grave threat to academic freedoms and freedom of expression.
Please join us at the International State Crime Initiative's fifth seminar of its 2016-17 State Crime Seminar Series as we keep the momentum going in support of a joint national campaign by Amnesty International UK and UCU to demand Truth for Giulio and justice for Egypt's disappeared. Dr. Anne Alexander (Cambridge) and Shane Enright (Amnesty International) will explore issues related to the transnational Truth for Giulio / Verità per Giulio campaign and state crime in Egypt.
Event details:
Thursday 20 April 12:00 – 2:00p.m.
Mile End Campus – Law Building, Room 313
A light lunch will be served. We kindly request all attendees to register their
interest for cateringpurposes.