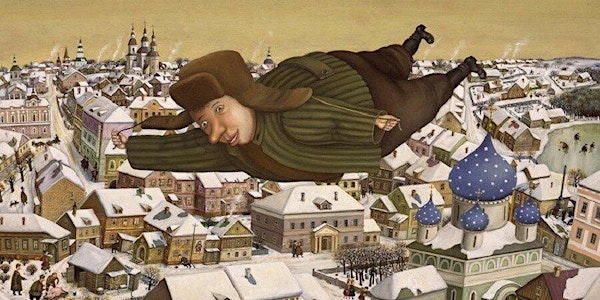 Truth, Reality and Imagination Interpretations from East and Central Europe
16th Biennial International Postgraduate Conference at UCL SSEES
About this event
What is truth? This question has been proposed by humanity since biblical times. Our conference will focus on the concepts of truth, reality, perception and imagination across the post-Socialist communities of Russia, Eastern and Central Europe.
There are many examples from the region showing how truth is malleable, ranging from official propaganda to interpersonal discourse. The dissolution of the Soviet Union and the transition to capitalism challenged perceptions of reality. Consequently, we see that interpretations of the past and understanding of the present in post-socialist societies are in a state of flux.
We are looking to bring together early-career scholars from across academic disciplines, including but not limited to politics, international relations, economics, history, sociology, social anthropology and inter-disciplinary fields in order to spur discussion across disciplines on issues of reality and imagination in the (re)construction of past and present in Eastern and Central Europe.
The conference will also be holding a roundtable on academic publishing, featuring some of the most prominent publishers in the field, as well as several academic journal editors who will give their insight on what they expect from articles and academic books.
We hope that this conference will provide an opportunity for postgraduate students and early career researchers to present their research to a broad, cross-disciplinary audience, as well as to network with other scholars of the Central and Eastern Europe and the Former Soviet countries.
More information and full programme on the SSEES website (https://www.ucl.ac.uk/ssees/events/2020/feb/truth-reality-and-imagination-interpretations-eastern-and-central-europe). Please refer to this programme, as you will be asked to select tickets for individual panels, during booking.
Programme
19 February 2020
10:00 – 11:30
Panel 1: Cinema and Literature
Chair: Dr Seth Graham
10:00 – 11:30
Panel 2: Populism
Chair: Dave Dalton
10:00 – 11:30
Panel 3: History and Philosophy
Chair: Prof Geoffrey Hosking
11:45 – 13:15
Panel 4: Politics of Memory
Chair: TBC
11:45 – 13:15
Room 432
Panel 5: Memory and Identity in Czech Republic
Chair: Dr Thomas Lorman
11:45 – 13:15
Room 433
Panel 6: Societies in the Digital Age
Chair: Bohdana Kurylo
14:15 – 16:00
Women in Academia Roundtable:
Chair: Dr Erica Richardson (London School of Hygiene and Tropical Medicine)
Participants: Jasmin Dall'Agnola (Oxford Brookes),
Bohdana Kurylo (UCL SSEES),
Alexandra Bulat (UCL SSEES),
Anna Glew (University of Manchester)
Andrea Peinhopf (UCL SSEES).
16:00 – 16:15, Masaryk room
16:15 – 17:30
Keynote Speaker: Prof Stephen Lovell
17:30 – 19:30, Masaryk room
Day 2
20 February 2020
9:30 – 10:00
Morning welcome and Coffee
10:00 – 11:30
Panel 7: Caucasus and Central Asia in a Global Context
Chair: TBC
10:00 – 11:30
Panel 8: History and its Contemporary Usage
Chair: Dr Uilleam Blacker
10:00 – 11:30
Panel 9: National Identity
Chair: Prof Anne White
12:00 – 13:30
Panel 10: Re-addressing History
Chair: Julia Klimova
12:00 – 13:30
Panel 11: Role of Museums in National Identity Construction
Chair: Sarah Moore
12:00 – 13:30
Panel 12: Media and Propaganda
Chair: Prof Andrew Wilson
13:30 – 14:30, Masaryk room
14:30 – 16:15
How to Get Published: Roundtable
Publishers: Palgrave Macmillan, Routledge, De Gruyter and JP Publishing
Academic Journals:
Prof Diane Koenker: Slavic Review;
Andrew Kilmister: Journal of Contemporary Eastern and Central Europe;
Dr Thomas Lorman: Central Europe;
Prof Adam Fagan: East European Politics
Prof Wendy Bracewell: Journal of East European Politics and Societies.
16:45 – 18:00
Keynote Speaker: Prof Alena Ledeneva
Organiser of Truth, Reality and Imagination Interpretations from East and Central Europe