Event Information
Location
National STEM Learning Centre
Siwards Way
Heslington
York
YO10 5DD
United Kingdom
Refund Policy
Refunds up to 7 days before event
Description
COMPUTER and CALCULATOR WORKSHOP
FOR SECONDARY MATHEMATICS
National STEM Learning Centre, York



A great chance to improve your skills by learning from experts

DOUGLAS BUTLER: Maths teacher, TSM workshops (20 years), creator of TSM-Resources website, and co-author of Autograph.

MICK BLAYLOCK: Maths teacher, HMI (2002-06), formerly Head of Core Maths Support Programme, currently MMU associate lecturer, A level examiner and freelance mathematics education consultant supporting developments in post-16 mathematics.
MARK HESLOP: Maths teacher, Urmston Grammar School, Manchester. One-time engineer (testing prototype cars) and a former member of the ALCAB Mathematics panel. He currently also supports schools on the new A Level Specification for Edexcel.
...
Assisted by
Martin Withington, Maths Teacher and long time TSM tutor
Leona So, Maths Teacher and ILT Champion, formally at The Manchester College
1 other tbc.

All attendees should bring a laptop (PC/Mac) - plugs available and a calculator as appropriate. All will receive a complimentary copy of the exciting new Autograph 4.

We are grateful to CASIO CALCULATORS (UK) for their generous sponsorship of this event, enabling the fees to be reduced by £15.

We are also grateful to the NATIONAL STEM LEARNING CENTRE for the use of their superb workshop facilities.

WORKSHOP URL: bit.ly/tsm-york


---
GETTING TO THE WORKSHOP
BY CAR: there is free parking in "Campus North, York"
BY TRAIN: Bus 66 runs every 10 minutes from York Station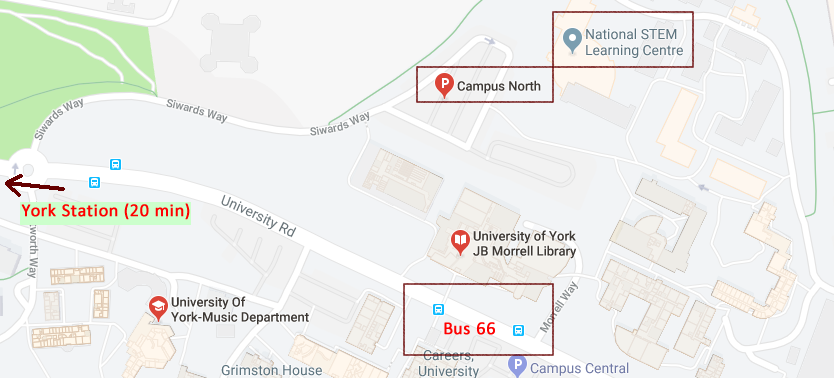 Google Maps link

COMING FRIDAY EVENING?
B&B accommodation is available in Franklin House, opposite the STEM Centre for £38 + vat. Email: enquiries@stem.org.uk to book, or call 01904 328300.

---
SCHEDULE FOR THE DAY
09:30 Registration and coffee

=== 10:00-10:55 PLENARY ===
Welcome:
10:00 - Steve Lyon, Mathematics Specialist, STEM Centre, York
10:05 - Gerard Dummett, UK Education Manager, Casio Calculators
Tutors' Challenges:
10:10 - Douglas Butler
10:25 - Mick Blaylock
10:40 - Mark Heslop

=== 11:00-13:00 WORKSHOPS A ===

A1 - "Autograph 4 for teaching KS3-4 and A level"
Douglas Butler, with Leona So:
This session will introduce the use of attributes in the exciting new Autograph 4, and look at the power of visualisation for KS3-4 topics, including inverse functions, estimating gradients of graphs, and completing the square. There will also be a look at some KS5 topics in 2D and 3D, including the new Argand Diagram page: this enables representation of complex numbers as dynamic objects.
Autograph 4: Download - Manual - Video - 4pp summary

A2 - "Advanced Scientific Calculators (for Core Maths and A level)"
Mick Blaylock, with Martin Withington:
Calculators are increasingly powerful and are an essential tool in examinations. For the new A-level exams the expectation is that they should be used 'to compute summary statistics and access probabilities from standard statistical distributions'. This session will explore features of the new advanced scientific calculators and the best approaches to embed them in teaching. Please bring your own calculator
A3 - "Problem Solving using Graphic Calculators (for AS/A level Mathematics)"
Mark Heslop, with A.N.Other
Using the CG50 as a teaching aid for trigonometry, numerical methods, calculus, modelling mathematically and hypothesis testing for the new specification.
=== 13:05-13:55 LUNCH ===
Philip Yorke, from CHARTWELL-YORKE, will display useful maths software such as 'MathType', 'MathsNet' and 'Teach A-Level Maths Powerpoints', on offer alongside Autograph 4 and Autograph books.
Gerard Dummett from CASIO CALCULATORS (UK), will display the full range of calculators suitable for KS3-5

=== 14:00-16:00 WORKSHOPS B ===

B1 - "Autograph 4 for teaching Statistics and large data"
Douglas Butler, with Leona So:
This will include data handling topics in GCSE: effective ways to create single variable and bivariate sample data; how visualisation can secure understanding of scatter diagrams and large data sets; and the all-important topic of histograms, to insure a correct handling of frequency density.

B2 - "Spreadsheets and Large Data Sets"
Mick Blaylock, with Martin Withington:
Excel is an important tool for Maths teaching and has been an ingredient of all TSM workshops. This session will explore relative, absolute and mixed references for exploring number properties, patterns, series and modelling, including optimisation problems. It will also explore ways of working with the large data sets provided for the new A-levels by AQA, Edexcel and OCR. Additionally ideas for using online data, including the TSM Resources collection of downloadable data. will be explored.
B3 - "Graphic Calculators for AS/A level Further Mathematics"
Mark Heslop, with A. N. Other
Using the CG50 as teaching aid for vectors and planes in 3 Dimensions, conic sections, getting the most out of the Matrix functions and polar coordinates.


=== 16:00 TEA and depart ===

---
You can indicate your workshop preferences when you order your ticket. There is a discount for two or more teachers to attend from one school so that more than one strand can be covered. Download instructions and serials for Autograph 4 will be sent out to the email address you enter when you register for this workshop.
Contact the organiser: Douglas Butler
Date and Time
Location
National STEM Learning Centre
Siwards Way
Heslington
York
YO10 5DD
United Kingdom
Refund Policy
Refunds up to 7 days before event