In this free school leaders' webinar, learn how to fund and run successful tuition programmes at your school.
About this event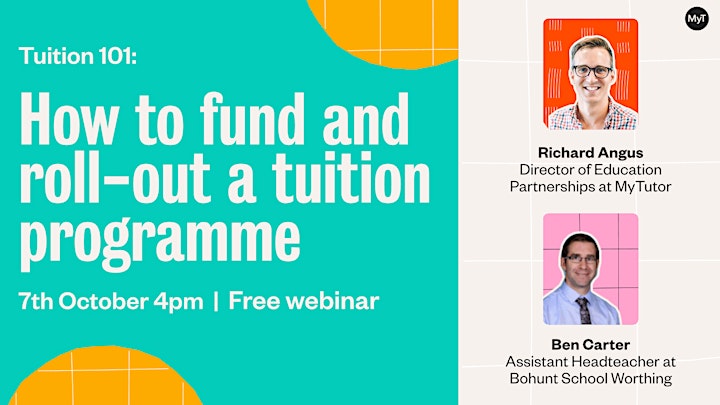 This free event is for secondary school leaders looking to:
Use tuition as part of their attainment strategies
Learn what types of funding are available to cover tuition costs
Get practical tips on how to set up an effective tuition programme
Over the past two years, schools have had to face overwhelming disruption. As part of a national education recovery effort, three key funding pots are available to schools to fund tuition to help disadvantaged pupils with lost learning.
However, school leaders are still finding some grey areas around the nature of the national tuition schemes, and how they can be used and combined effectively to boost attainment through online tuition.
In this webinar, we'll hear from Ben Carter, Assistant Headteacher at Bohunt School Worthing, and Richard Angus, Director of Education Partnerships at MyTutor, on how schools can use tuition to boost achievement and bridge the attainment gap. We'll also explore the tuition funding pots available and hear first-hand advice and top tips on running successful tuition programmes.
In this webinar, we'll dive into:
An introduction to online tuition programmes and how to use them to boost achievement in schools.
A dive into the 3 main funding grants available to access and set up tuition including the School-Led tutoring grant, Pupil Premium and the National Programme (NTP).
Best practice on running successful tuition programmes: from choosing the right pupils to programme size to help boost attainment.
The agenda:
16:00 - Webinar arrival and intro
16:05 - Welcome & School Tuition Routes Intro - Richard Angus, MyTutor
16:20 - Guest speaker: Ben Carter, Bohunt School Worthing
16:40 - Q&A - Discussion and questions
17:00 - Wrap-up
About our speaker:
Ben Carter, Assistant Headteacher
Ben is the Assistant Headteacher for post-COVID response at Bohunt Worthing in West Sussex, a mixed school on the south coast. Ben oversees the school's organisation of online tutoring, ensuring that Year 11 after-school revision is organised to the best effect, and liaising with parents and external partners about how best to support students. Bohunt School Worthing is part of a large multi-academy trust with 9 secondary schools, and Ben supports other schools in the trust to ensure that extra support is well attended and impactful.
FAQ
Who can attend?
Executive Headteachers, Headteachers, Deputy and Assistant Headteachers, SENCOs, Heads of Year and Department, Multi-academy trust CEOs, Regional Directors & Education Directors.
How do I join the webinar?
Once you've registered to attend, we'll share details of how to access Zoom, including the URL for launching the webinar, in advance of the event via email.
If you have any other questions or queries, please contact partnerships@mytutor.co.uk.
Organiser of Tuition 101: how to fund and roll-out a tuition programme
MyTutor delivers online 1:1 and 3:1 NTP programmes to secondary school pupils across the UK. We work with over 750 schools, including some of the biggest multi-academy trusts in the country, ensuring that students who need personalised support can receive targeted one-to-one attention with high-quality tutors. Historically, pupils who worked with MyTutor made 1 whole grade of progress at GCSE vs. their mocks - 2.5x the progress of their peers.