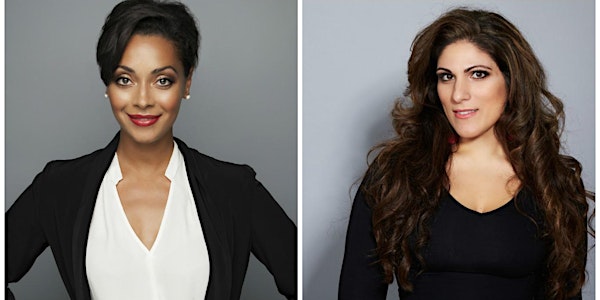 Turning Passion into Pounds UK Tour in collaboration with the British Libra...
Location
BIPC
The British Library
96 Euston Rd
London
NW1 2DB
United Kingdom
Description
The dynamic duo that is PR expert Jessica Huie MBE and prolific mummy blogger Vicki Psarias, one of the UK's most successful bloggers , have teamed up to embark on a UK tour imparting their experience and advice on how to turn your passion into pounds and work on your own terms.
Drawing on the thirty-something mums' proven experience of taking ideas from concept to market, the duo explain how to leverage the digital space for business success and create a flexible work life which you control. From how to master blogging and social media, to how to raise your profile, secure clients and monetise your business/brand, Jessica and Vicki will share their own journeys whilst inviting a panel of some the UK's most accomplished women to share the stage and impart the gems of their experience in making pounds from their passion, with the audience.
Jessica
Jessica Huie MBE is founder of JH Public Relations and Color blind Cards. In recognition for her contribution to diversity and influence on her community, aged just 34 Jessica was awarded an MBE (Member of the Order of the British Empire) being named in the Queen's Birthday Honours list (June 2014).
Inspired by the high-street's lack of representative multi-cultural greeting cards, following a shopping trip for a card to boost her daughter's (then aged 7) self-esteem, Color blind Cards was launched in 2006. The award-winning multi-racial greeting card and gift company is credited with having made history as the first company to secure a presence for a black card range in the UK high street (Clinton Cards 2007) with a range which is currently stocked in ASDA stores and department and independent stores around the UK.
In 2008 Jessica founded JH Public Relations, a PR agency representing personalities and
entrepreneurs. The roster has included Samuel Jackson's Glittering Stars in Dessert Nights event, Kelly Rowland and former Dragon's Den star Hilary Devey. Jessica, who was winner of the Daily Mail's Enterprising Young Brit award was named one of Britain's Most inspiring entrepreneurs by the Evening Standard and sits on Glamour Magazine's Power List as one of the UK's most influential women. Jessica is Ambassador for The British Library and conducts monthly workshops at the venue teaching small business owners how to raise their profile on a budget.
Vicki
Vicki Psarias is one of the UK's best loved and most successful parenting and lifestyle bloggers. Founder of the critically acclaimed parenting, lifestyle, food and beauty blog Honest Mum, and its sister style blog Mummy's Got Style, Vicki is a pioneer of the blogging mum movement and widely accepted as a visionary in the blog space.
A full time professional blogger, award winning filmmaker, mum of two and sometime model and TV presenter (you might have seen Vicki presenting on ITV's Good
Morning Britain and Sky News) Vicki is passionate about encouraging confidence and harnessing ambition in mothers.
As a professional blogger, Vicki writes and has featured in films and campaigns for a diverse range of clients including: Google, Yahoo, Harrods, Selfridges, Net-A-Porter,
Heidi Klein, Topshop, John Lewis, Harrods, H&M, Wolf & Whistle, Esprit, Very,
Joules, Hobbs, Zalando, Motilo, Fashiola, Avenue 32, Clarks, NIVEA UK, L'Oreal
Paris UK, BareMinerals UK, Superdrug, Nova Harley, Seraphine, Cosatto, Great
Plains, The Jacques Vert Group and many more.
Guest Speakers
Natasha Courtenay-Smith
Natasha is a digital strategist and publicist. Clients include Jeremy Vine, Cerys Matthews, BBC 1 sitcom Citizen Khan, The Zita West fertility clinic, Meaby's lawfirm in Mayfair, Instagram star Lizzie King, Dr Jane McCartney and The Good Life Experience festival.
Natasha is an expert on digital transformation and strategy, her first book, The Million Dollar Blog, which is about content marketing for businesses and individuals, will be published in September.
As a former national newspaper & glossy magazine journalist, Natasha brings real editorial expertise to her digital and social media projects. In 2008, having left the Daily Mail newspaper where she was a senior feature writer, Natasha started one of the UK's first online news agencies, Talk to the Press, which provided publicity and news coverage for thousands of members of the public. Talk to the Press was responsible for numerous front page stories & often lead the news agenda in the UK.
Talk to the Press went on to win several business awards, including 'Outstanding New Publicity Solution' and see Natasha featured on Management Today magazine's 35 under 35 list of female high flyers in the UK. Talk to the Press was acquired by the SWNS news group in 2014 and Natasha exited the business following a handover.
Indy Vidyalankara
Indy Vidyalankara is the founder of Indypendent PR, a specialist PR consultancy for broadcast, music and entertainment who recently left a twenty-year career in the corporate world to start a business on her own terms. Mother of two Indy is a seasoned and accomplished former Sony Music UK Director of Communications, Saatchi & Saatchi advertising exec and BBC communicator. With a career spanning two decades working with some of the country's biggest talent on TV, Radio and Music, via Strictly Come Dancing, The Voice, Comic Relief, Children in Need, Radio 1 and a multitude of Sony Music artists.
Indy will explain how she embraced the shift from corporate life to entrepreneurship and overcame her fear of failure. How every woman can create a business which works on her own terms, and how to put things in place so that your business is successful.
Emma Kenny
Emma Kenny has worked in the media as a psychological commentator, presenter and expert for over a decade. Aside from presenting shows across all the terrestrial channels, Emma is Closer Magazines life expert, with a weekly column and a monthly 'on the couch' section, where she interviews celebrities who have experienced issues in their personal lives. During the last three years, Emma set up Make Your Switch, a company dedicated to helping people live their lives in the healthiest and happiest ways possible. Emma is passionate about helping people live the ordinary life in extraordinary ways. A devoted believer in the philosophy of smashing limitations and reframing negative attitudes Emma has a no excuses attitude to happiness.
Simone Dyer
From executive support and artist management for Darcus Beese OBE (President of Island Records) elite stylist Chloe Richardson (Jess Glynne, Tinie Tempah) and global pop star Jessie J, to Make-up artistry for Ed Sheeran and Ms Dynamite, multi-talented Simone Dyer has built a ten-year career travelling the world as part of her day job. Despite achieving significant success early in her twenties, Simone decided her career in entertainment no longer fulfilled her and was exhausting both physically and spiritually. Deciding to career pivot, Simone explains how she found the courage to exit a career path which had come to define her, to retrain in psychotherapy and counselling.
With the vision of impacting the lives of women through empowerment, personal productivity and the overall wellbeing of mind body and soul, Simone is now dedicated to bringing about positive growth for herself and others.
Additional panelists to be announced…