Description
Choose your candlelit corner, or stretch out at a table with people you've never met, and pay homage to communal celebrations of food, thankfulness for it, and watchfulness to what it does to us.
Our cuisine is born and bred in rural Syria, taught in Damascus, and then let loose on the world. And there's no fobbing you off with carbs, or the same dishes minus the meat, either. Expect all the strength of Damascus' three-millennia long culinary traditions, most of which were developed around a population dependant for their daily sustenance on the earth - the plants, berries, grains, seeds, nuts it yields, and all the nuanced flavours that are created through their combination.
If you'd like to reserve a table & pay on the night rather than buying tickets here, just shoot us an email on chef@damascuschef.com, telling us when you'd like to come, and which of the mains takes your fancy. You're welcome to turn up from 7pm - or - for those fasting - at or shortly before the Iftar (between 8.45 and 9.15 throughout the month). We have to close at 11pm in respect to neighbours - so if you would like to come break your fast with us, make sure you are with us as soon as possible, so we can have enough time to wind down and chill together..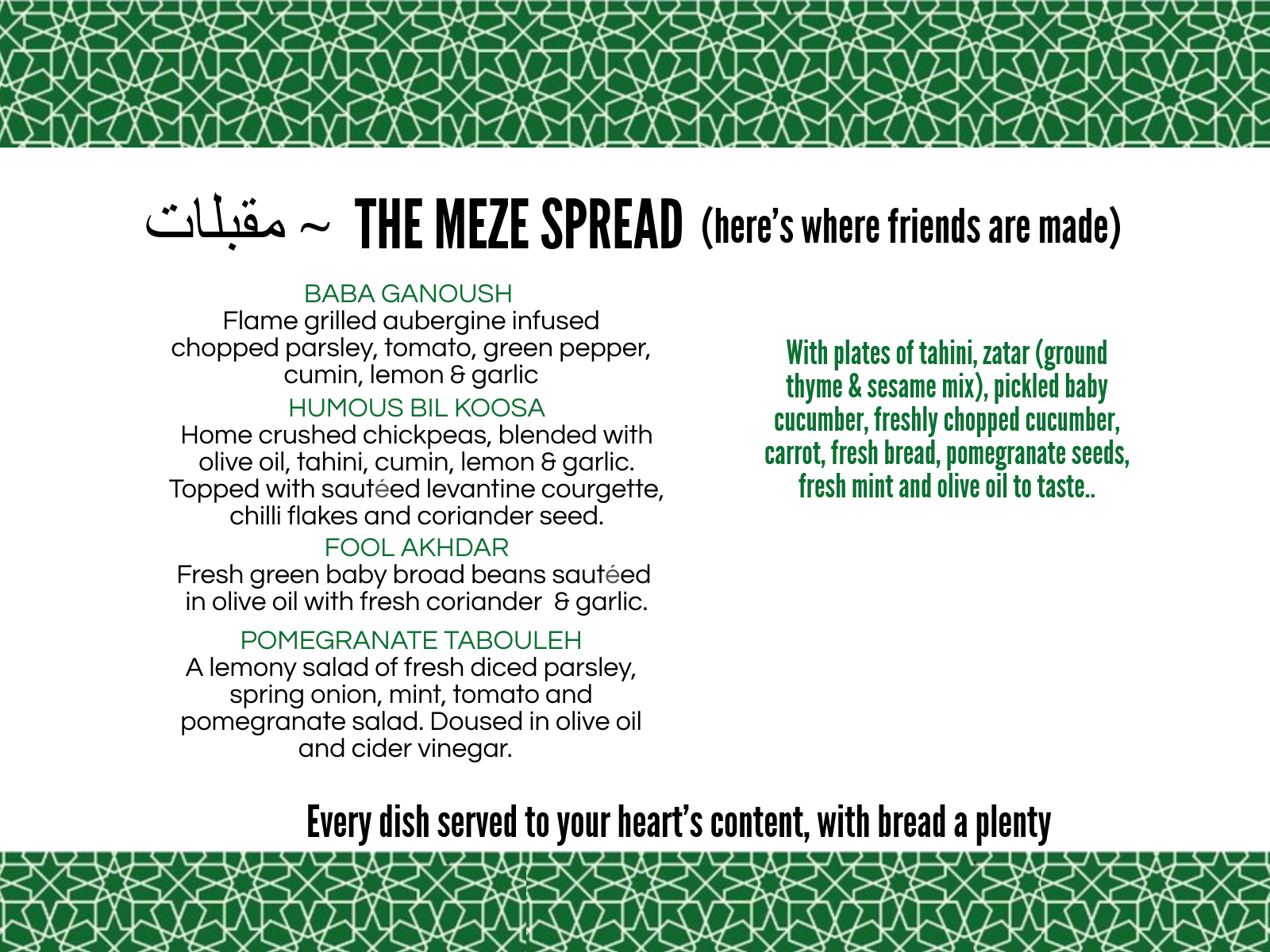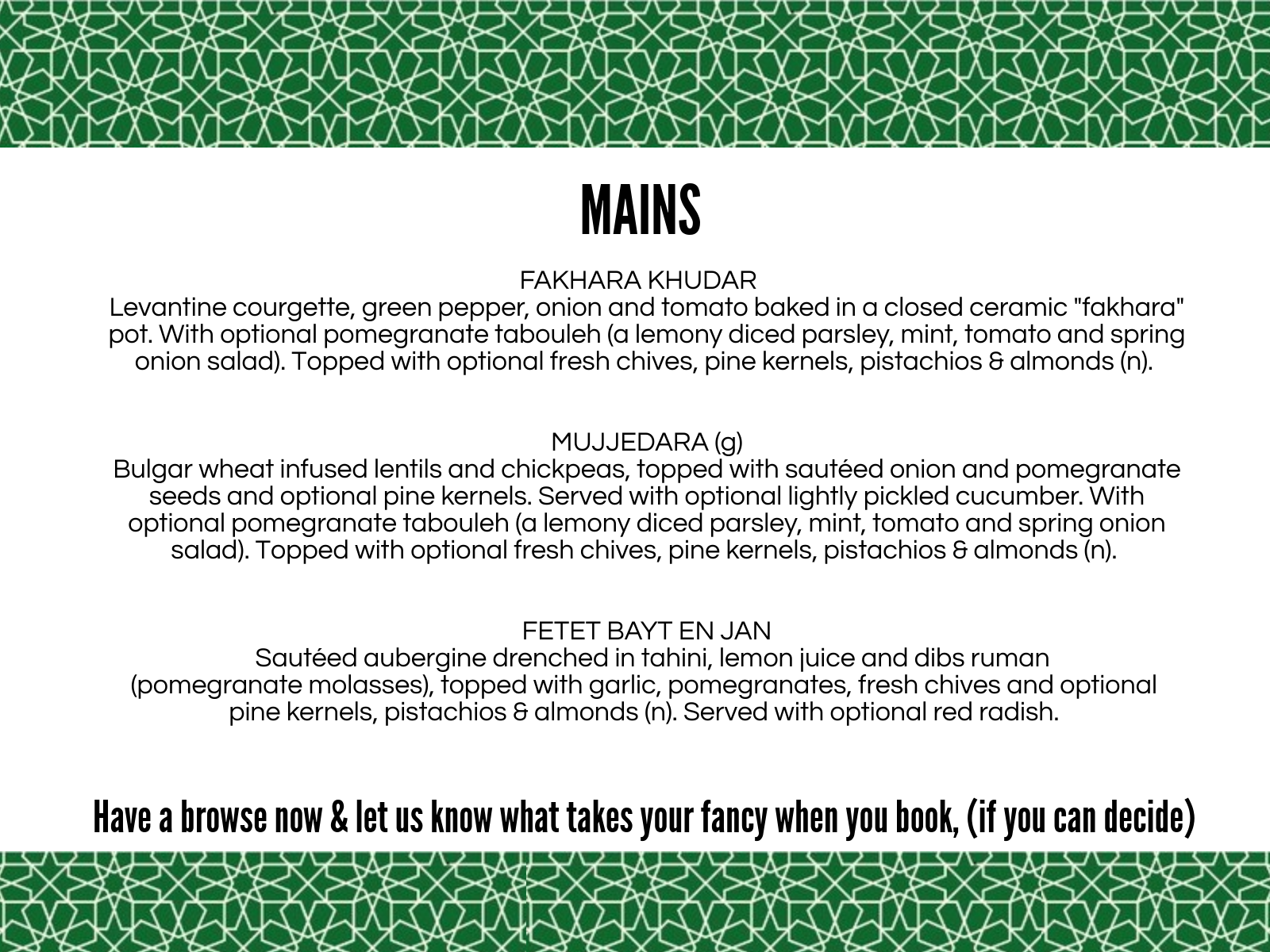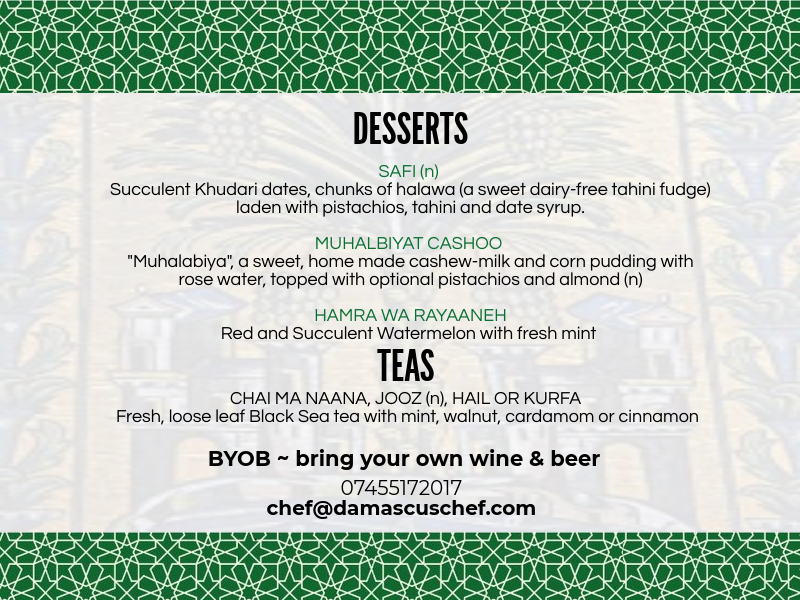 FAQs
What's the vibe like?
What can we say about Archibald's? It's sparse, it's chic and detail-conscious, like without trying. And Damascus Chef injects a whole lot of lore into that. Expect a chammering, shammering affair. Punctuated by candle-light, pulsing with 1950s dancehall music from Cairo and Baghdad, and electronic vibes from villages across the region right now. There won't be much time for staring at wall posters.
As always, Damascus Chef popups also make great date spots - for those of the whimsical, dreamy, off-the-wall persuasion. But we don't just attract couples - expect foodies, young, old, quiet and raucous from across South London and beyond.

When you arrive, we'll ask you if you'd like to have a private table or sit with other guests supper-club style.

Do we select our dishes?
Come sit for our meze spread - this is a grand shared course that can last hours, and is refilled as many times as you are people. Or pick a main dish from the menu. If you'd like meze and mains, dessert comes in too. And everyone, what ever they're eating is welcome to fresh black tea with mint, cinnamon, cardomom and walnut (or whatever combination of those you prefer) throughout the night.

What time should we arrive? If we aren't fasting - and if we are?
Arrive anytime between 7 and 9.30pm - if you're fasting, let us know, so we can bring you enough water, dates and juice for you. In any case, everyone's welcome.
Can we bring kids?
Er yep! Kids eat the same menus as adults for half price (with smaller portions).
And drink?
One of the joys of this popup is there's no more fiddling around with a wine list when you know what you're really after isn't there. Bring your own wines and beers, forget about corkage charges - we don't do those, and we'll keep the fresh loose leaf tea with mint, cinnamon, cardomon and walnut flowing all night. We'll also be selling soft drinks on behalf of Archibalds.
Do you do take away?
Yes we do! Booking is only for sit-down guests - so if you're up for takeaway, just turn up on the night, we'll keep you entertained with tea, stories, and books (think 1970s politics, Palestinian poetry translated into Scots and Gallic, to comics being written in the region right now..) to browse. Get in touch if you're more than six, or you want your order ready super quick, via social media, chef@damascuschef.com or on 07455 17 2017.
Is it halal?
Yes, all our meat is both organic and halal! Hurray! Not very easy to find, we know.

What about allergies?
All our nut, sesame and wheat-based dishes are prepared separately. But please get in touch on 07455 17 2017, or chef@damascuschef.com to discuss severe allergies before booking. Please also mention latex allergies, so we can make sure not to use latex gloves when serving. It's also great to know in advance if you're vegan or gluten free, so we can make sure we prepare everything for you accordingly.

Our meze is all gluten free and we serve it with carrot and cucumber sticks as well as the fresh bread you'd expect. Untraditionally, our wiked little lemony pomegranate tabouleh is gluten free too.

Do I have to print my ticket?
Save the paper, we'll have a list of bookings to hand on the night.
I want to come, but don't feel like booking just yet...
If you don't fancy booking now, you can always try your luck turning up on the night for a table. Give us a shout/text on 07455 17 2017 if you're unsure whether to venture out. We're generally too busy to check our emails from around 4.30pm. For general questions in the run up to the night call Abdullah (as above, on 07455 17 2017) or drop us a line at chef@damascuschef.com.

Do you do two seatings?
Nuh-uh. This is all about the long, relaxed and restful course upon course, freeing up the body to really experience the food, rather than rushing it.

I want to taste the meze, but don't know if I can manage a whole meal..
We won't be serving our vegan menu a la carte - everyone's in it together for all three courses!
Parking?
Archibalds doesn't have a dedicated parking area, but parking is free in the area after 7pm.

Trains?
The nearest stations are Catford and Catford Bridge (Thameslink and Southeastern Railways), followed by Hither Green (Southeastern Railways). Brockley, Dulwich, Peckham and Forest Hill are all short bike rides away.