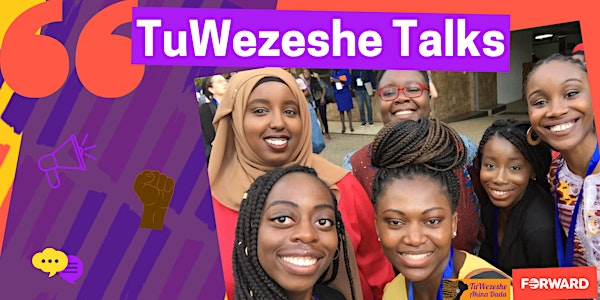 TuWezeshe Talks: For the Love of Blood, Let's Talk Menstruation!
Join us on Menstrual Hygiene Day as global TuWezeshe alumni, mentors and project partners discuss tackling menstruation stigma!
About this event
TuWezeshe Talks
The TuWezeshe Talks is a new online discussion platform that targets the global TuWezeshe alumni, mentors, and project partners to enable them to stay in touch, strengthen the sisterhood and get talking on a range of topical issues. Through these talk series, we hope to increase sharing and communication among TuWezeshe alumni and offer opportunities to continue activism and leadership development. Our very first TuWezeshe Talks titled 'For the Love of Blood, Let's Talk Menstruation' will mark Menstrual Hygiene (MH) Day 2022 by sharing and celebrating initiatives from the TuWezeshe Alumnus.
Background
According to the World Bank (2022), over 800 million women and girls globally menstruate on a given date but an estimated 500 million lack access to menstruation products and facilities for menstruation hygiene management. The challenges that women and adolescent girls experience are often more complex than just a lack of access to hygiene products. In many cultures, menstruation remains taboo and linked to discriminatory social norms. This results in a lack of adequate information on menstruation and menstrual hygiene, abuse, exclusion, and stigma. These harms further intensify existing gender-based social and economic inequalities, which in turn affects women and girls' education, health and wellbeing. Addressing menstrual hygiene is essential to the empowerment of women and girls and tackling gender equality. Menstrual Hygiene Day, marked annually on 28 May, is an opportunity to break the period stigma as well as raise awareness of menstruation and associated challenges experienced by women and adolescent girls across the globe.
In line with this year's theme 'Making Menstruation a Normal Part of Life by 2030', FORWARD presents 'For the Love of Blood, Let's Talk Menstruation', in the first instalment of the TuWezeshe Talks series.
Event Objectives:
● To continue the conversations surrounding menstruation, particularly the experience of African/African diaspora women and adolescent girls
● To facilitate networking across the global TuWezeshe family and to continue to build and strengthen sisterhood through learning and experience sharing
● To facilitate learning, experience sharing, and encouraging collective and collaborative advocacy for the normalisation of menstruation
Expected Outcomes:
● TuWezeshe alumni build a strong sisterhood and greater network through shared experience, and collective learning, and offer opportunities for growth, communication, and collaboration
● Participants gain more knowledge, and practical experience to be vocal on menstrual hygiene and advocate for the normalisation of menstruation
● Breaking taboos around menstruation and feeling empowered to be vocal on this issue
References:
https://www.worldbank.org/en/topic/water/brief/menstrual-health-and-hygiene