Sales Have Ended
Ticket sales have ended
Thank you for your interest in Twelfth Night. Ticket Registrations have now ended but you will be able to watch the event on our YouTube page: https://www.youtube.com/60hourshakespeare There is still time to donate via: https://fiorentinifoundation.enthuse.com/cf/60-hour-shakespeare-performance-fundraiser
Sales Have Ended
Ticket sales have ended
Thank you for your interest in Twelfth Night. Ticket Registrations have now ended but you will be able to watch the event on our YouTube page: https://www.youtube.com/60hourshakespeare There is still time to donate via: https://fiorentinifoundation.enthuse.com/cf/60-hour-shakespeare-performance-fundraiser
Twelfth Night Performance set in 1919 New York
About this event
TO WATCH THE LIVE STREAM: https://www.youtube.com/watch?v=Fj5EbJOmRAE
At 7:30pm BST Sunday 2nd May, 60 Hour Shakespeare invites audiences across the globe to tune in live to a virtual production of William Shakespeare's Twelfth Night.
After a sudden end to the passage from Italy to America, Viola fears her brother, Sebastian, has drowned. She begins a new life disguised as Cesario, employed by the notorious and lovelorn Don Orsino. From her apartment in the Ansonia Hotel, southern belle, Olivia rails against his love suits in the company of Malvolia, the concierge, and Maria, her maid. Cesario is asked for a favour that will lead Viola to a bar full of strife and Feste, the bartender, moonlighting as a jazz singer, with prohibition and fate about to change everything.
Productions with Heart
Charitable giving is core to our mission and each performance donates all proceeds to a nominated cause. For Twelfth Night we are delighted to appoint the wonderful Fiorenti Foundation which enables disadvantaged children to access the world of the performing arts.
Our recommended donation is £10, but we appreciate it has been a challenging year so everyone is welcome to attend regardless of contribution. <3
About the Fiorentini Foundation
The Fiorentini Foundation is the charitable arm of the Anna Fiorentini Theatre & Film School. The charity was founded in 2011 with the sole intention of enabling less fortunate children to access the world of the performing arts. The Foundation works extensively with underprivileged children and those with long term health issues. Its mission is to break down the barrier of privilege and bring the arts to anyone with a creative flair regardless of background, race, creed or colour. The Foundation believes in the power of change and that encouraging less fortunate children to take an interest in a seemingly inaccessible pursuit can help them develop important life skills.
The production will be broadcast live via Zoom to YouTube. Details will be sent prior to the performance to access the stream.
Find Out More: https://www.60hourshakespeare.com/twelfthnight
To Donate More: https://fiorentinifoundation.enthuse.com/cf/60-hour-shakespeare-performance-fundraiser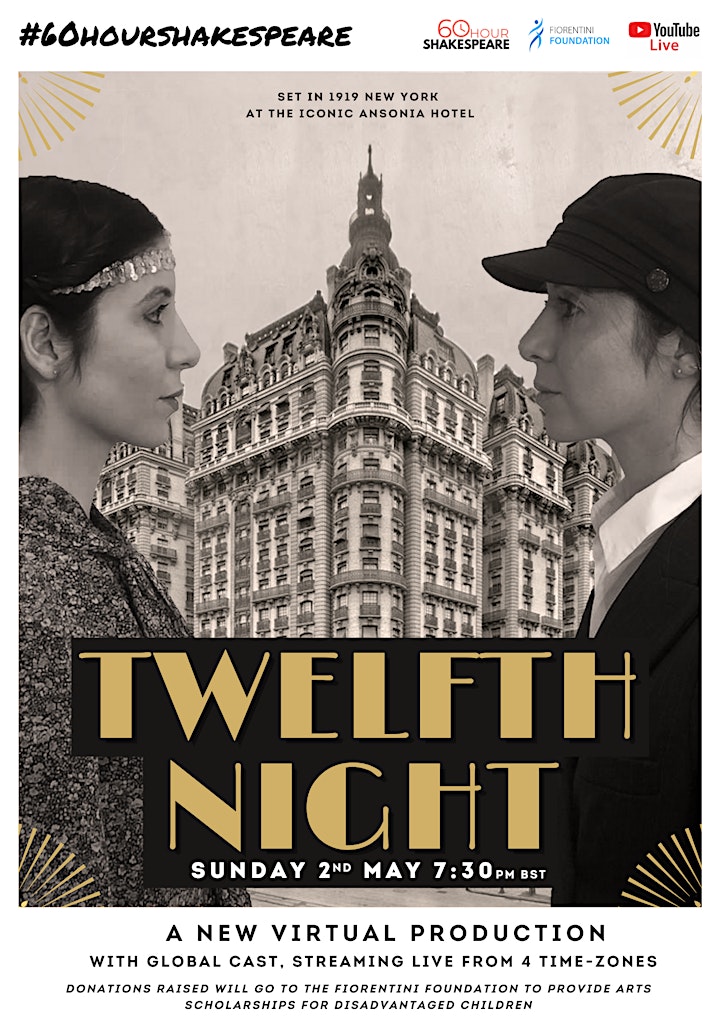 Organiser of Twelfth Night - Free Virtual Performance
60 Hour Shakespeare® is a new theatre company which rehearses and performs Shakespeare's plays in 60 hours to raise money for charity. We were founded in 2018 and are inspired by the rehearsal time that might have been available to actors in Shakespeare's time. 
We strive to create intimate, powerful and emotional performances, by bringing together a diverse cast of professional and amateur actors who commit to an intensive 60-hour rehearsal period before the production.  
Previous productions include Much Ado About Nothing (2018) and of Hamlet (2019) which was reviewed as 'a piece of theatrical bravura' and was featured on BBC Radio.
'Brevity is the soul of wit'
'The strong sense of movement created a special dynamic - you felt like almost anything could happen'
'Marvellous cast'