Description
Our run series is back! Join ambassadors Twice The Health and their pacers every Wednesday at our Westfield store.
Every Wednesday evening, we will have an inspiring member of the Twice The Health community lead a run through west London. Each run is tailored to every runner's ability so that you can have fun—and push yourself a bit!

Arrive in-store at 6 pm to drop bags and be ready to set off at 6:30 pm. Each week offers a different route. We will head back to the store for a quick cool down and stretch.
The TTH team & pacers: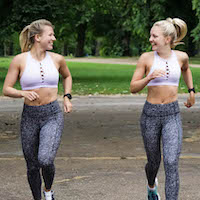 Twice the Health is made up of nutritionist Emily, and physical trainer, Hannah… and before you ask, no they're not related. They're simply the very best of friends! They began TTH after finding themselves a very last-minute spot to run the London Marathon. With just twelve weeks to train, they encountered all kinds of problems, but in true TTH fashion, they made it through and completed the 2015 Virgin London Marathon—from then on out there was no stopping them!
Each year they set themselves one (for now!) epic 50k feat, in an attempt to challenge their bodies and explore the world. So far this has taken them to the Grand Canyon and the Great Wall of China. They follow one mantra, which tends to coincide with everything they do from lunch to lunges—'to make health our happiness'. For them, that's mad running adventures, and exploring the ever-growing food industry with preference always being on dessert. Of course, they're always together and always wearing the exact same outfit from top to bottom!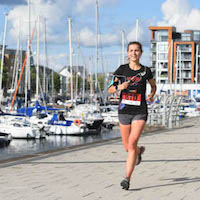 As a former contemporary dancer, Esther had always been active but caught the running bug about 6 years ago. Esther also works as a Sports Scientist, with a particular research and practitioner focus on the female athlete, as well as working with marathon runners in the lab to help monitor their performance and inform their training. Esther is delighted to be part of the WeAreRunners squad and always looks forward to the runs.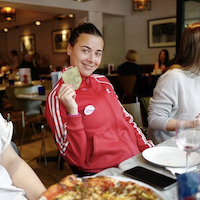 Hannah Harley Young is a portrait and event photographer. The go-to girl on the party scene, Hannah shoots parties around London and internationally. Turning heads as the only female photographer amongst an abundance of men, she has made her mark documenting the glitz and glamour of the rich and famous around the city. She also shoots commissioned portraits for private clients, websites and editorial platforms. She has worked with high-end corporates on projects spanning from fashion to architecture. Born and bred in West London, a thriving hub of culture and creativity, it's no surprise that Hannah showed an early interest in photography.