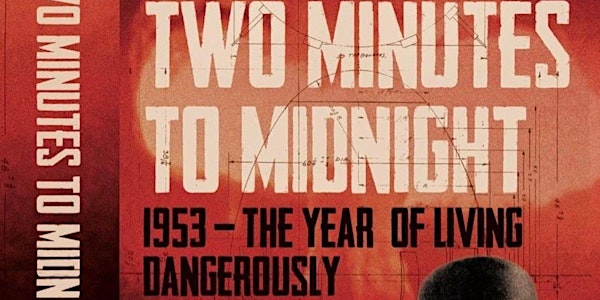 "Two Minutes to Midnight" - Cold War talk with author Roger Hermiston
Location
Commemoration Hall
39 High Street
Huntingdon
PE29 3AQ
United Kingdom
Refund policy
Contact the organiser to request a refund.
Eventbrite's fee is nonrefundable.
Roger Hermiston talks about his new Cold War book, 'Two Minutes to Midnight''.
About this event
Come and hear renowned local historian and journalist Roger Hermiston talk about his new Cold War book, 'Two Minutes to Midnight''. Two Minutes To Midnight
1953, The Year of Living Dangerously
January, 1953. It is eight years on from the most destructive conflict in human history and the Cold War has entered its most deadly phase. An Iron Curtain has descended across Europe, and hostilities between the United States and the Soviet Union have turned hot on the Korean peninsula, as the two powers clash in an intractable and bloody proxy war.
Meanwhile, the pace of the nuclear arms race has become frenetic. The Soviet Union has finally tested its own atom bomb, as has Britain. But in the middle of the Pacific Ocean, the United States has detonated its first thermonuclear device, dwarfing the destruction unleashed on Hiroshima and Nagasaki at the end of the Second World War.
For the first time the Doomsday Clock is set at two Minutes To Midnight, with the chances of a man-made global apocalypse becoming increasingly likely. As the Cold War powers square up in political and military battles around the globe, every city has become a potential battleground and every citizen a target. 1953 is set to be a year of living dangerously.
About Roger: Before pursuing a full-time writing career, I had been a journalist for thirty years, the bulk of them at the BBC where I was Assistant Editor of BBC Radio 4's Today programme from 1998-2010. I started out on weekly papers in Kent and Yorkshire, before becoming Crime Reporter on the daily Sunderland Echo in the late 1980s. I then spent three years as reporter and feature writer on the Yorkshire Post, before joining the BBC in 1990. In eighteen years on Today I covered general elections at home, American presidential elections, war in Kosovo and civil war in Algeria. I was commended (with Evan Davis) in the Texaco Industrial Journalism Awards in 1995, and was a member of the Today team that won a number of Sony Awards for Best Programme.
https://www.rogerhermiston.co.uk
Roger will also be signing copies of his books which will be on sale at the event.