Description
Datblygu eich busnes bwyd i gyrraedd marchnadoedd newydd!
Developing your food business to reach new markets!
Data diwydiant diweddaraf y farchnad
Eglurhad o'r hyn mae prynwyr eisiau
Archwilio gwahanol lwybrau i'r farchnad
Agenda Tyfu Canolbarth Cymru
Gweithdy allforio
Straeon gan gynhyrchwyr bwyd
Taith rithwir o Ganolfan Bwyd Cymru
Sesiynau unigol gydag arbenigwyr y diwydiant
Rhwydweithio gyda busnesau bwyd eraill
Mi fydd mwy o fanylion am yr agenda a'r siaradwyr yn cael eu rhannu cyn hir.
Latest industry market data

Buyers explain what they are looking for

Exploring different routes to market

Growing Mid Wales agenda

Export workshop

Food producers share their story

Food Centre Wales virtual tour

1-2-1 sessions with industry experts

Network with other food businesses
Fuller details about the agenda and speakers will be shared shortly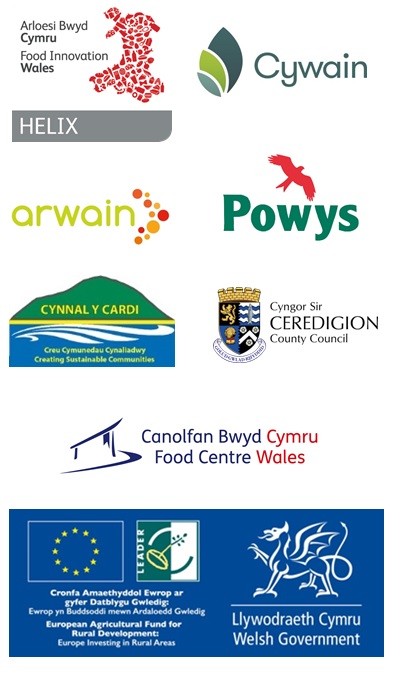 Defnydd Data
Mae eich data chi yn bwysig i ni. Byddwn yn cadw eich manylion yn ddiogel yn unol a pholisiau preifatrwydd Arloesi Bwyd Cymru, Cyngor Sir Ceredigion, Cyngor Sir Powys a Cywain. Ariennir y digwyddiad yma thrwy gyllideb Llywodraeth Cymru a Chronfa Datblygu Rhanbarthol Ewrop, a defnyddir data ar gyfer pwrpasau monitro yn unig.
Data Use
Your data is important to us. We will keep your data secure in line with the privacy policies of Food Innovation Wales, Ceredigion County Council, Powys County Council and Cywain. This event is funded by Welsh Government through the European Regional Development Fund and information will be used for monitoring purposes only.