Description
Would you like to take part in a fun social event that will aim to quickly capture the sounds of a selected area of Tyneside on one given day?
Tyneside Sounds Society in collaboration with Monkfish Productions are proud to announce its second Tyneside Record-A-Thon™ - a flash event for anyone with an interest both passing or professional, in field recording, phonography and our sonic environment.
The focus of the Record-A-Thon™ will be capturing the sound of a specific building in Newcastle City Centre - Broadacre House.
Broadacre House is a pretty unremarkable looking 1980s built office block in Newcastle City Centre. It is a former local government office, it was also used as a filming location in the Ken Loach film I, Daniel Blake.
Along with a number of other empty office blocks in the east side of the city centre it was transformed into a temporary home for artists, creative industries, charities and social action groups. The current tenants have been given their notice to leave as the building will be redeveloped as part of the wider East Pilgrim Street redevelopment of the city centre.
This Record-A-Thon™ is part of Sound Level, a week long series of events celebrating and recording Broadacre House's time as a meanwhile building in Newcastle's city centre. For details of other Sound Level events, please contact Monkfish Productions.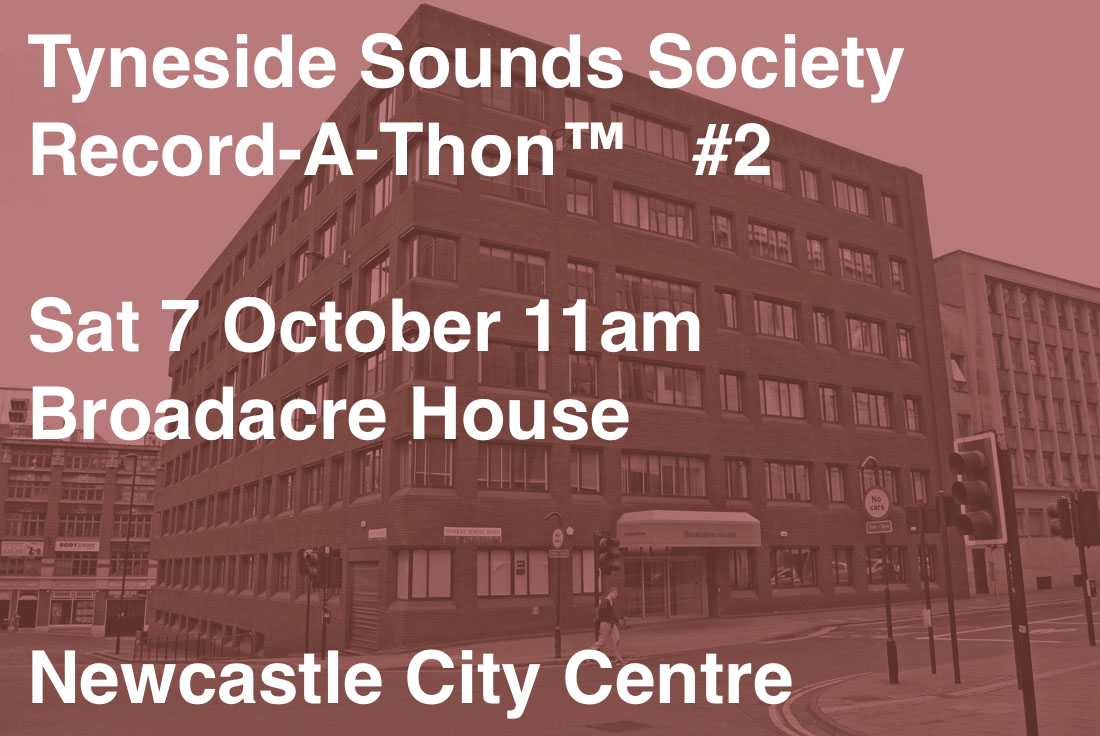 Meet at the reception of Broadacre House 11am on Saturday 7 October. From there you can grab a free coffee and pastry and we'll give you a quick briefing. (Broadacre House is located on Market Street/John Dobson Street Junction near Laing Art Gallery)
The Record-A-Thon™ will last for 2 hours, finishing around 1pm. We'll be granted unique access to Broadacre House and will invite you to record sounds both in and outside the building. At the close we will collect all recordings you've made and transfer them to Tyneside Sounds Society Soundcloud and the online global sound map Radio Aporee.
We are asking people to bring their own gear to record but If you do not have any recording kit don't worry we have a very limited number of devices you can loan for the morning. You need to let us know before hand if you wish to loan a device.
NOTE: You will also need to provide ID (passport, driving license etc), proof of address (recent utility bill, bank statement etc) and mobile phone number if you wish to loan kit.
We'll have some expert field recorder types and professional phonographers at the briefing if you need any advice or have any queries about technology or techniques.
This will be a fun, quick and exciting event. Beginners, amateurs, professionals - everyone's welcome to take part!
This event is FREE but booking is essential and places are limited. Under 18s must be accompanied by adults.
If you have any questions or queries please email Michael tynesidesounds@gmail.com
Tyneside Sounds Society is a network of individuals and public programme of events and initiatives dedicated to the recording and interpretation of the aural environment and sound heritage of Tyneside in North East of England.