Description
Would you like to take part in a fun social event that will aim to quickly capture the sounds of a selected area of Tyneside on one given day?
Tyneside Sounds Society are proud to announce its first Tyneside Record-A-Thon™ - a flash event for anyone with an interest, both passing or professional, in field recording, phonography and our sonic environment.
Bring along your recording device to George Street Social at 10.30am on Saturday 6 May. From there you can grab a free coffee and pastry and we'll give you a quick briefing.
(George Street Social is located on George Street in between Newcastle College and Discovery Museum, quick walk from Newcastle Central Station)
We'll then be asking you to go out into the city for 2 hours to capture and record the sounds of Newcastle City Centre.
Return to George Street Social for 1.30pm.
You can grab some lunch at George Street on your return and also meet/chat/share recordings with other participants whilst we transfer and upload what you've recorded to Tyneside Sounds Society Soundcloud and the online global sound map Radio Aporee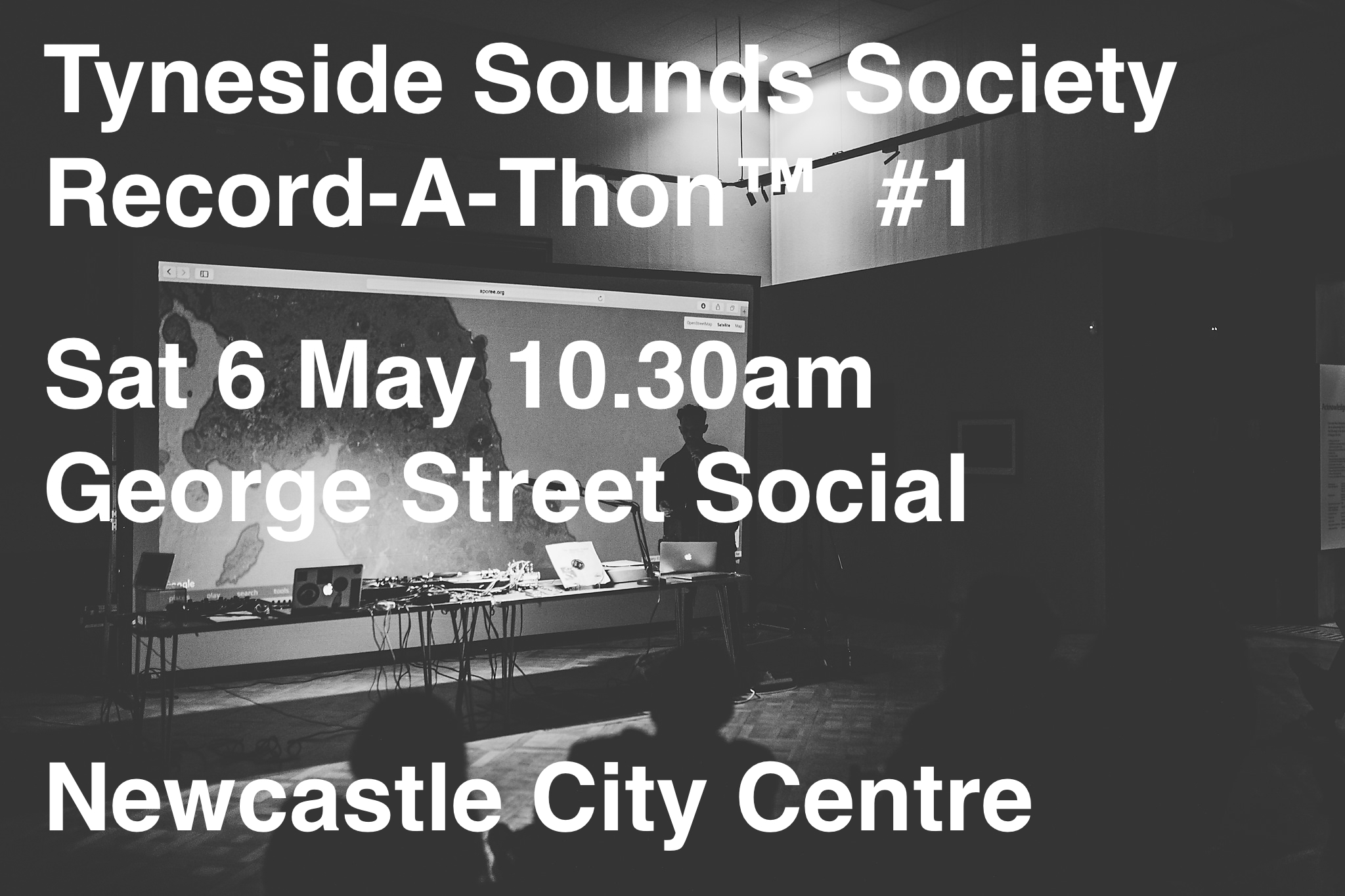 If you do not have any recording kit don't worry we have a very limited number of devices you can loan for the morning. You need to let us know before hand if you wish to loan a device.
NOTE: You will also need to provide ID (passport, driving license etc), proof of address (recent utility bill, bank statement etc) and mobile phone number if you wish to loan kit.
We'll have some expert field recorder types and professional phonographers at the briefing if you need any advice or have any queries about technology or techniques.
This will be a fun, quick and exciting event. Beginners, amateurs, professionals - everyone's welcome to take part!
This event is FREE but booking is essential.
If you have any questions or queries please email tynesidesounds@gmail.com
Tyneside Sounds Society is a network of individuals and public programme of events and initiatives dedicated to the recording and interpretation of the aural environment and sound heritage of Tyneside in North East of England.