This training is delivered by West Midlands Strategic Migration Partnership in partnership with Coram Children's Legal Centre.
About this event
Please note that this training is limited to organisations within the West Midlands Strategic Migration Partnership area only.
West Midlands Strategic Migration Partnership are pleased to invite colleagues to register for UASC Legal Rights and Entitlements Training . Please see the flyer/course outline below for details. This course is for any professional or carer working with unaccompanied refugee and migrant children and young people, including lawyers, social workers, advocates, children's rights officers, support workers, teachers, foster carers, mentors, advisers and volunteers.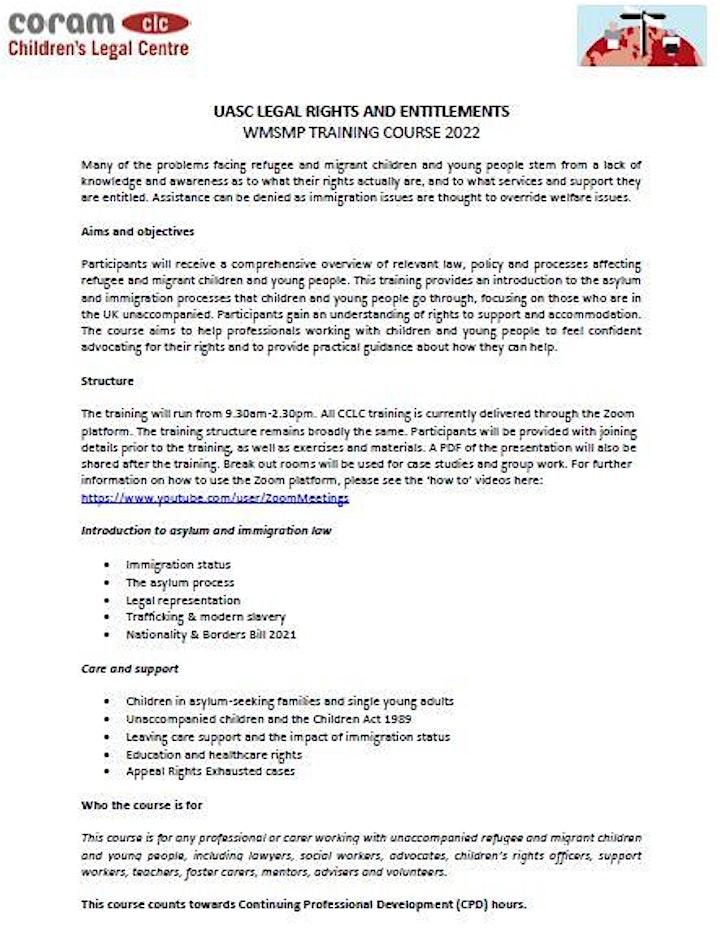 Strategic Migration Partnerships (SMPs) are local authority-led partnerships which provide structures and forums of engagement for effectively dealing with migration at a local, regional and national level. SMPs work to meet the needs of National and Local Governments, and local communities. We bring together senior representatives from Local Government, Home Office, national government, statutory, voluntary and community and private sectors. These unique cross-sector partnerships with political oversight, support, discuss and represent national and local needs to ensure that migration is managed to benefit all in the West Midlands. The WMSMP has developed in response to changes in dispersal and migrant patterns, numbers and policy requirements. In 2007, the core activities of the partnerships were broadened to cover the wider migration agenda and their impacts on local areas. WMSMP is one of twelve Strategic Migration Partnerships (SMPs) across the UK that were established following the introduction of a regional dispersal policy in 1999 for people seeking asylum.