UCL Centre for Nephrology - Inaugural Lectures
Actions and Detail Panel
UCL Centre for Nephrology - Inaugural Lectures
Thu 12 January 2017, 15:30 – 19:00 GMT
Description
The UCL Centre for Nephrology warmly invites you to the inaugural lectures of Professor Detlef Bockenhauer, Professor Alan Salama and Professor David Wheeler
Date: Thursday, January 12th, 2017

Venue: Lecture Theatre 1, Ground Floor, Royal Free Hospital, Rowland Hill Street, London, NW3 2PF.

Time: 15.30 hrs - 17.30 hrs
The lectures will be followed by a reception. All welcome.
Programme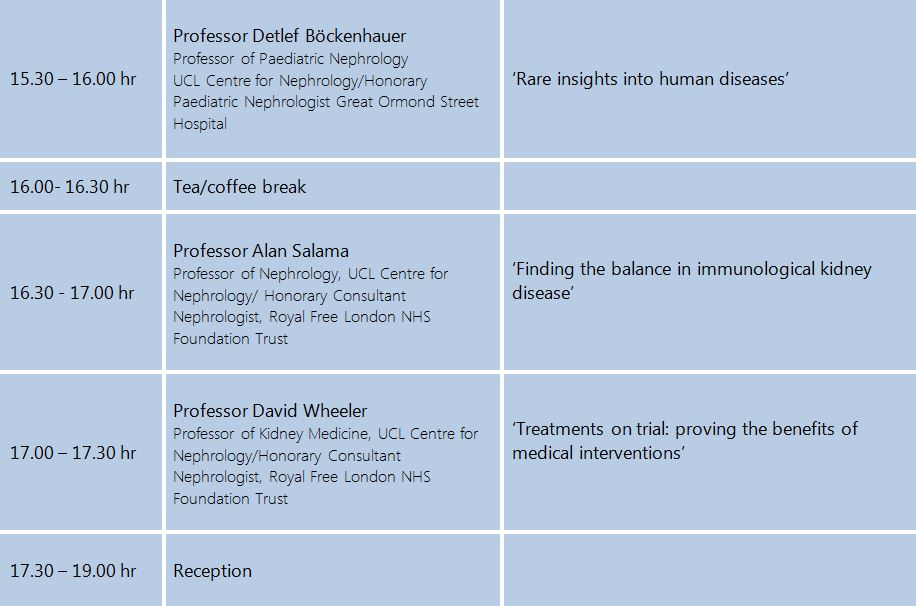 Professor Detlef Böckenhauer
Detlef Böckenhauer attended medical school in Germany at the Universities of Hamburg and Lübeck. He trained in paediatrics at the Children's Hospital Altona, Hamburg and at New York University in the USA, with subsequent training in paediatric nephrology at Yale University. He was a member of the faculty of Yale University from 2000 to 2005. He is currently a Consultant Nephrologist at Great Ormond Street Hospital and Professor of Paediatric Nephrology at the UCL Centre for Nephrology. His special research interests include inherited renal disorders and the molecular basis of renal function.
Professor Alan Salama
Alan Salama is Professor of Nephrology at the UCL Centre for Nephrology Royal Free and Honorary Consultant in Nephrology at the Royal Free London NHS Foundation Trust. His main interests are in immune regulation as applied to autoimmune disease, specifically ANCA-associated vasculitis and transplantation. His current research focuses on the role of regulatory lymphocytes and anti-inflammatory macrophage subsets in glomerular disease
Professor David Wheeler
David Wheeler is Professor of Kidney Medicine at University College London and an Honorary Consultant Nephrologist at the Royal Free Hospital. He is a clinician scientist with an interest in the complications of chronic kidney disease. He has participated in the design, conduct and monitoring of several large-scale clinical trials including SHARP, EVOLVE and CREDENCE, acting as UK Chief Investigator for these studies. David is Clinical Lead for Division 2 of the North Thames Clinical Research Network and supervises a team of 8 Clinical Trials Nurses/Practitioners at the Centre for Nephrology, Royal Free Hospital. He has been involved in guideline developments for several organisations, most recently for Kidney Disease: Improving Global Outcomes (KDIGO), of which he is currently Co-chair. He is past President of the Renal Association, an Associate Editor of Nephrology, Dialysis Transplantation and Member of the Editorial Board of the Journal of the American Society of Nephrology.
Date and Time
Location
Lecture Theatre 1, Ground Floor
Royal Free Hospital Medical School
Rowland Hill Street
London
NW3 2PF
United Kingdom