UCL EEE Barlow Memorial Lecture and Research Poster Presentation 2015

Monday, 18 May 2015 from 14:00 to 19:00 (BST)
Event Details

The Barlow Memorial Lecture 2015 and Research Poster Presentation
The Intelligence of Things: Transforming Markets and Industries
Jeannine Sargent
President Innovation and New Ventures, Flextronics 
 Abstract

 The Intelligence of Things: Transforming Markets and Industries
By 2020, there is expected to be 50 billion smart and connected devices generating over 13 trillion euros in economic value. Embedding intelligence into the products and devices themselves – in the form of sensors, software, processing, along with connectivity to other devices and the cloud – is enabling entirely new functionality and more applications than ever possible before. We call this evolving ecosystem of smart, connected devices, machines and systems the "Intelligence of Things".
Bringing these solutions to market will transform traditional product development processes and business models by requiring high levels of collaboration and synergy across multiple external organizations from product concept, technology integration, and access to multiple markets.
As the world's leading supply chain solutions company, Flextronics is uniquely positioned in enabling this transformation for startups to multinationals. They will discuss how companies in industries as varied as healthcare, automotive and consumer devices are adapting and bringing a new set of smart and connected solutions to market.
The 2015 Barlow Memorial Lecturer: Jeannine Sargent
Jeannine Sargent is president of Innovation and New Ventures at Flextronics (NASDAQ: FLEX). Flextronics is a $26B, industry-leading, Fortune Global 500 end-to-end supply chain solutions company with a global workforce of 200,000 and operations in over 30 countries. In this role she oversees technology and innovation labs including the Lab IX accelerator, design & engineering centers and new venture investments for Flextronics. 

Ms. Sargent brings more than 25 years of international experience in several technology markets including energy, IC design and manufacturing, embedded systems software; and capital equipment for semiconductor, LED, LCD, and instrumentation for nano-biotech manufacturing. She has successfully led both venture-backed and public companies in the high-tech sector and worked with private equity groups. 

Prior to this position, Ms. Sargent was president of Energy, a segment of the High Reliability Solutions business group at Flextronics. Previously, she was the founding chief executive officer of Oerlikon Solar, based in Switzerland and an executive-in-residence/venture advisor at Crosslink Capital Ltd. Earlier in her career, Ms. Sargent held various executive and management positions at Veeco Instruments, Voyan Technology, Gasonics, Tencor Instruments and Digital Equipment Corporation. 

Ms. Sargent holds a bachelor's degree in chemical engineering, magna cum laude, from Northeastern University and has completed advanced coursework and executive graduate programs at the Harvard Business School, Stanford Graduate School of Business and INSEAD, Lausanne. She and serves on the Board of Directors of Northeastern University Corporation and is a member of their Industrial Advisory Board for the College of Engineering.
More information about Flextronics: http://www.flextronics.com/about_us/default.aspx
---
Programme

2.00pm Registration and Refreshments - Main Quad Events Venue (marquee)
2.30pm Research Poster Session - South Cloisters (Wilkins Building) and Main Quad Events Venue (near Gower Street main entrance to UCL)
5.00pm Reception - South Cloisters, Wilkins Building

5.30pm Lecture - Jeannine Sargent - Cruciform LT1, Cruciform Building
Maps are available here.
---
About the Barlow Memorial Lecture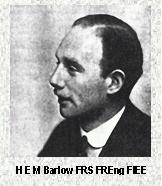 The Barlow Lecture is held in memory of Harold Everard Monteagle Barlow (1899-1989) who was the Head of the Department of Electronic and Electrical Engineering at UCL from 1950 to 1967. He invented the H01 millimetre waveguide and is remembered for his many contributions to microwave research for which he was awarded the IEE Kelvin and J J Thompson Premiums, the Faraday Medal, the URSI Dellinger Gold Medal and the IEEE Kelly Prize.
When & Where

South Cloisters and Main Quad Events Venue, Wilkins Building
University College London
Gower Street
WC1E 6BT London
United Kingdom


Monday, 18 May 2015 from 14:00 to 19:00 (BST)
Add to my calendar
Organiser
The Department is one of the leading research-led departments in its subject area, worldwide, and was ranked 1st in the UK for world leading research outputs in the UK Government's 2014 Research Excellence Framework (REF) and 2nd overall among UK EEE departments (among universities submitting 70% or more of their academic staff in EEE to REF). The Department is the oldest electrical engineering department in England, founded by Professor Sir Ambrose Fleming, the inventor of the thermionic valve, often referred to as 'the father of electronics'.