UCL-Energy & BR&I: 'Building governance and climate change: fresh thinking'

Thursday, 14 July 2016 from 16:00 to 18:30 (BST)
Event Details

UCL Energy Institute & Building Research & Information host:
'Building governance and climate change: fresh thinking'
The head of the International Energy Agency (IEA) Dr Fatih Birol recently said:
"This [improved building regulation] would be the single most important step [in combating climate change] I want governments to take and they can take it tomorrow. ... There are many economic benefits to mandating standards, and this can be done by governments very easily."
[quoted in the Guardian, 01 June 2016)
Building regulations and the wider issues of governance for climate change were often dismissed as a technical subject. But it has broad implications for reaching defined targets and wider participation than one single approval gateway (typically at the design stage). In addition to a 'command-and-control' approach, what other instruments, mechanisms and incentives can be harnessed to augment and support CO2 reductions in buildings? Can policy instruments effectively engage with inhabitants and end users? Do incentive schemes work? Is the design of enforcement appropriate? Can the commissioning stage be included in regulation?
This event is aimed at those in public policy and NGOs as well as the industry supply side. It looks at new, emerging ideas for alternative policy instruments and changes to existing regulations to reduce CO2 emissions by buildings and the building stock. What should the next generation of policy instruments be? How we can close loops in energy governance and accelerate emission reductions?  In addition to showcasing new ideas and practices, there will be a broader discussion of what are viable policy options for the existing building stock.
This event will highlight new research just published in a special issue of Building Research & Information* entitled "Building Governance and Climate Change: Regulation and Related Policies". The special issue of Building Research & Information (vol 43, no. 5) will be made freely accessable to people attending this event.
The challenges of moving from research to policy will be debated by a panel of experts. There will be time for the audience to consider the diverse factors that influence the regulation of buildings.
Programme: 

Introduction: Professor Robert Lowe, UCL Energy Institute
Part 1: Presentations
Policy literacy
'What ambitions for next generation building regulations?', Tyler Bryant

'Energy efficiency and the policy mix', Dr Jan Rosenow                                                                 
'Reducing CO2 emissions from residential energy use', Mr Paul Drummond  
---
Alternative policy measures
'Alternative building emission reduction measure: Tokyo's Cap-and-Trade Program', Ms Yuko Nishida [by video link from Tokyo]           
'The evolution of green leases: towards inter-organisational environmental governance', Professor Susan Bright
'Gross floor area concessions - motivating the market', Prosfessor Jacques Laubscher

---
Closing the governance gaps
'The role of energy epidemiology in policy making', Professor Tadj Oreszczyn
Part 2: Commentaries on papers / panel discussion & Q&A
What should the next generation of building policies look like? What implementation processes are needed?
Panelists:
Professor Peter Graham
Dr Hywel Davies
Mr Tyler Bryant

---
The UCL Roberts Engineering Building is on the corner of Torrington Place and Malet Place, enter the gates to the UCL campus on Torrington Place (opposite Waterstones) and the building is directly on the left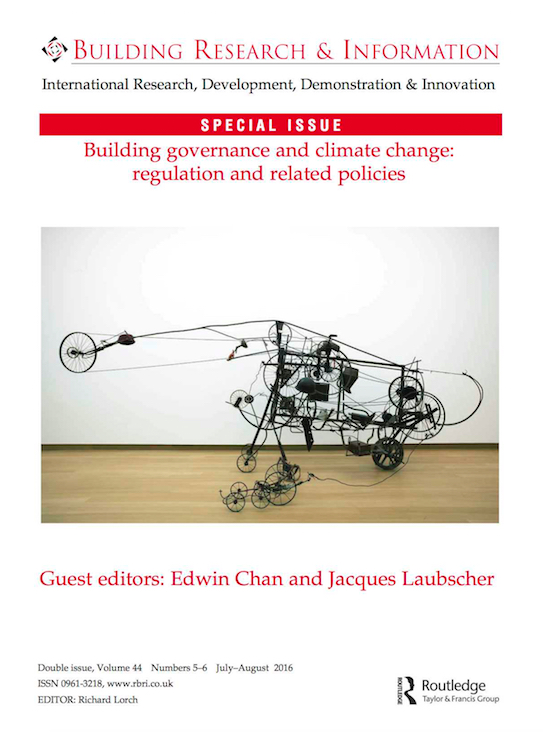 ---
We expect this event to be extremely popular, and places will be on a first come first served basis. We only allow one ticket registration per email address. If multiple tickets are registered to a single attendee you will be contacted and the duplicate tickets will be cancelled. If you are no longer able to attend please email energy-events@ucl.ac.uk
The presentation will promptly start at 4pm.

Please note this event will be filmed and posted on the UCL-Energy Youtube Channel
By signing up to this event, attendees give permission to be contacted in future about UCL-Energy. Please email energy-events@ucl.ac.uk if you do not wish to be added to the mailing lists.
When & Where

Ambrose Fleming Lecture Theatre, UCL
Roberts / Engineering Building
1-19 Torrington Place
WC1E 6BT
United Kingdom


Thursday, 14 July 2016 from 16:00 to 18:30 (BST)
Add to my calendar
Organiser
About the UCL Energy Institute:
Founded in June 2009, the UCL Energy Institute (UCL-Energy) was established as UCL's response to the global challenges of mitigating climate change and providing energy security in the 21st century. UCL-Energy, which sits within the Bartlett Faculty of the Built Environment at UCL, brings together different perspectives, understandings and procedures in energy research, transcending the boundaries between academic disciplines. It coordinates multidisciplinary teams from across the University, with the aim of accelerating the transition to a globally sustainable energy system through world-class energy research, education and policy support. www.ucl.ac.uk/energy Follow on Twitter @ucl_energy