Description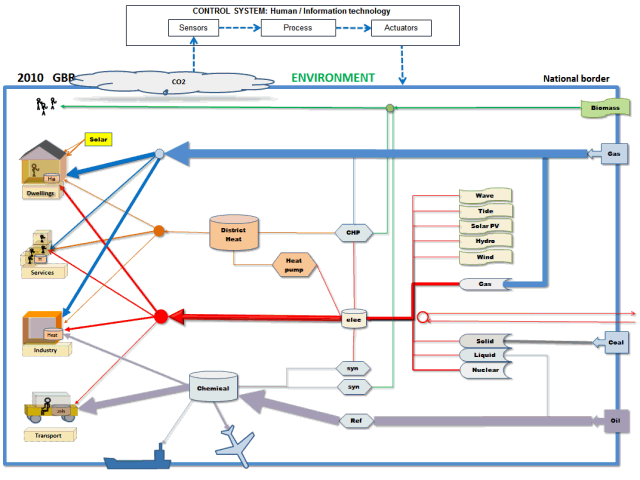 A Renewable UK with Mark Barrett, UCL Energy Institute
The talk will describe a renewable energy system for the UK to meet the objectives of energy security, climate change mitigation and air quality. The focus will be on configuring and operating a functioning system with rapidly varying demands and renewables using storage and system management. The talk will include these elements:
· Energy and environmental objectives for the system
· The drivers of demand, especially population and households, and scenarios for demands in buildings, industry and transport including fuel mix
· Secondary energy systems: district heating, synthetic fuels, electricity
· Ethical and other reasons for selecting renewables rather than nuclear or carbon sequestration
· A mix of renewables to meet demands
· A demand-supply system design: configuration, control and operation
· The energy flows, emissions and economics of the system
· Critical design problems at the international, national and city levels
· Highlighting of some implementation issues
The talk will be illustrated using research based on the DynEMo dynamic model and the SEECity spatiotemporal model.
The lecture will be followed by a networking drinks reception from 7pm.
This is a UCL IEDELearn Event; IEDE Lectures, Events and Research Networks
Speaker Biography:
Mark is a senior lecturer at UCL and company director. He has a BSc in Physics and Philosophy and a PhD in Energy Modelling. He has forty years' experience of modelling energy and transport systems and atmospheric emissions. He has developed a number of national scale models of energy demand in the stationary and transport (land, sea and air) sectors, and conventional and renewable supply, and used these to design low cost systems to enhance energy security and reduce emissions. He has also developed detailed electricity models of demand, supply, emissions and costs, both for national systems and for international trade and two models have been commercialised and used by National Grid and Western Power Distribution. These models have been applied at international and local level in Europe and Asia working with a range of national and local government agencies, private companies and consultancies, and non-governmental and environmental organisations. His current focus is as technical director of an Innovate funded project to produce a city energy and environment model.