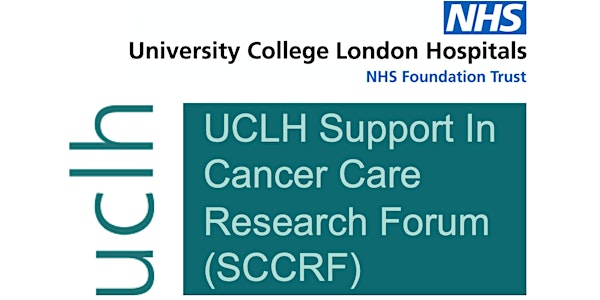 UCLH Support In Cancer Care Research Forum (SCCRF) - May Presentation
UCLH Support In Cancer Care Research Forum (SCCRF) May Presentation by Prof Marc Serfaty
About this event
UCLH Support in Cancer Care Research Forum (SCCRF) is proud to welcome Prof Marc Serfaty for its May presentation on: "ACT in advanced cancer".
The presentation will focus on the use of Acceptance and Commitment Therapy (ACT), which is generating interest for treating distress in conditions which are not amenable to cure. Prof Marc Serfaty will present the findings from the CanACT trial. This was a pilot randomised controlled trial of ACT compared to a talking control for the management of dysfunction in advanced cancer.
Marc is Professor of Psychotherapy Research at UCL, Consultant Psychiatrist Primary Health Network London, and a CBT and ACT therapist.
He completed an intercalated BSc (Hons) in Medical Sciences (physiology) at St Andrews University (1978-1982). His clinical training (MBChB) was at Manchester University (1982-1985), working as a houseman and then as a lecturer in Anatomy for a year. He started training in Psychiatry at Edinburgh University, as a rotational registrar (1987-1991), completing a Master of Philosophy degree (MPhil) investigating benzodiazepine suicides and parasuicides. He was a Senior Registrar and Lecturer in Psychiatry at the University of Newcastle upon Tyne (1991-1996), and also trained as a CBT therapist at the Newcastle Cognitive Therapy centre and obtained a distinction (CertCBT). He is a British Association of Cognitive and Behavioural Psychotherapists (BABCP accred). While Senior Lecturer at UCL (1996-2013) he completed a Doctorate (MD Res) titled: "The use of melatonin for sleep disturbance in depression and dementia."
He is a qualified university teacher, as a Fellow of the Higher Education Academy (FHEA). In 2013 Dr Serfaty was promoted to clinical reader in Psychiatry at UCL. In 2016 he gained the title of Fellow of the BABCP (FBABCP) awarded to 1-3 people a year for their contribution to teaching and research in CBT.
Marc has over 32 years of experience working as a psychiatrist. His current clinical post is at the Priory Hospital North London (PHNL), an independent health care organisation which funding his Associate Professorship at UCL. He has ensured PHNL is a teaching hospital, linked to UCL. He is Lead Consultant for day care and supervises CBT therapists and psychology students in their practice. He is a member of the Royal College of Psychiatrists (MRCPsych). He is recognised under section 12 of the Mental Health Act, by the secretary of State as an Approved Clinician and is also on the GMC register as a specialist in psychiatry.
He has extensively contributed to both under and post graduate medical training and is an examiner for UCL and is a joint collaborator in running the depression and anxiety module in UCLs MSc in Psychiatry.