UGANDA - UK BUSINESS FORUM 2019
Description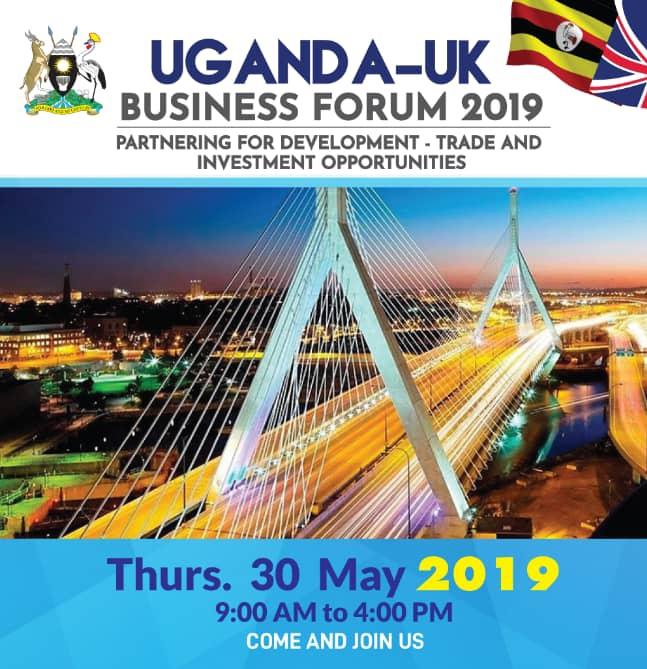 Having identified opportunities in Uganda as being of potential interest to you, The High Commission of the Republic of Uganda in the UK in conjunction with Uganda's Honorary Consul to Leicester and the Midlands invites you to this prestigious business forum.
This event will enable delegates to:
Get an overview of investment opportunities in Uganda's national priority sectors/industries allied to smart investment incentives and after care.

Understand the business export opportunities in both Ugandan and UK markets.

Benefit from dedicated one-on-one business discussions with The Uganda High Commissioner to the UK, his team and VIP Speakers.

Learn about partnerships for the growing manufacturing industry in Uganda, financing infrastructure projects in Uganda and the ease of doing business in Uganda.

Widen their network of contacts and business associates.
Uganda offers exporters and investors with many opportunities. With a population of over 45 million, a GDP growth rate of 6% allied with Pivotal Regional Trade partnerships, e.g, East African Community (6 member states) and COMESA (19 member states), via Uganda, exporters and investors have access to this critical market of over 500 million consumers.
Top areas for U.K. exports to Uganda include: Agro-Processing, Farm and Construction Equipment, Oil Production Technologies, Power Generation, Renewable Energy Technologies, Manufacturing Equipment, Information and Communication, Pharmaceutical Goods and Services.
Benefits for British businesses doing business with Uganda include:
Stable and liberalised economy.

Strong natural resource base.

Government commitment to private sector.
Low cost workforce.

Part of 2 regional blocs which increases the potential consumer base.

Attractive investment policies.

Investment security with repatriation of profits possible.

Re-export support schemes.

Regional markets, e.g, COMESA and the East African Common Market which have a Market of over 500 million consumers.
This event will bring together experts, business leaders, professionals and representatives from prominent organisations based in Uganda and the UK. Delegates will be able to acquire business tips, obtain relevant literature on priority sectors for exports and investments, hear about the realities of doing business in Uganda allied to hands on support to facilitate agreements, where needed.
Uganda looks set to become one of the five largest oil producers on the African continent, with its Lake Albert oil fields potentially capable of producing 200,000-350,000 barrels per day (bpd). The revenues from these discoveries will be mainly spent on infrastructure developments, i.e airports, roads, bridges and railways, which will provide many opportunities for exporters and investors.
To learn more about exporting to Uganda visit:
Obtain more information from: