Sales Have Ended
Ticket sales have ended
Print and bring your ticket with you at the door please.
Event Information
Location
Select from the ticket option for which event and day
United Kingdom
Sales Have Ended
Ticket sales have ended
Print and bring your ticket with you at the door please.
Description
It would be great if you're able to join us at the annual 9th UK-Ugandan Trade, FDI and Export focused forum schedule on:
Day 1: Friday, 13th September 2019, London Hilton on Park Lane, 22 Park Lane, London, W1K 1BE, UK
Day 2: Saturday, 14th September 2019, Troxy,490 Commercial Rd, London E1 0HX, UK
The 9th UCUK is organised with the support of the Lord Popat (UK Trade Envoy to Uganda and Rwanda, International trade Centre, London Chambers of Commerce and Industries, Department for International Trade (British High Commission Kampala), Uganda High Commission in UK and Uganda Investment Authority and many others.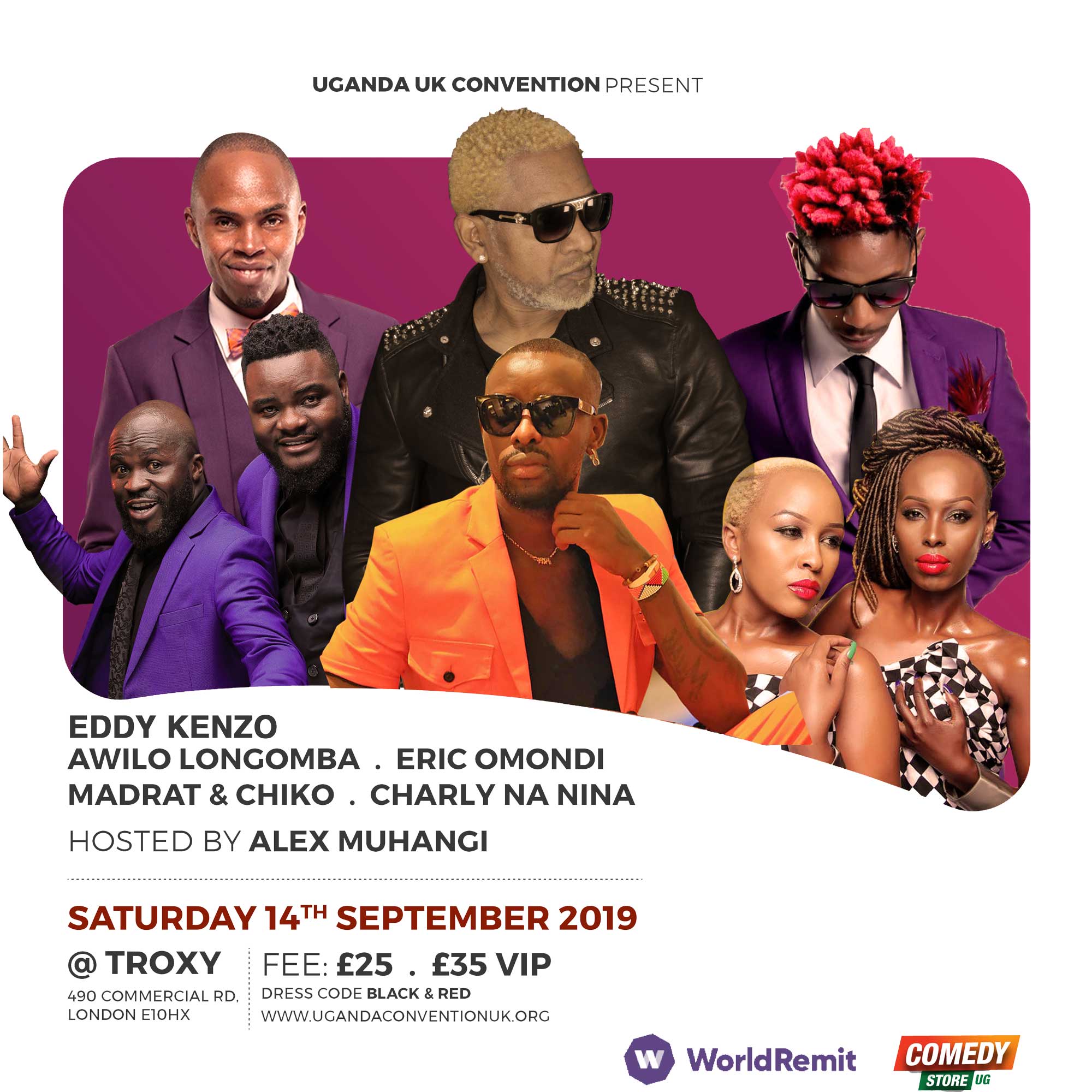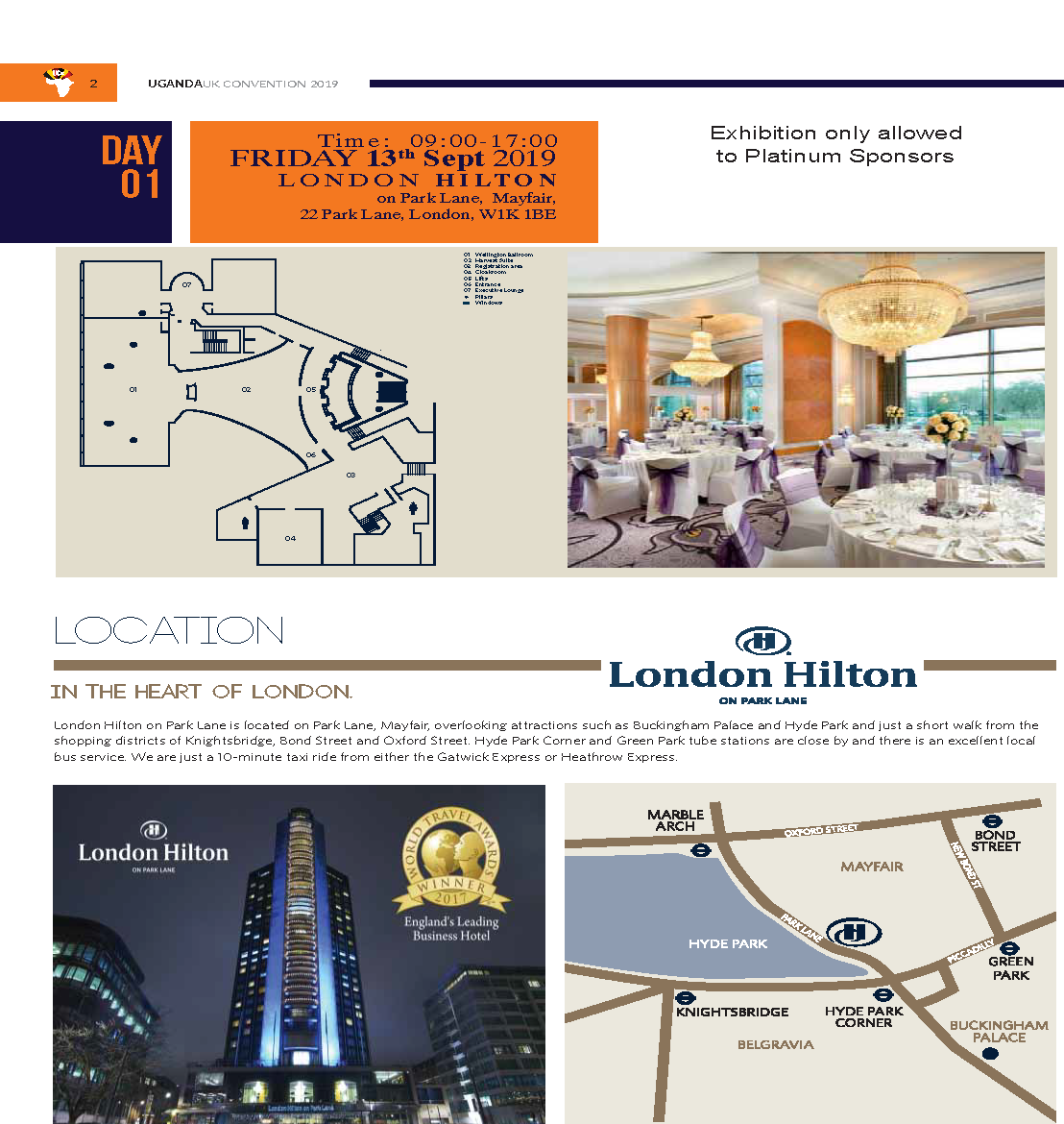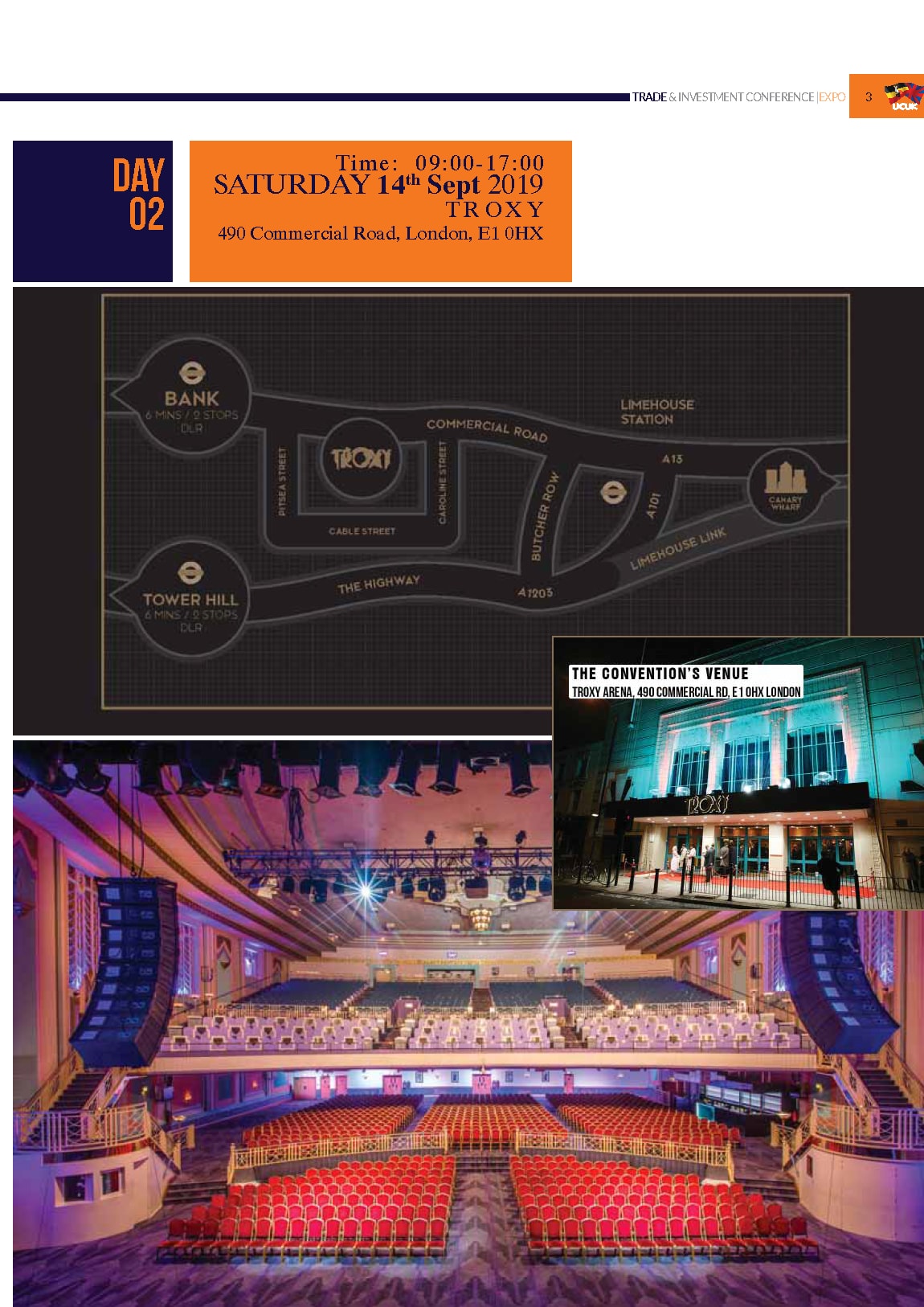 Some of the speakers include:
1. Patrick Bitature, Founder, Chairman & CEO, Simba Group and Chairman Private Sector of Uganda
2. H.E Hon. Edward Ssekandi, the Vice President of Uganda
3. Catherine Wines, Director & Co-Founder - WorldRemit Ltd
4. Martin Labbé, Tech Sector Development coordinator and NTF IV Programme manager at International Trade Centre
5. Rt. Hon. Rebecca Alitwala Kadaga (MP), The Speaker of Parliament of Uganda
6. Lord Dolar Popat, Trade Envoy to Uganda and Rwanda
7. Thomas Krogh Jensen, CEO, Copenhagen FinTech
8. Subhash V Thakrar B com FCA FRSA-Vice President and Past Chairman, London Chamber of Commerce
9. Johnson K. Nyeko, Md, The Benconolly Group |Chairman, Mandulis Energy
10. Hon. Anite Evelyn, Minister of State Privatisation & Investment
11. Lawrence Byensi, Executive Director, Uganda Investment Authority (UIA) (Acting)
12. Hon. Betty Kamya, minister for Kampala Capital City Authority
13. Lars Peter Jensen, Branch Manager, COLAS Uganda
14. Eric Olanya | Country Director, Uganda, Department for International Trade | British High Commission
15. Martin Best - Managing Director - Full Reach (London Fintech Expert)
16. Prof. Augustus Nuwagaba, international consultant on economic transformation
17. Richard Jabo, Executive Director, Uganda Free Trade Zone
18. General Gowa Kasita, Director of Immigration and Citizenship.
19. H.E Amb. Julius Peter Moto Uganda's High Commissioner to UK
20. Allan Rwakatungu, Founder, Xente
21. Bernard R. Magulu, ED, Bank of Africa Uganda | Vice Chairman UgandaUK Convention
22. Dr. Benon Mutambi, Permanent Secretary Ministry of Internal Affairs
23. Edward Katende, CEO, Uganda Agribusiness Alliance
24. Eric Kamau, Managing Director, True African Limited
25. James Mugerwa, Managing Director, Pearl Marina Development Ltd
26. Jean Anthony Onyait, Founder, Akellobanker
27. Jonas Tesfu, CEO and Co-Founder of Pangea Accelerator
28. Lieutenant Colonel Edith Nakalema, Head, Statehouse Anti-Corruption Unit
29. Malcolm Kastiro, Founder, Mallan
30. Michael Newman Byamugisha, representing The National Information Technology Authority (NITA-U)
31. Peace Ayebazibwe Kabunga, Executive Director, Housing Finance Bank
32. Peter Ntende, DevOps Manager and SW Tools Expert at Sennheiser Communications/CC&O
33. Zianah Muddu, Engagement Partner FITSPA & General Secretary Africa FinTech Network


Packed with expert advice, case studies from UK companies operating in Uganda, the FDI Forum stands as the most important event for businesses looking to export, expand and set up overseas operations in East Africa (Uganda). With a population of about 38 million people, GDP Growth of 5.8%, coupled with Pivotal Regional Trade partnerships: East African Community (5 member states), Great Lakes (4 member states), COMESA (19 member states) - exporters have access to this critical market of 489 million.
This year's 9th UK-Uganda Trade and Investment Convention (UCUK) 2019 will have a dedicated focus on Fintech with the aim of increasing inward investment to Uganda within this booming sector.

1st Day ticket gives you access to the Conference pass.
Guarantee your VIP place at the Investment Forum.

One on one pre-booked with government officials including the President.

All refreshments, tea and coffee and Fork Buffet lunch, including light refreshments

FREE VIP Day conference ticket for the Saturday Convention at Troxy on 14 Sept
Why attend?
Gain industry insight, discover the most outstanding projects and property deals, build partnerships and secure investment trust.

Attend a 'one stop shop' opportunity to capitalize and take advantage of the best property deals, services and gain insight from industry experts.

Face to face access to a wide range of experts to help and guide you with your property or investment purchase in Uganda.

Access the latest projects by renowned and well-reputed developers, including agencies and lifestyle services based in Uganda.

A selection of affordable property development projects on display covering the capital Kampala, with varying options such as apartments, houses, gated community developments, villas, serviced plots, plus more.

There will be banks, mortgage providers giving you advice how to finance your dream home or investment.

New real estate investment opportunities in commercial or personal home.

Keynotes from top business and government Ugandan Influencers

Roundtables highlighting bankable investment opportunities

Exhibition showcases for investment promotion agencies

Private bilateral meetings with UK investors

Dedicated networking sessions

Identify concrete investment and business opportunities

Gain access to top ministers, government and business influencers

Debate and tackle critical businesses, East African investment and trade issues

Build and strengthen crucial business relationships, networks and partnerships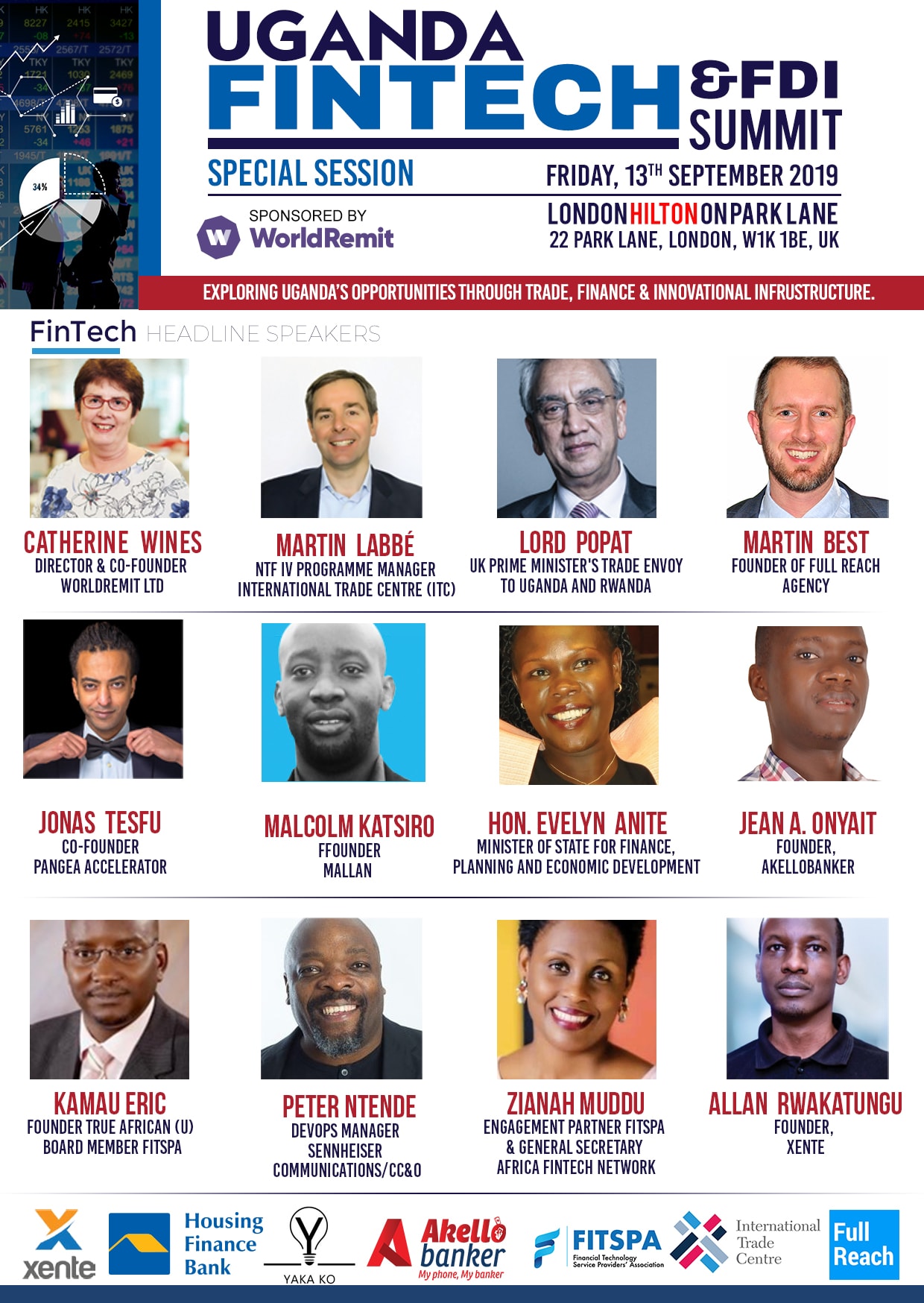 Who attends?
Senior government officials: Heads of state, ministers, heads of RECs, investment promotion agency leaders, and policy makers from Africa and beyond
Executive-level global business leaders, including: CEOs, CFOs, CIOs, COOs, Presidents, MDs, VPs, Government Relations/ Investment Banking
Financiers and investors: investment banks, private equity, sovereign wealth funds, pension funds, family offices, UHNWIs, operators
International governmental organisations and multilateral agencies
Professionals services: consultants, legal advisors, risk consultants, academics
Leading international, regional and local media and publications
Innovators and disruptors
Venture capital investors
Policy makers and political leaders from across Africa
Central bankers and regulators
Banking and finance
professionals
Development finance
institutions (DFIs)
Economists, academics, and thought leaders from across tech and finance
Blockchain, cryptocurrency, and AI enthusiasts
Law firms involved in FinTech
Panels and sessions will address:
Uganda's potential: An evaluation of the market and economic robustness.

Economic reforms and privatisation agenda and progress.

Martin Best

, a London-based Fintech expert to discuss why Uganda can become a Fintech hub

Incentives, opportunities and benefits in the new established Uganda Free Zones Authority (UFZA)

Mr. Patrick Bitature, one of East Africa's successful businessmen discussing overcoming challenges in doing business in Uganda

MD, Pearl Marina Estates to discuss on opportunities in real estate investment

Minister of trade and Industries to discuss incentives and favourable polices.

Invest in affordable housing with a s little as £19,000 with ROI of over 25% within one year.

Where to invest: Priority areas of industrial investment and opportunities.

Investment opportunities in agriculture, manufacturing, FMCG, infrastructure, real estate, technology, tourism and hospitality sectors.

Closing energy gaps: Opportunities in renewable energy, Oil and Gas sectors.

Investing in the financial sector.

Uganda Investment Authority to discuss Investment Incentives and Guarantees for foreign companies.

Latest divestments, M&A deals and JVs.
FinTech PROGRAM HIGHLIGHTS
Policy and Regulation
Financial inclusion

New paradigms in banking

Lending and finance
Investing in Uganda
The future of payments

Blockchain

Artificial Intelligence

Identity

Insurtech
Benefits for British businesses exporting to Uganda include:
stable, liberalised economy

strong natural resource base

government commitment to private sector

low cost workforce

part of 2 regional blocs which increases the potential consumer base

attractive investment policies

Access to EAC, with a market of over 135 million consumers with a total GDP of USD84.7 billion.
For any further information please contact us on
Whattsup +447950 285 493 | T: (+44) 207 237 7317 | M: (+44) 7790 647089
W: www.ugandanconventionuk.org E: info@ugandanconventionuk.org
Download the event's brochure https://www.ugandanconventionuk.org/download-brochure-2016/
---
AFTER PARTY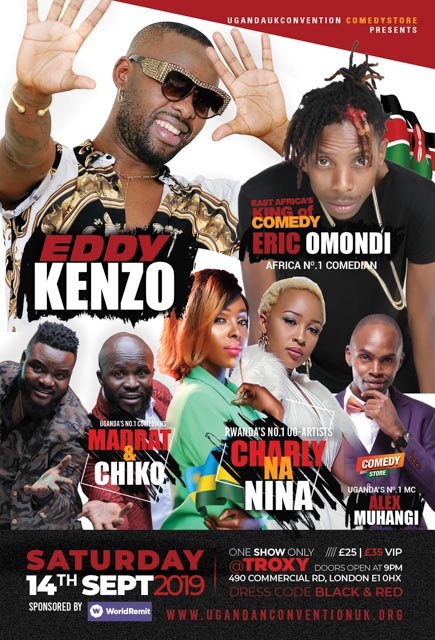 ---
Speaking Opportunities
Willy Mutenza
Uganda trade and Investment Convention-UK (UCUK)
Tel: (+44) 207 237 7317 | M: (+44) 7790 647089 whatsapp: +447950285493
Email:willy.mutenza@ugandanconventionuk.org

Uganda:
Bernard Magulu: T: +256 754410559
Email: bernard.magulu@ugandanconventionuk.org

Sponsorship Opportunities
Rose Nambi | Marketing Manager
Whattsup +447950 285 493 | T: (+44) 207 237 7317
Email:rose.nambi@ugandanconventionuk.org

Date and time
Location
Select from the ticket option for which event and day
United Kingdom
Organiser of UGANDA-UK TRADE & INVESTMENT CONVENTION
The Ugandan UK Convention, a Trade and Investment Forum has now become firmly established as an annual event in the UK.
The forum brings together experts, business leaders, professionals and representatives from prominent organisations based in Uganda, the UK and beyond. Delegates have access to up-to-date information on the vast potential for investment that Uganda offers to both the domestic and international community. They can acquire business tips, obtain relevant literature on priority sectors for investment, take part in an interactive Q & A session and hear about the realities of doing business in Uganda.