Accelerating innovation, digital and technology development, knowledge transfer, partnerships and investment between the UK and Africa
About this event
COVID-19 is expected to delay economic growth both in Africa as well as the rest of the world for years to come. However, technology and digital opportunities across Africa are growing deep as well as broad unlocking new opportunities and innovations, despite setbacks from COVID-19. The resilience of Africa's Internet economy, coupled with growing private consumption population, strong developer talent, public and private investments, investments in digital infrastructure, connectivity and new government policies and regulations will continue to drive growth. The growing number of tech and digital economy based companies are introducing avenues for significant economic growth that will help unlock new sources of value, entrepreneurship, business growth, product innovation, job creation, reduce poverty, and contribute to overcoming Africa's future development challenges.
Join us for The Virtual UK - Africa Technology and Innovation Summit on Thursday 17 February 2022 between 10:30 - 15:00 GMT to learn and hear from our speakers, experts and industry leaders. Join us to connect with like minded business leaders, investors and entrepreneurs, to gain latest updates, insights, perspectives, strategies and practical best practices.
Agenda
10:30 - 12:00 GMT SESSION 1: TECH ECONOMY, ECOSYSTEM, UK-AFRICA LINKAGES AND PARTNERSHIPS
Rethinking and unleashing digital, tech innovation and e-Conomy in Africa - African Union (AU) digital transformation strategy for Africa
Harnessing Africa's $180 Billion digital economy innovation and technology investment opportunities
Fuelling the growth and scale up of tech SME businesses and tech companies
Leapfrogging Africa's digital and remote economy, virtual services, E-Services, Business Process Outsourcing (BPO) and E-commerce sectors
Enhancing Africa connectivity, networks and telecommunication ecosystem
Accelerating UK-Africa knowledge Knowledge Transfer Partnerships (KTP) and innovation partnerships
Developing African tech Ecosystem, digital skills and building linkages between Kenya and UK
Unlocking the potential of Africa's frugal innovations and informal innovative SME sector
Dr Benjamin Kwasi Addom - Adviser, Agriculture and Fisheries Trade Policy (Digital) at The Commonwealth Secretariat
Prof John Ouma-Mugabe - Professor of Science and Innovation Policy, University of Pretoria and Director, Foundation for Innovation and Technology (FIT)
Ben Roberts - Group Chief Technology and Innovation Officer, Liquid Intelligent Technologies
Fargani Tambeayuk - Head of Connectivity Policy, Africa at Meta
Sheena Raikundalia - Director at UK- Kenya Tech Hub, Foreign, Commonwealth and Development Office (FCDO)
Dr Amy Hochadel - Director, Global Business Growth at Connected Places Catapult
12:00 - 13:30 GMT SESSIO 2: FINTECH INVESTMENT, FINANCING AND DEVELOPMENT OPPORTUNITIES
Financing R&D, African tech start-ups, digital SME businesses and innovations technology start-ups VC investment ecosystem: Angel investors, venture capitalists, FDI and DFI funding
Banking and financial technologies: Defi, FinTech, Digital Currencies and Crypto peer-to-peer trading
Investment in digital trials and technologies
Investments in digital infrastructure
Ben White - Founder and CEO At VC4A, co-founder at African Business Angel Network - ABAN and AfriLabs
Kagiso Mothibi - Head: Fintech Unit & Innovation Hub, Financial Sector Conduct Authority, South Africa
Ogugua Osakwe-Adegbite - Head of Strategy and International Expansion, M-PESA Africa
Dr. Hussayn Salem - Co-Founder & Managing Partner, The BUSA Group, Founding President of The Asian African Knowledge Transfer Institute (AAKTI)
Dr Dan Asare-Kyei - Chief Executive Officer at Esoko
Lamide Johnson - Country Lead, Global Alliance Africa at Innovate UK Knowledge Transfer Network (KTN)
13:30 - 15:00 GMT SESSION 3: TECHNOLOGY, DIGITAL SKILLS AND INNOVATION
Accelerating technological advancement, adoption, modernisation and digital transformation
Helping SMEs thrive in a new era of digital technology
Process digitalisation and digitisation technologies and innovations
Smart cities, offices, homes and factory technologies
Health Tech, innovation, EdTech, MedTech and digital medicine
Business collaboration and management systems: Cloud, Edge Computing, AI, IoT, Blockchains, ML, VX, VR ,ERD, Data Centres, TaaS, SaaS, PaaS, DigCom, GovTech
Energy, smart grids, electricity distribution and energy efficiency management system
Clean Tech, sustainability and circular economy management innovations
Emerging digital solutions for development
Transport, mobility (MaaS), logistic and supply chain management technologies
Cyber security, attacks, data protection and digital tech security threats
Ifeoma Malo - CEO, Clean Tech Hub Nigeria
Nanko Madu - Director of Programmes at AfriLabs
Gift Agboro - Acting Deputy Country Director at the UK-Nigeria Tech Hub
Julio Malikane - Technical Specialist, Digital Health & Education at United Nations Capital Development Fund (UNCDF)
Joylynn Kirui - Senior Cloud Security Advocate, Microsoft
For enquiries and discuss how you can participate and sponsor the summit, email us at info@sscg-group.com
Find more about SSCG at www.sscg-group.com or Twitter @SSCGConsulting and hashtag #SSCGConsulting #SSCGForum #SSCGSummit
GDPR COMPLIANCE
By registering to attend our events, you consent for us to hold your personal data and usage of event images inline with General Data Protection Regulation (GDPR) Compliance. We assure you that your data will be kept confidential and only be used to keep you updated of our events activities. For further inquiries, please email info@sscg-group.com.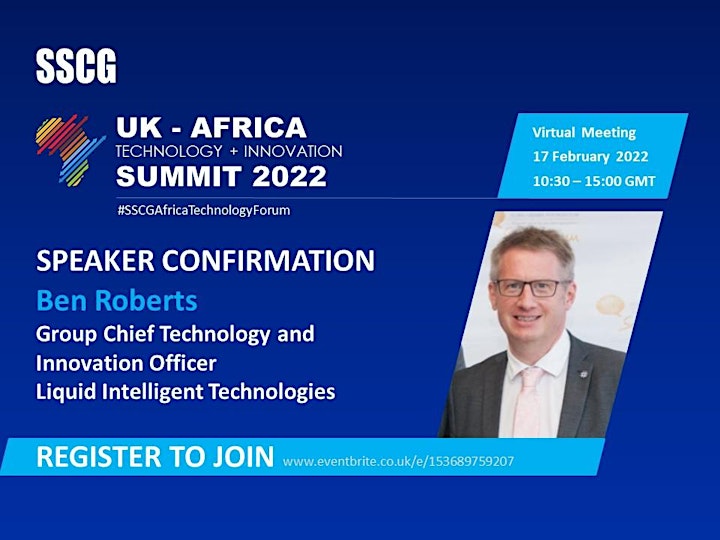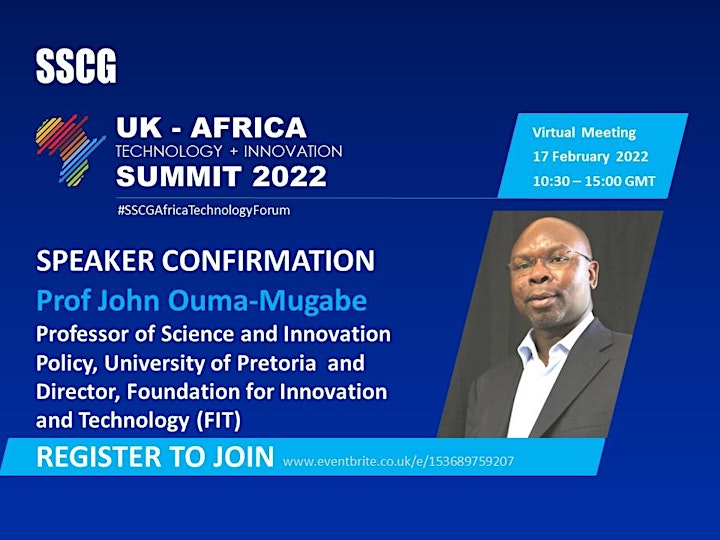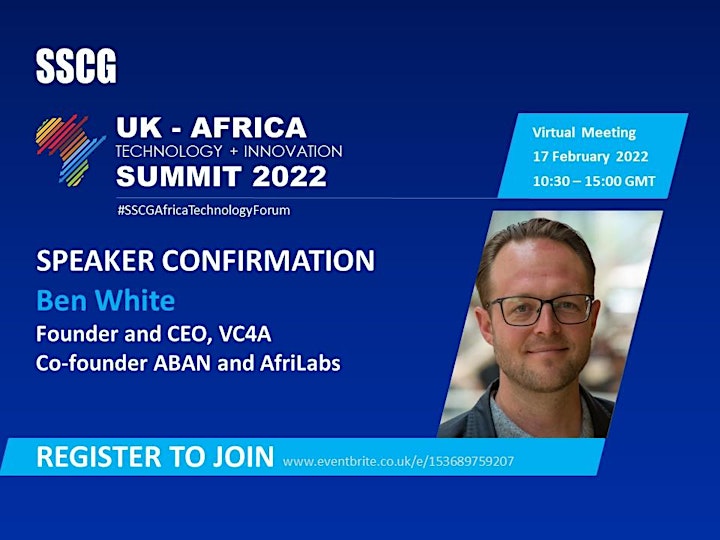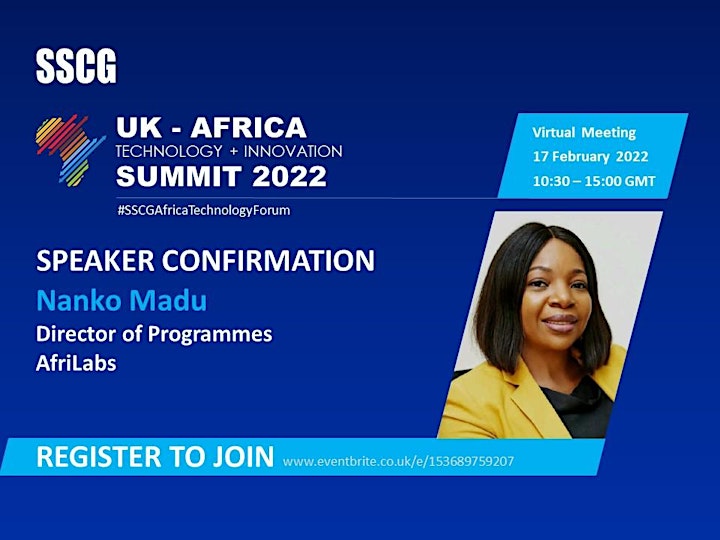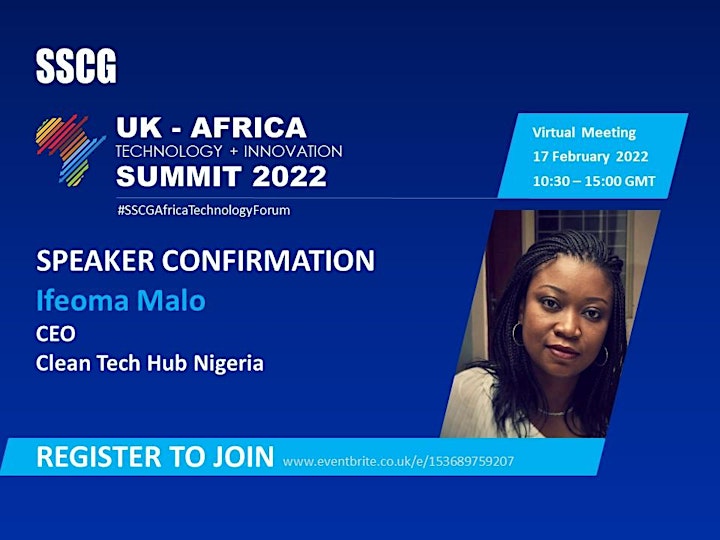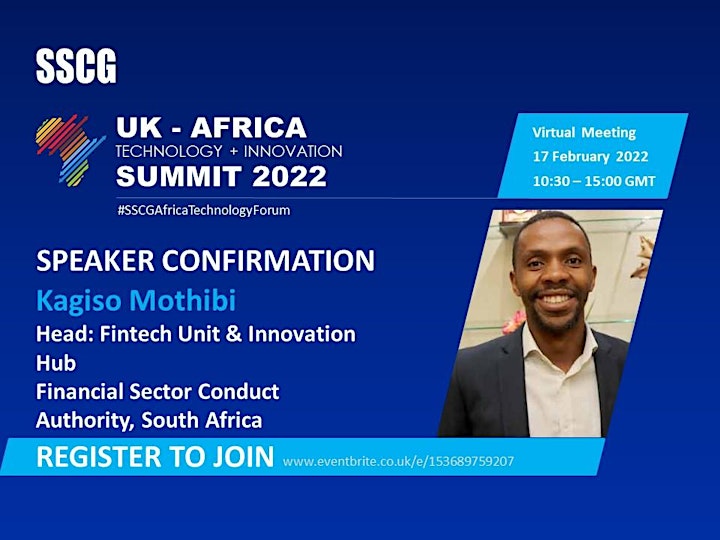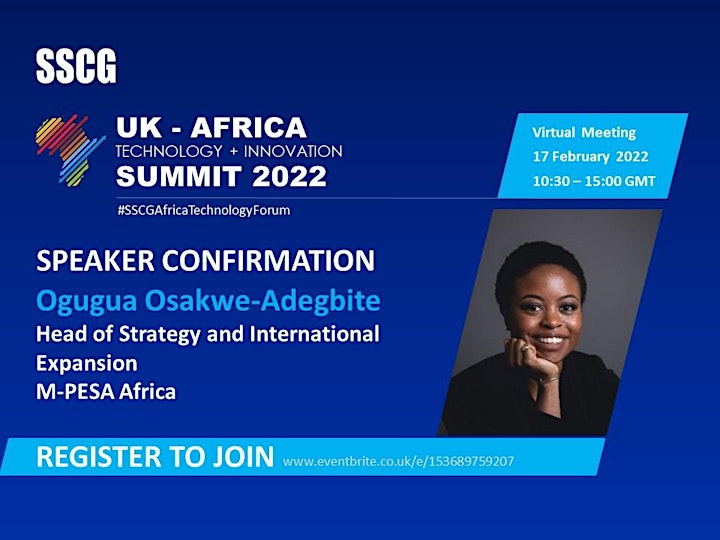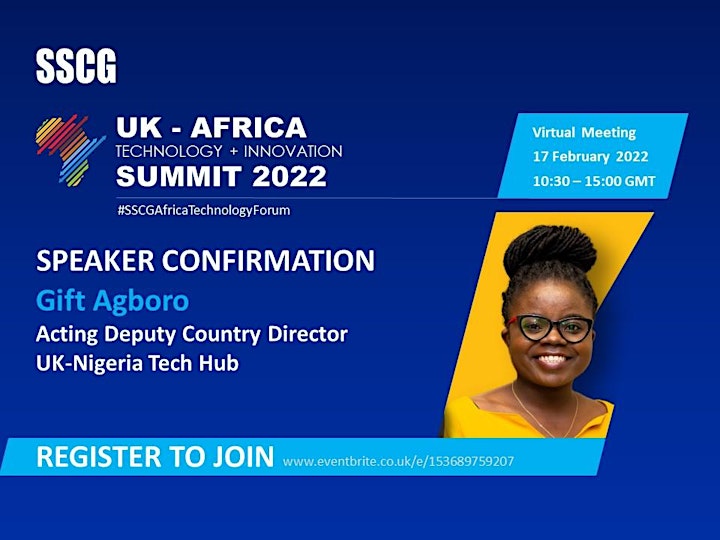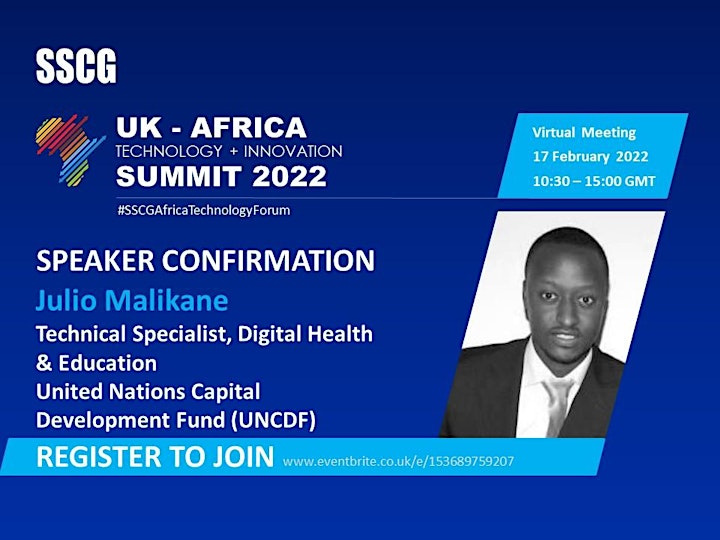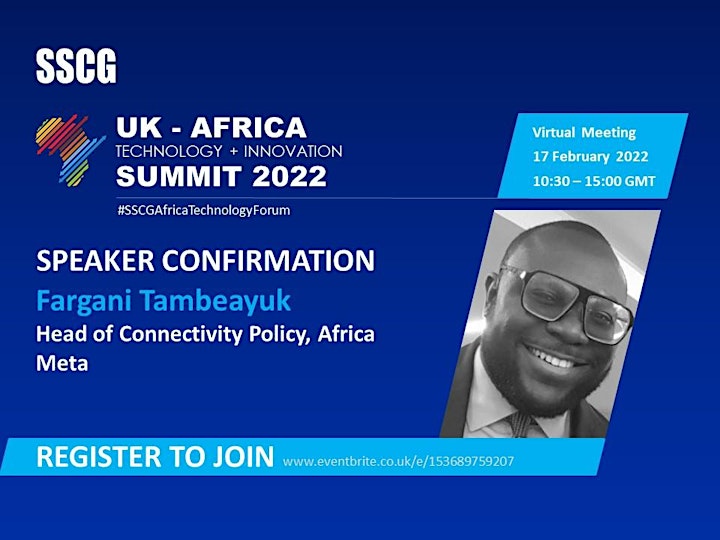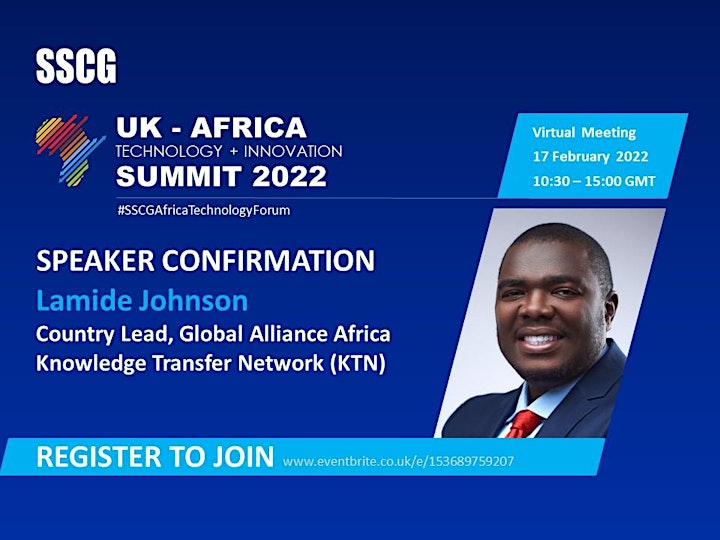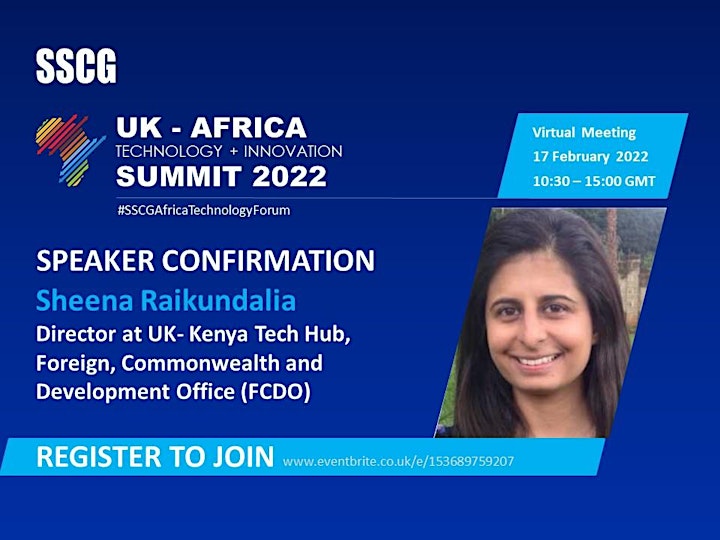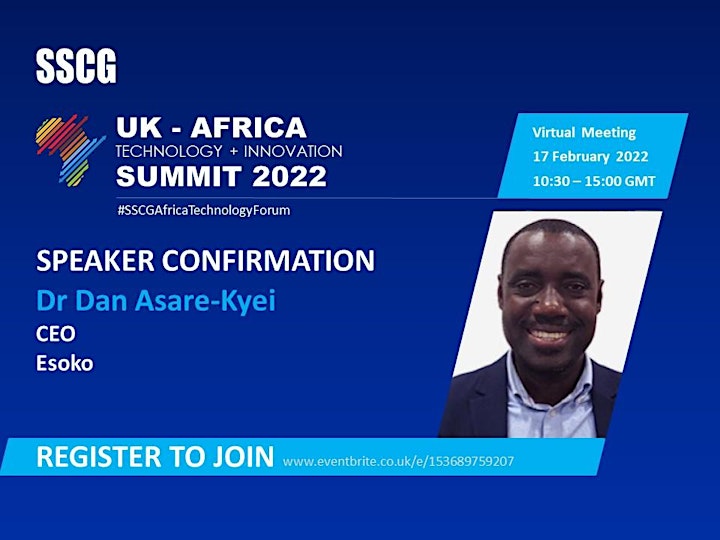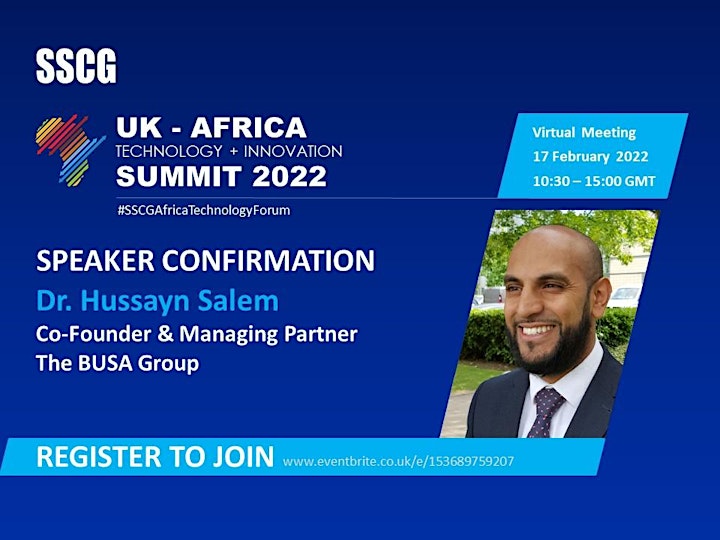 Organiser of UK - Africa Technology + Innovation Summit 2022