Description
FACILITATING THE DIGITAL TRANSFORMATION OF THE BUILT ENVIRONMENT
Join us on our tour to hear more about how the UK BIM Alliance is facilitating the Digital Transformation of the Built Environment with and for the Industry. Alongside news from the Alliance, including buildingSMART updates, there will be real-life examples and case studies shared by the industry.
On March 28th we are in Newcastle where we have a number of different speakers who are sharing their thoughts on "How & why you implemented BIM within your business and what, if any, difference it has made to the business highlighting any specific projects".
---
Facilitating the Digital Transformation of the Built Environment
Thursday 28 March 2019
Venue Radisson Collection, The Royal Mile, Edinburgh City Centre
3.00pm Registration & Networking, 3.30pm Presentations start
---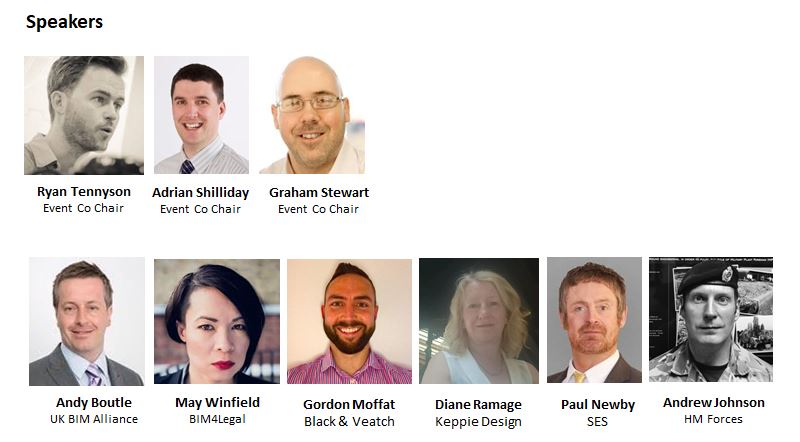 ---
Opening the event will be the BIM Regions Scotland co-chairs Ryan Tennyson, Adrian Shilliday and Graham Stewart who will provide an update on the upcoming activities for the region.
Andy Boutle from the UK BIM Alliance will share the latest updates from the Alliance including news about the projects the Alliance are working on as well as a standards update and let you know how you can get involved.
May Winfield from BIM4Legal and co-author of the WinfieldRock report will consider the main legal and contractural issues of BIM and provide some practical tips on mitigating the risks. Gordon Moffat from Black & Veatch will share his thoughts on how they have implmented BIM and the challenges they have faced.
Diane Ramage from Keppie Design will be sharing her thoughts on BIM and the challenges and successes that have happened. Following Diane, will be Paul Newby from SES who will about how the procurement of MEP contractors impacts BIM; culture, behaviours & collaboration; how BG6/2018 could spell disaster and what might the immediate/long term future look like for BIM in MEP contracting.
Our final speaker is Andrew Johnson who has served 24 year in the Royal Engineers as a civil engineer and finishing as a Senior Soldier. Andrew has decided to transition into the world of digital transformation, aka BIM and will sharing his findgings on the cultural impact of BIM in the construction industry.
All of the speakers will be sharing their experience in the world of BIM giving you the opportunity to ask them any questions. If you would rather not ask publicly at the event, then there is a box to enter your question when you register.
Thank you to the Scottish Futures Trust and Construction Scotland Innovation Centre (CSIC) for their support.
We look forward to seeing you on March 28th.