UK-Chinese Business & Investors Christmas Ball on the Thames (via CC-G)
Description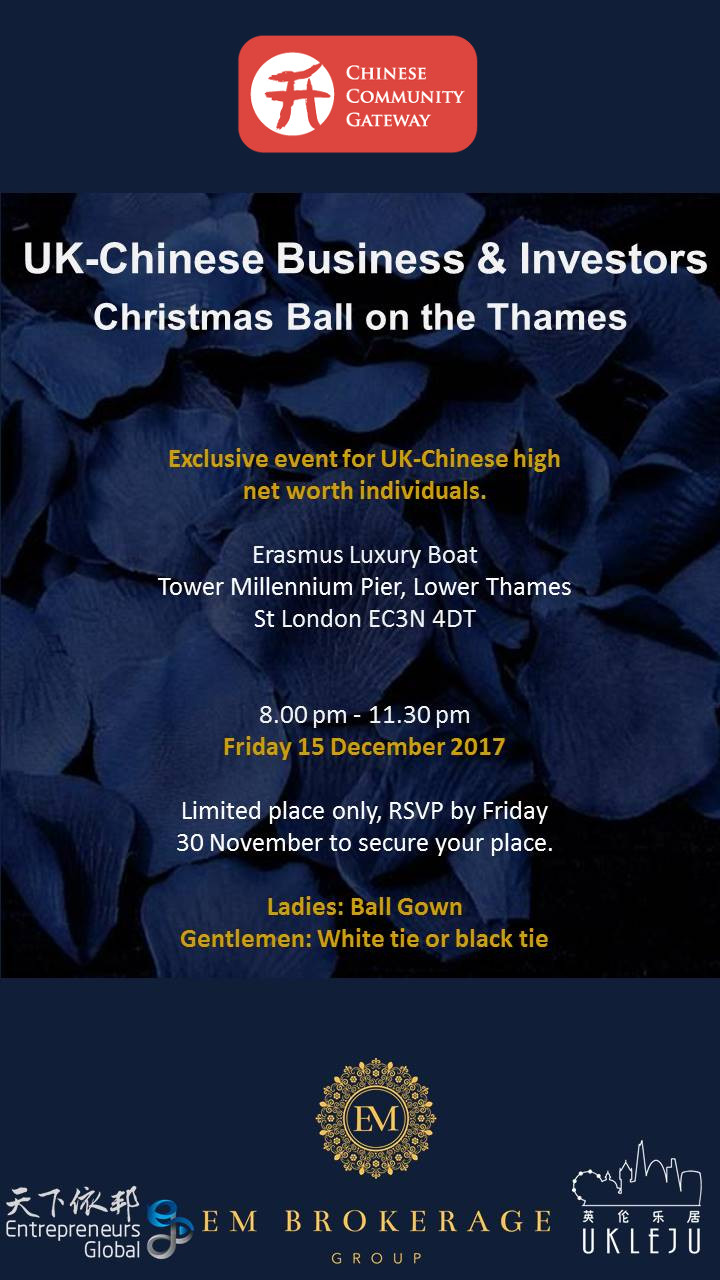 Christmas Ball on the Thames
One of the most anticipated Christmas events in London's cultural and social calendar, the Christmas Ball on the Thames is taking place on December 15, 2017. CC-G is proud to be a part of this event, extending the invitation to CC-G members which will undoubtedly expose and give its members a chance to network as well as learn from established individuals. Limited tickets available, book now to avoid dissapointment.
UK-Chinese Business & Investors - Christmas Ball on the Thames is a joint partnership between EM Brokerage Group, Entrepreneurs Global, UKLEJU and CC-G is aiming to bring together investors and visionaries from across a wide range of Chinese and British industries in a sophisticated yet social milieu.
High net worth individuals, CEOs, investors, senior executives, famous artists, politicians, and everyone who is passionate about English culture and history will come together at the Erasmus Luxury Boat, one of the most prestigious vessels on the Thames. Departing from Tower Millennium Pier, Tower Bridge and the stunning city skyline as its backdrop, you will cruise past Canary Wharf and towards Chelsea Harbor, all the while savoring haute cuisine and fine wines in an environment of modern-contemporary elegance.
The Ball will be tastefully decorated to reflect the Christmas charm and excitement of this time of year. The Ball revives the great traditions of English balls, attracting attention to the rich history of English culture, while guests can enjoy fine British dining and entertainment against the ever-changing backdrop of London's stunning panoramic skyline and its festive illuminations on the River Thames.
A Representative from Cheung Kong Graduate School of Business (CKGSB), a prominent business school which has more than half of their 10,000+ alumni are at the CEO or Chairman level.
Simon Russell, General Manager of the London Capital Club, a prestigious business club and one of London's oldest members' clubs. The Club's 800 membership is predominantly Senior Executives & Directors and, Business Owners in the UK.
Ticket and what it includes
Tickets for the Christmas Ball on the Thames are available from CC-G for £ 88/ person if purchased here (we are going as a group) to make it easy for everyone who would like to on their own/as a couple.
This includes champagne reception, selection sumptuous buffet, first class entertainment, and fine wines from Berry Bros and Rudd wine company, a 1698 shop selling more than 5000 wines selected by 5 Masters of Wine, with 2 royal warrants.
To make the event more exclusive, for those who join the Ball, you will be able to get access to:
Exclusive preview of the latest collection from Maddox Gallery, which has not shown to the public;
VIP package for F1 Monaco and British Grand Prix for 2018;
VIP tickets to the Top Five British Premier leagues clubs.
Programme
We invite you to enjoy a unique evening of delicious food, festive cheer and captivating entertainment!
Sample Buffet Menu (may differ depending on availability)
Home-cured beetroot salmon, dill and chive
Lemon, rosemary and honey glazed chicken
Chimichurri sirloin of beef, wilted watercress
Traditional hot pot of braised lamb shoulder
Classic French coq au vin
(and a selection Dessert Canapés to chosen from)
IMPORTANT
Guests are requested to strictly adhere to the dress code. Failure to respect the dress code will result in non-admission to the ball.
Ladies: Ball Gown
Gentlemen: Suits and White tie or black tie
If you have questions or encounter any problems with your ticket purchase, please do
Telephone: +44 (0) 203 189 1235; or event@embrokeragegroup.com
About Organizers
EM Brokerage Group Lifestyle Management is a business and luxury lifestyle concierge service based in London, and with a unique global reach. We have significant experience and expertise in the provision of luxury lifestyle, travel and tourism, event management, real estate, and investment and wealth management services.
Corporate Movie: https://www.youtube.com/watch?v=awBxMhPwv5g
Entrepreneurs Global is an one-stop Business Service Platform for UK-China entrepreneurs based in London, and with a highly loyal entrepreneurs community.
UKLEJU means 'Happy Living in the UK' in Chinese. UKLEJU is a UK property portal targeting on powerful Chinese buyers.
CC-G (Chinese Community Gateway) is a charity organisation, Our aims are to: Unite and strengthen the Chinese community Our first pillar is to unite and strengthen the Chinese community in the UK. We will achieve this by running fun, inclusive events aimed at all people, regardless of age, marital status, and gender. For example, we'll have social, cultural, and educational events such as month end drinks, hiking, outdoor activities and arts & crafts and seminars. Also to raise funds for worthwhile causes where profits are then donated to various charity organisations, for example CCC - Chinese Community Centre.
Official Partners in 2017
Entrepreneurs Global
Deputy Mayor of London for Business
Cheung Kong Graduate School of Business (CKGSB)
London Capital Club
Linkup China
Maddox Gallery
Ritz Hotel London
Beau Han Xu
* All images are taken and edited from EM Brokerage oficial EventBrite ticket page and they are only for references. CC-G only act as partner to extend ticket selling to its existing as well as its new members.
Date and Time
Location
Erasmus Luxury Boat
Tower Millenium Pier
Lower Thames Street
London
EC3N 4DT
United Kingdom
Refund Policy