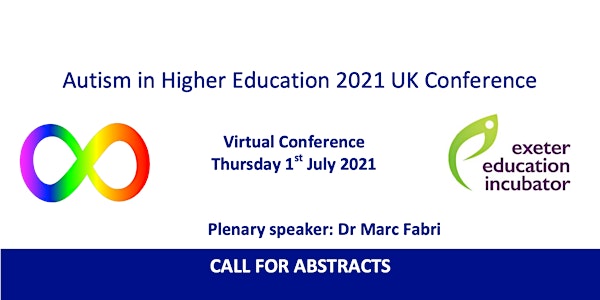 UK Conference on Autism in Higher Education
This conference will be a place for educators and students to share ideas and research relating to Autism in Higher Education.
About this event
This conference is part of The Exeter Spectrum Project funded by the University of Exeter Education Incubator.
Researchers, educators, students and all who are interested in autism in higher education are invited to submit abstracts for the conference.
We welcome contributions relevant to, but not limited to, the following topics:
• Supporting transitions, e.g. from school to university, or from university to workplace
• Inclusive course and assessment design and delivery
• Understanding and embracing neurodiversity
• Communication strategies
• Socialising at university
• Creating community and belonging
Key dates:
Abstract submission deadline: 4th June 2021
Presenters notified by: 7th June 2021
Conference date: 1st July 2021
For queries, contact the organisers
Dr Layal Hakim (l.hakim@exeter.ac.uk),
Prof. Barrie Cooper (b.cooper@exeter,.ac.uk),
Dr Tom Ritchie (t.ritchie@exeter.ac.uk).