Description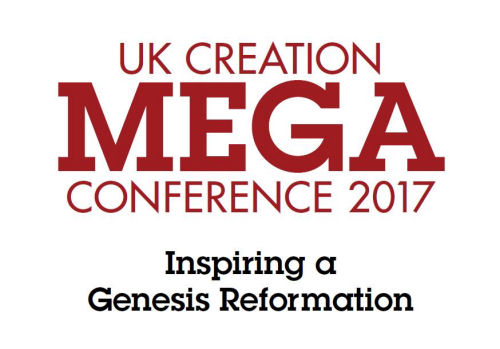 Bringing together some of the best creationist speakers from around the world for 3 days of ministry - Ten amazing speakers upholding the truth of God's Word at the biggest creation conference of the year! Join us at as we stand our ground against the lie of evolution and proclaim the truth for the Glory of Jesus Christ.
Featuring:

Ken Ham, John Mackay, Dr. Voddie Baucham, Dr. Danny Faulkner, Steve Ham, Prof. Stuart Burgess, Prof. Andy McIntosh, Paul Garner, Dr. Stephen Lloyd and Simon Turpin... plus, newly added, Dr. Nathaniel Jeanson.

The speakers represent the following ministries (alphabetically): Answers in Genesis, Biblical Creation Trust, Creation Research and Voddie Baucham Ministries. Additionally, Day One Youth Ministries will provide breakout 'Megakids' sessions for ages 5-11 (limited availability).
For more information about the conference (including the schedule), please go to www.ukmega.org or, to purchase tickets, please see the table below regarding prices, discounts and deadlines - then click on the green box at the top of this page.
Please Note - Online bookings will only be available until 9AM on Monday 23rd October. After that you will need to come on the day and pay at the door as per prices below, subject to available space.

Cancellations - Please note that any ticket cancellations are subject to the following fees:
from 01/09/2017 to 27/09/2017 = £5 per adult ticket
from 28/09/2017 to 11/10/2017 = 25% of amount paid
from 12/10/2017 to 22/10/2017 = 50% of amount paid
from 23/10/2017 = 100%