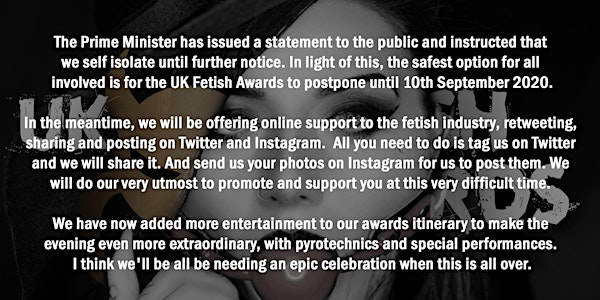 Location
Proud Embankment
8 Victoria Embankment
London
WC2R 2AB
United Kingdom
An exciting event in London to showcase the world of fetish, celebrate it's purveyors and provide an excellent networking opportunity!
About this event
The UK Fetish Awards arrives in London on Thursday 10th September at Proud in London.
Many top fetish brands, models and companies have been nominated for an exciting award, along with newcomers to the scene. We are passionate about the fetish community and will be providing an opportunity to all who work in the industry or have an interest in it, to join us for an evening of celebration.
Dress Code:
Women: Fetish themes can include lace, leather, rubber, latex, pvc, vinyl, Cosplay, masks, kinky boots, heels - be as creative as you like!
Men: Males are also welcome to dress in the above. Suits and black jeans will also be accepted, but please keep the fetish theme in mind. Studs, chains and a little flair is appreciated. NO blue jeans, white trainers or t shirts please.
No exposed genitals or nipples due to venue restrictions.
ID: Please bring I.D. for proof of age. You will need this to enter the building. This doesn't have to match your performer name.
Please arrive by 7pm for a champagne reception and photographs on the red carpet.
Come and join us for an evening of entertainment and fun!