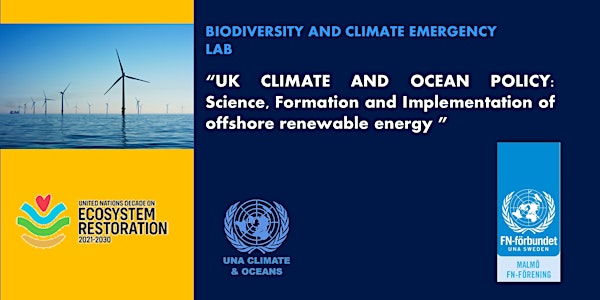 UK Government Climate & Ocean policy - Science, Formation, Implementation
UK Government policy - Science, Formation and Implementation of offshore renewable energy
About this event
This webinar aims to shed light on the science driving UK Government climate policy, its formation, and how policy then informs the push for UK offshore renewable energy.
Offshore wind accounts for 13% of the UK's total energy budget (ONS, 2020.). With spiralling energy costs looming and a concerted push towards renewables, it is essential to understand how this growing source will shape the energy sector in the next few decades.
Likewise, Ocean ecology and biodiversity are vital to our future, and it is crucial to understand how science drives policy and, therefore, renewables. Join us as we dive into the intersection between the three seemingly separate sectors and explore how each depends on the other. The webinar will be in the form of a panel featuring the following expert speakers.
Speakers:
Stephanie Ockenden – UK Government Head of the Ocean, Climate Change, and International Evidence (OCCPIE) team at The Department for Environment, Food & Rural Affairs (DEFRA). Will discuss how UK government policy is formed and how science translates into legislation.
Professor Murray Roberts FRSB – Co-Author on IPCC 5th Assessment Report, Professor and Chair of Applied Marine Biology and Ecology, School of Geosciences, The University of Edinburgh. Fellow of the Royal Society of Biologists, Expert on Cold-Water corals, Coordinator iAtlantic project. Will discuss the academic side of UK ocean ecology, biodiversity, and his current research.
Helen Walker - Head of Environment - Iberdrola Iberdrola website (parent company of Scottish Power)
Q & A Session - joined by
Dr Bengt Skarstam - UN Association Sweden/ Malmo) (Trustee)
YOUNG VOICES
Thomas Pendlebury - UNA Youth Ambassador
Gail Sant - UNA Youth Ambassador
Natasha Barnes - UNA Youth Council
UNESCO - The High Seas - short film
OUR ISLES AND OCEANS project - short film