About this Event
With the pandemic reducing the opportunities for play dates and community based activities, the Bricktopia Team have arranged for some online sessions which utilise Zoom.
This workshop will provide step-by-step instructions to recreate the UK Guide logo with LEGO bricks!
Eventbrite require a minimum £1 donation for this event BUT those registering will be emailed a pdf version of the instructions AFTER the session to keep and reuse.
This is intended to be a family-friendly activity and aimed at children aged 5+ ... we suggest that Rainbows are assisted by a grown-up.
The instructor is an active Scouter and LEGO brick fan!
Builders (Rainbows, Brownies, Guides, and leaders) will be expected to have some LEGO bricks close to hand at the start of the session. Uniform is not complusory.
The instructor will provide a list of the 35 pieces by email at 10:30am on the day.
A suitable baseplate measuring 32x32 studs is also required.
At the end of the session we are hoping that everybody will hold up their LEGO brick Guide logo for all to see! These can then be photographed (with or without somebody holding it) and shared online via https://www.facebook.com/bricktopiaevents/
The link to the Zoom workshop, and simple parts list, will be emailed to the registered email at 10:30am on the morning of the session.
Also, check out www.eBuilderClub.co.uk (offline LEGO brick activities) and www.ClubBricktopia.co.uk (online LEGO brick build sessions).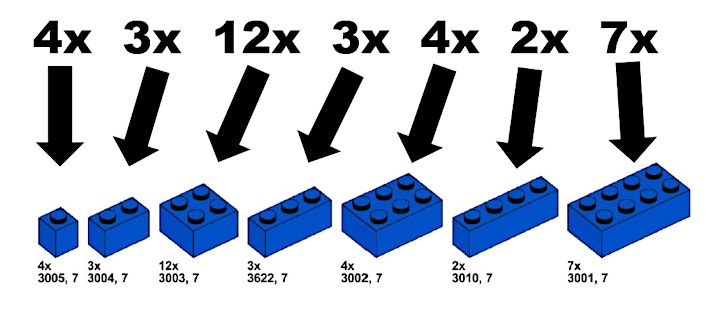 The above list of parts will be required for the session though the colours do not have to be the same as above or each other!