UK Immersive Pitch & Demo at SXSW 2019
Description


US and international commissioners, distributors, investors and potential collaborators are invited to join some of the UK's top immersive content creators for an afternoon of business-focussed lightning talks, XR prototype demonstrations, networking and cocktails.

This event is part of the UK Research and Innovation US Immersive Mission and the Arts Council England and British Underground Future Art and Culture programme, and is powered by Digital Catapult.


Event Schedule
2:00 pm - Registration and Networking
2:30 pm - Pitch Session
4:00 pm - Networking and XR Demos
5:00 pm - Event Close


Pitch Session
Representatives from some the UK's most exciting commercial, cultural and academic organisations, currently working in the immersive space, will take the stage at Capital Factory to make lighting talks.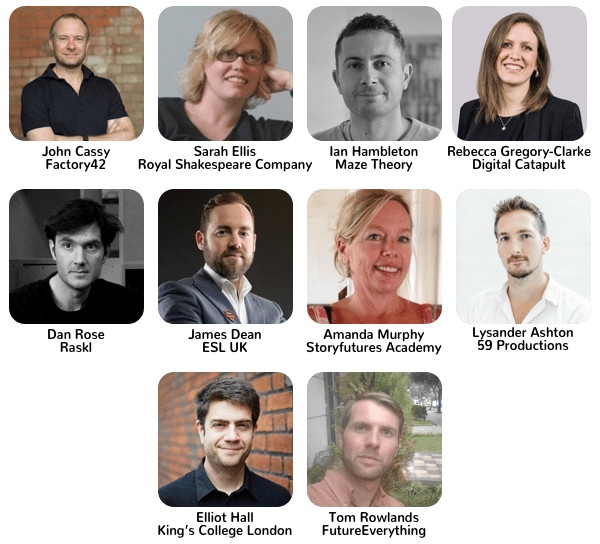 Sharing overviews of their ground-breaking new projects and pitching for support to an invited audience of over 100 influencers, producers, technologists, and investors from the creative and immersive technology industry, presentations include:
XR Prototype Demos
Featuring early-stage and experimental work funded by UKRI, the demos aim to explore the future of immersive content.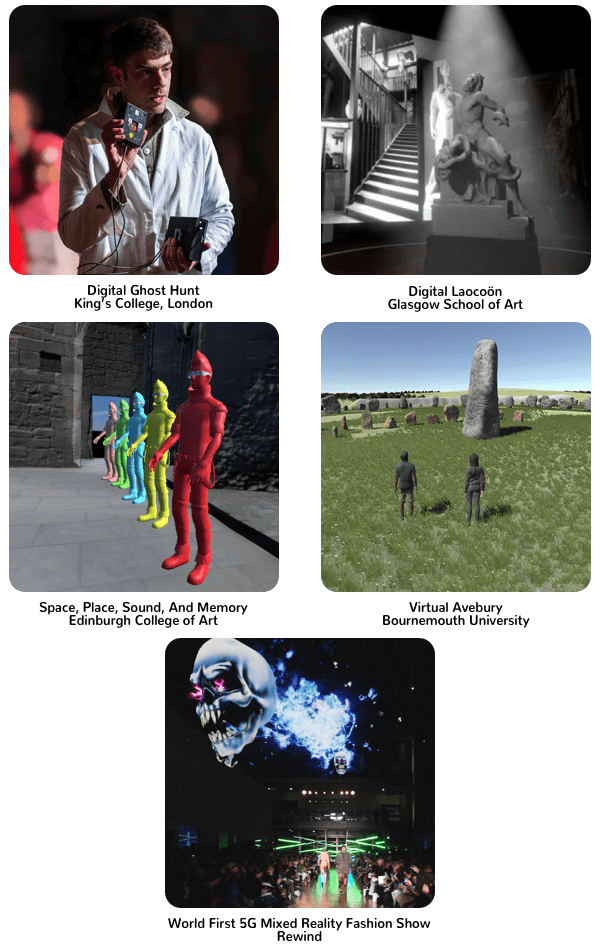 Explore an English heritage site that rivals Stonehenge, search for ghosts in the Capital Factory and examine artifacts from the Glasgow School of Art's iconic Mackintosh Building, which was tragically burnt to the ground in 2018 - amongst other exciting new immersive experiences:
A note on attendance
This is a free event, which means we overbook to allow for no-shows and to avoid empty seats. While we generally do not have to turn people away, this does mean we cannot guarantee everyone a place. Admission is on a first come, first served basis.
Photo by Giu Vicente on Unsplash
Organiser of UK Immersive Pitch & Demo at SXSW 2019
AHRC Creative Economy Programme
The Creative Economy Programme enhances and extends the Arts & Humanities Research Council's (AHRC) reach in the creative economy, emphasising the importance of arts and humanities research in generating impact across the sector, ranging from micro-businesses to large corporations. AHRC is one of the seven research councils and Innovate UK and Research England comprise UK Research & Innovation investing over £7bn annually. www.ceprogramme.com
Arts Council England
Arts Council England is the national development body for arts and culture across England, working to enrich people's lives. They support a range of activities across the arts, museums and libraries – from theatre to visual art, reading to dance, music to literature and crafts to collections. Great art and culture inspires us, brings us together and teaches us about ourselves and the world around us. In short, it makes life better. Between 2018 and 2022, they will invest £1.45 billion of public money from government and an estimated £860 million from the National Lottery to help create these experiences for as many people as possible across the country. www.artscouncil.org.uk 

British Underground
British Underground produces showcases and strategic development projects in music and the arts that focus on international success. Working across the creative sector from Stormzy to The Royal Shakespeare Company, they are an Arts Council England NPO and part of the PRSF Talent Development network. Their London office is provided by the Musicians' Union and the organisation has relationships across the cultural sector in the UK and overseas. www.britishunderground.net  
Digital Catapult
Digital Catapult is the UK's leading advanced digital technology innovation centre, driving early adoption of technologies to make UK businesses more competitive and productive to grow the country's economy. We connect large established companies, startups and scaleups, and researchers working with artificial intelligence, immersive technologies, 5G and LPWAN to discover new ways to solve big challenges in the manufacturing and creative industries. www.digicatapult.org.uk
CreativeXR
CreativeXR gives creative talent the opportunity to experiment with immersive technologies to create new experiences that inspire audiences. Focused on the creative industries, particularly the arts and culture sector; the programme gives the best creative teams the opportunity to develop concepts and prototypes of immersive content (virtual, augmented and mixed reality). The programme offers access to early stage finance, facilities, industry leaders and commissioning bodies, and the opportunity to pitch for further development funding. The programme has been developed by Digital Catapult and Arts Council England, with support from Innovate UK. www.creativexr.co.uk