UK Motivational Maps Conference - 17th October 2019 by Aspirin Business
Description
You're invited to attend the 2019 UK Motivational Maps Conference, organised by Aspirin Business.
Following feedback from deligates of the 2018 Maps Conference, we have decided to move the venue from Poole, Dorset to Winchester. We hope that this makes it easier for more people to attend as there are brilliant rail links straight into Winchester and the Rugby Club is a short 10-15 minutes walk away, plenty of free parking as well. We look forward to seeing you whether you are a steadfast Mapper, or would like to find out a bit more about Maps and how they are used. Both Heath and Susannah look forward to welcoming you.
Event Information
Date – 17th October 2019
Time – 9am for a 9.30am Start, finishing at 4.30pm
Where - Winchester RFC Ltd , North Walls Park (Off Nuns Road), Winchester, SO23 7EF
Parking – Free Parking on site
Lunch – Ticket Price includes a hot lunch and unlimited tea & coffee.
Speakers Information
James Sale - Creator of Motivational Maps
Linda Sale - MD of Motivational Maps
Susannah Brade-Waring - MD of Aspirin Business - Senior Practitioner
Steve Jones - Skills for Business - Business Practitioner
Zsuzsa Czagler - VIP Coaching Center, Hungary - Business Practitioner
Marie Ball - Marie Ball Consulting - Australia - Business Practitioner
Mark Terrell - The Reluctant Leader - Business Practitioner
Robert Nunn - Grosvenor Group - Internal Practitioner
Who is this conference for?
The UK Motivational Maps Conference is open to all Motivational Maps Practitioners, Business Leaders, L&D and HR Leaders and Managers, Coaches and Trainers that want to know more about motivation and the unique ISO Accredited tool called Motivational Maps. Meet and hear from like-minded people who are already using Motivational Maps within their businesses to great effect, both with their colleagues and clients.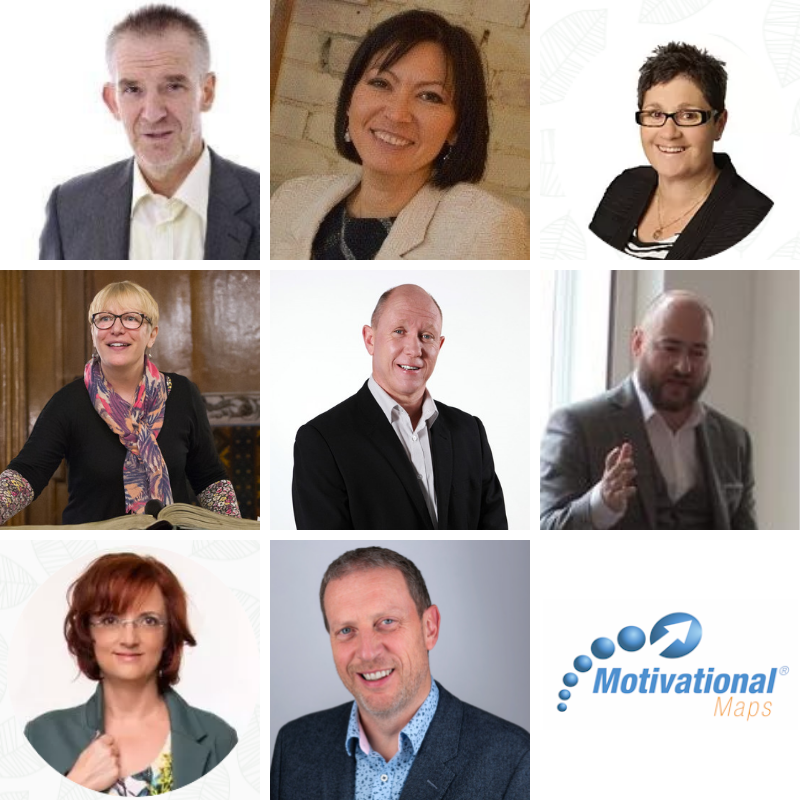 2019 Speakers
Ticket - £55 pp + fees & VAT - Total £69.23 inclusive
For more information contact us at:
T: 01202 801187
M: 07727 284592
W: www.aspirinbusiness.com
W: www.motivatedperformance.co.uk
Organiser of UK Motivational Maps Conference - 17th October 2019 by Aspirin Business