Description
Black History Studies in association with Deep Black Arts presents the UK Premiere of 'Middle of Nowhere' by Ava DuVernay

Rated 15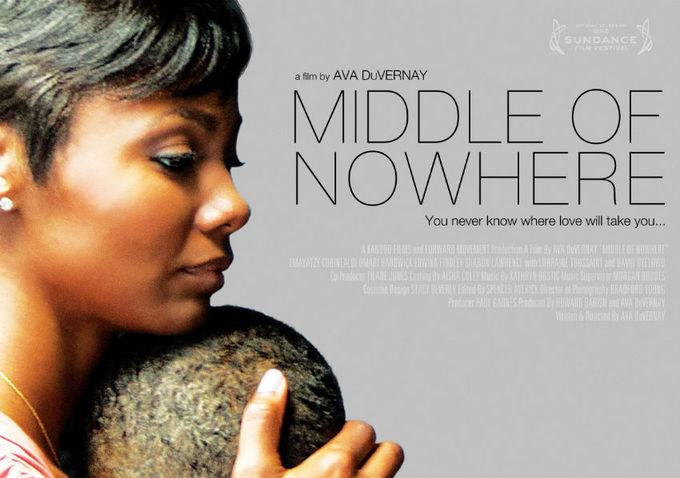 Watch the trailer here


Winner of the Best Director Award at the 2012 Sundance Film Festival, MIDDLE OF NOWHERE follows Ruby, a bright medical student who sets aside her dreams and suspends her career when her husband is incarcerated. As the committed couple stares into the hollow end of an eight-year prison sentence, Ruby must learn to live another life, one marked by shame and separation. But through a chance encounter and a stunning betrayal that shakes her to her core, this steadfast wife is soon propelled in new and often shocking directions of self-discovery - caught between two worlds and two men in the search for herself.
Did you know that at the 2012 Sundance Film Festival, Ava DuVernay became the first African-American woman to win the Best Director Prize for her second feature film Middle of Nowhere?


A SCREENING NOT TO BE MISSED!!

There will be a panel discussion after the screening with the main actress Emayatzy Corinealdi, Award winning Criminal Justice Safeguarding Consultant Empress Jai and author, filmmaker and journalist Stephen Graham on the 'Impact of Black Male Incarceration on Black Relationships' and are 'Black Relationships Becoming Extinct?'


This screening will take place on MONDAY 10th NOVEMBER 2014 from 7.00pm to 9.30pm.

The event will be held at the PCS Headquarters, 160 Falcon Road, Clapham Junction, London SW11 2LN, (3 minutes walk from Clapham Junction mainline station. Buses to the venue 35, 37, 39, 49, 77, 87, 156, 70, 219, 239, 295, 319, 337, 334, 345, C3, G1).

Doors open at 6.30pm. The screening will start 7pm sharp!

Hot food will be on sale.

Admission will be £10 per person

Advanced ticket sales end at 3pm on Monday 10th November. Spaces are limited.
You can pay £10 cash on the door, but arrive early.

For more information about the event, please contact 0208 881 0660 or info@blackhistorystudies.com
Organiser of UK Premiere of 'Middle of Nowhere' by Ava DuVernay

Black History Studies is a social enterprise company which aims to empower the African and Caribbean community and enable them to develop self knowledge and identity through Black History and Culture. Black History Studies provide a wide range of courses and activities that give people with the opportunity to pursue their interest in Black History and Black Studies. We provide high quality courses and activities that can be accessed by all within the community.