Exploring UK Real Estate Investment Opportunities: An international Discussion looking at off-market deals
About this Event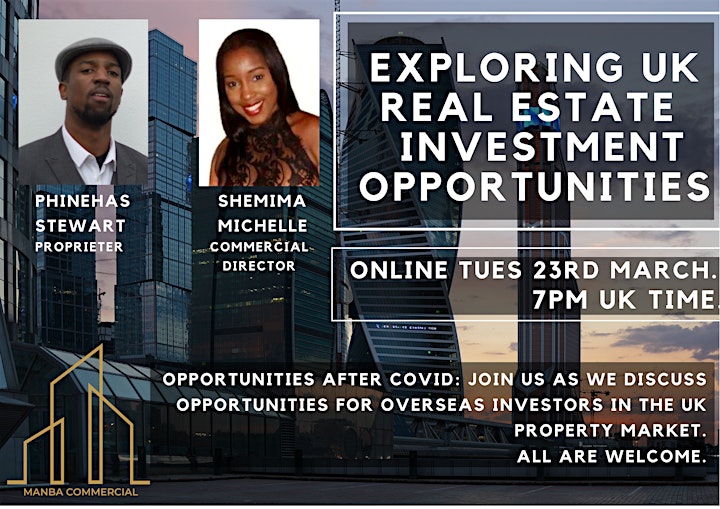 To join https://us02web.zoom.us/j/82844833056
Are you a residential property investor looking to expand your portfolio with a commercial investment, but not sure where to begin? Or are you already a commercial property investor looking to move into new opportunities that this new market has to offer?
We are witnessing some fantastic property deals emerging in the UK property market, and are keen to share these with you.
If you are then this on-line event is for you.
WE WILL COVER:
INVESTMENT RULES
● Property business plan
● Roi
● Roci
● Cash flow quadrant
MARKET ANALYSIS
● Market health
● Sales
● Transactions
● Supply and demand
WHAT ARE THE OPPORTUNITIES
● PD Opportunities
● Market Trend opportunities
COMMERCIAL VS RESIDENTIAL
● What are the differences ?
Strategy
● What strategy can I take to move forwards
POWER TEAM/PROPERTY ETIQUETTE
● Who do I need in my team?
● Why do i need a power team?
COMPLIANCE
● What is compliance and why do I need it ?
HOW CAN WE HELP
● How to grasp fleeting opportunities
MANBA COMMERCIAL is a property investment company honed within the commercial property sector. We assist both overseas and UK investors to benefit from entering the UK property and land market. We help investors maximise their money, by employing their capital into assets and putting their money to work rather than having it sat in a bank. With interest rates at an all time low, cash is becoming less and less valuable, therefore investments are key to achieving a secure future.