Description
RELEASING A SOUND FOR REVIVAL IN GREAT BRITAIN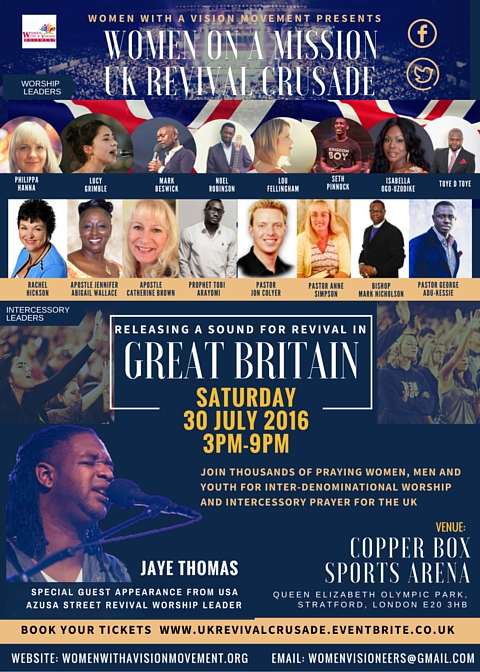 Join thousands of men and women for a Kingdom Revolution at the UK REVIVAL CRUSADE on Saturday 30th July 2016 in TRANSFORMATION HOUSE, 58 St Johns Hill (next to Pough Road), Clapham Junction, London SW11 2AA. If your heart cry is "Revival", then join together with Believers, Churches and Christian Leaders from all denominational backgrounds; in the SPIRIT OF UNITY to lift up ONE VOICE in worship and prayer for Great Britain. Let us fill the Copperbox Arena Stadium with the Praise, Presence and Power of the Living God. Book your tickets today to be part of history!
For Enquiries and Group Ticket Allocations, Call: 07586 523891 | 07462 471420
Email: womenvisioneers@gmail.com
Leading Worship LIVE on the day....
Philippa Hanna




Worship Leader

Mark Beswick




Worship Leader

Seth Pinncok

God's Bride | Kingdom BOY

Worship Leader

Toye D Toye




Worship Leader

Lucy Grimble

Commonwealth Church

Worship Leader

Lou Fellingham




Worship Leader

Noel Robinson




Worship Leader

Isabella Ogo Uzodike




Worship Leader