Description
This is the 3rd year of Christian Leaders, Believers, and Churches gathering TOGETHER IN UNITY for 6 glorious hours or worship and intercession for revival in Great Britain. "Open the Floodgates" is our heart cry. Open the Floodgates of the Spirit of God. Open the floodgates of Revelation of Jesus Christ over our land. Open the Floodgates of Miracles, Signs, Wonders and Healings. OPEN THE FLOOD GATES LORD! Amen.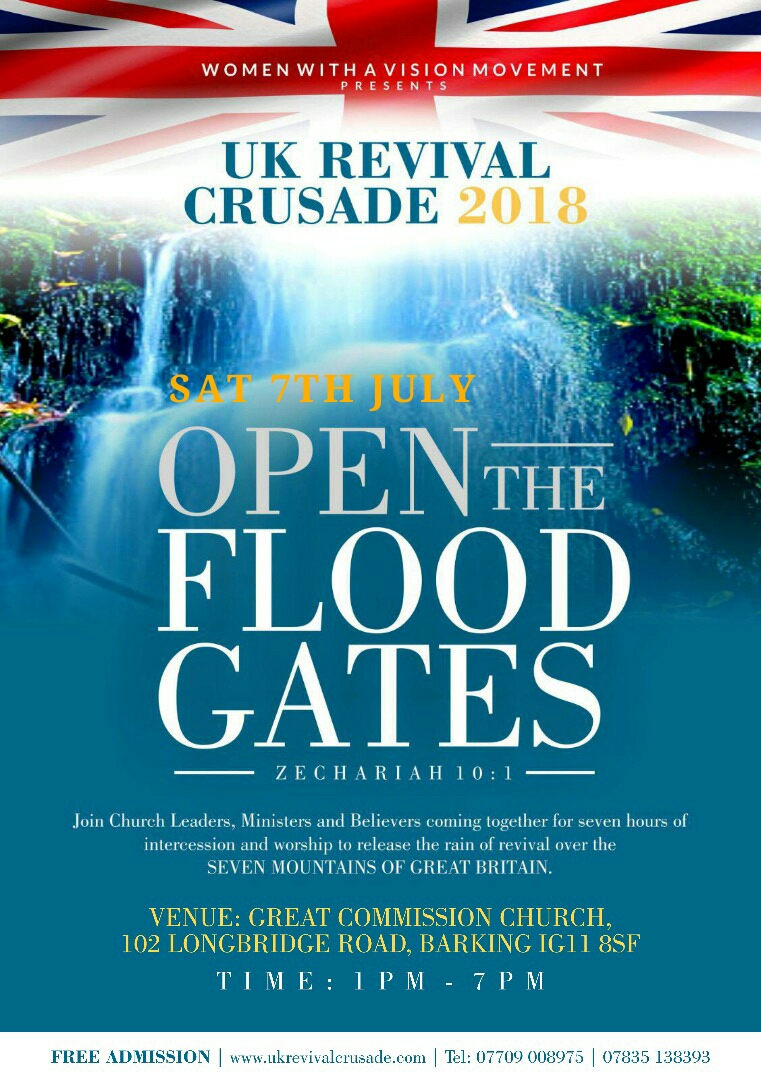 .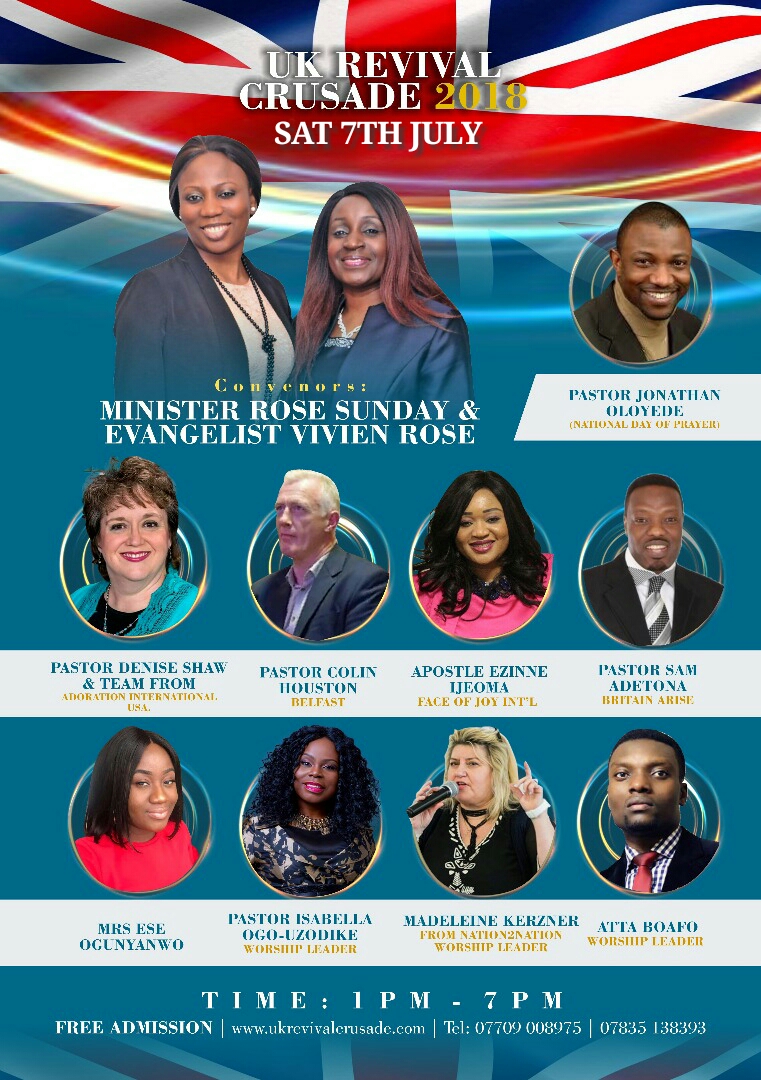 Open to all. Believers and Non Believers looking for an outpouring of the Power of God upon their life.
People are thirsty. God is ready to perform His Promises concerning the people and nation of Great Britain.
With notable Leaders , Intercessory & Worship Leaders,
Pastor Jonathan Oloyede (NDOP)
Pastor Sam Adetona (Britain Arise)
Pastor Colin Houston (Trumpeters Voice, Belfast)
Pastor Denise Shaw (Adoration International, USA)
Apostle Ezinne Ijeoma (Face of Joy International)
Mrs Ese Ogunyanwo-Israel
WORSHIP
Pastor Isabella Ogo-Uzodike
Minister Madeleine Kerner
Minister Atta Boffo
We are excited & expectant. Be part of this historic movement - Praying for the UK and Releasing the Spirit of Revival across the land
REGISTER FREE BELOW
Organiser of UK REVIVAL CRUSADE 2018 'Open The Floodgates!'
Is Christ divided? Was Paul crucified for you? Or were you baptized in the name of Paul? 
1 Corinthians 1:13
Our mandate is to motivate Believers in the Body of Christ to meet in the spirit of TOGETHERNESS, bringing down denominational barriers for the purpose of uniting in Prayer and Intercession for  revival in the nation of the UK and abroad.
What Do We Do?
We organise and convene conferences, retreats, crusades and prayer meetings on a local, city and national level. COME & PRAY WITH US at our monthly midday intercession meetings >> view dates
Convenors of the Annual UK  Revival Crusade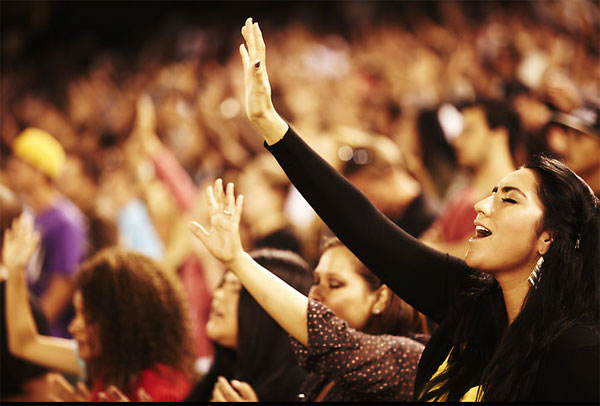 The Women Behind This Vision.
We are 2 ordinary women with an extraordinary God and vision. Despite the fact this vision had been given by God to Minister Rose, 12 years ago, when the Lord mandated this ministry to convene this crusade, we still felt overwhelmed like Moses and questioned the Lord, 'Why Us and Why Now'. Nevertheless, we said "Yes Lord", we will go and the journey began.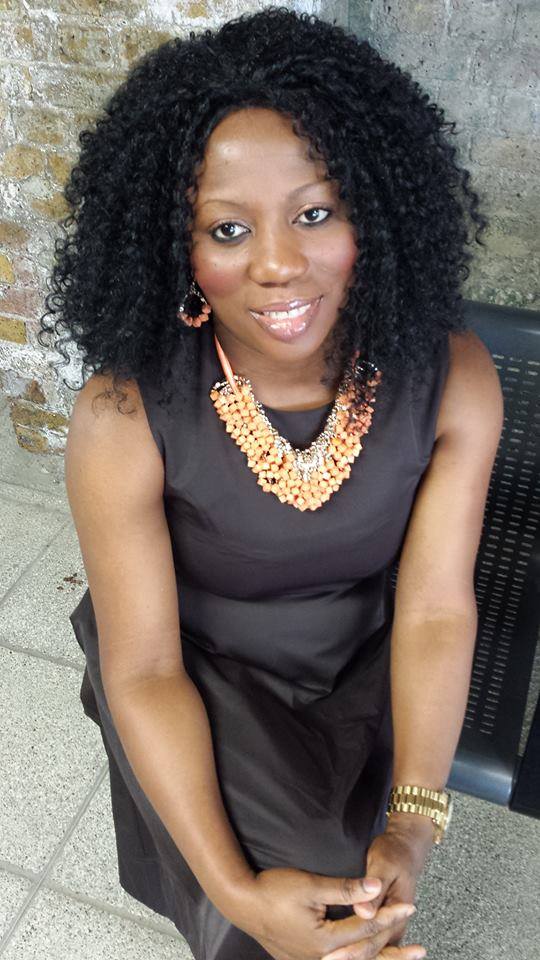 Minister Rose Sunday            
Visionary
Minister Rose Sunday is a woman of God called to unite the Body of Christ to do greater exploits. She has served in various departments in her local church for over 8 years. The clear gift and anointing for Prayer and Intercession rests   upon her life. Her passion and heart's desire is to see women rise up to their  fullest potential. In answer to God's call, Minister Rose is calling women from all Christian denominations to come together and stop playing church but focus on helping each other fulfil Gods vision for their lives in order to expand the Kingdom of God.
She is an author of 3.nooks and runs her own Event Management business De Ushe. Minister Rose understands the pressures women face in trying to balance personal life with ministry responsibilities. Nevertheless, the cry of her heart remains - women must unite and arise to  make a difference and with God's backing - there should be "No Stopping!"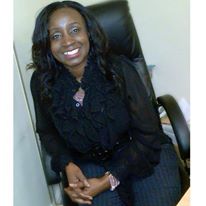 Evangelist Vivien Rose
Co-Visionary
Evangelist Vivien Rose is a writer, publisher and Founder of IGNITE Benevolence Fund, a non-profit organisation and storehouse to help needy children, women and youth in East Africa  A devoted mother of two children, Vivien has served in ministry for over 10 years; primarily in the area of prayer, intercession, church administration and media. Her media ministry PICKING UP THE PIECES brings hope to many Christian women and men suffering abuse, violence in their marrisges, "turning pain to gain". Her calling is to "heal the brokenhearted" empowering believers to pursue purpose regardless of the trials they have been through.  She travels regularly on missions, teaching, preaching and serving village communities with practical aid and assistance.
Work with us 
Our team are keen to work in Partnership with Ministries and Leaders and we are regularly invited to pray and intercede in local communities, churches and ministry events.
To speak to us
or book a meeting
tel: +44(0)7835 138393
tel: +44(0)7709 008975
Email: womenvisioneers@gmail.com 
Website: www,womenwithavisionmovement.org