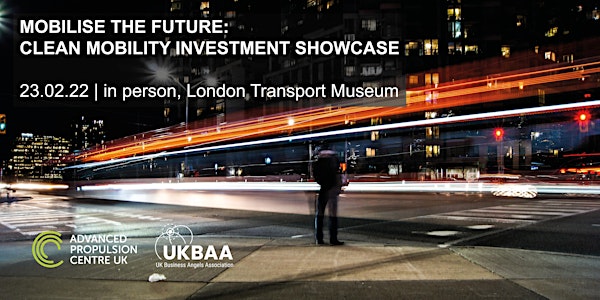 UKBAA & APC's Mobilise the Future: Clean Mobility Investment showcase
Event Information
Location
London Transport Museum
Covent Garden Piazza
London
WC2E 7BB
United Kingdom
Investors join us at the Mobilise the Future showcase, where we'll explore the latest trends in the mobility space
About this event
Investors be sure to join us for a host of pitches from entrepreneurs at the cutting edge of the mobility sector.
About this Event:
Investors are invited to join us at the third Mobilise the Future: Clean Mobility Investment showcase, where we'll explore the latest trends and ground-breaking developments shaking up the mobility sector.
In partnership with the Advanced Propulsion Centre, UKBAA is presenting Mobilise the future, an innovation showcase diving into the power and role that technology plays in tackling global challenges in travel, mobility, sustainability, placemaking and how that helps us to explore the world around us.
Hear from leaders from the mobility and investment industry as they explore the ever-changing autonomous vehicles and mobility landscape and engage with a host of the UK's most cutting-edge transport entrepreneurs seeking investment in their revolutionary businesses.
Register today to join other industry-leading angel and early-stage investors and help us to drive innovation in the transportation and mobility space forward.
Join us in the unique setting of The London Transport Museum in order to meet with a range of pioneering entrepreneurs. There's no better way of getting to know the intricacies of a company than by seeing them pitch - signup for the event to meet the next generation of industry leaders.
Register now to hear from a curated group of innovating founders.
Please note, this is an investor only event and spaces are reserved for those actively deploying capital in the startup and early stage space.
Date and time
Location
London Transport Museum
Covent Garden Piazza
London
WC2E 7BB
United Kingdom