Event Information
Refund Policy
Contact the organiser to request a refund.
Eventbrite's fee is nonrefundable.
About this Event
This ukulele Playing & Singing Monthly Workshop offers you a complete step-by-step interactive guide for STRUMMING and SINGING simultaneously while using ukulele strumming patterns, helping you achieve a new skills level and surpass the routine of "random strumming".
We give you the opportunity to see behind the music theory's thick wall using transferable skills that will improve your musicianship and increase your credibility when performing for a live audience.
WORKSHOP'S HIGHLIGHTS
Learn about time signature and how to keep a steady pulse
How to choose the right Strumming Pattern based on the song's time signature, pulse, genre and style
How to find or write a precise song transcription
Real time Beat-Lyrics/Chord-Lyrics, Chord-Pattern and Pattern-Lyrics synchronisation general practice
Playing and Singing slots with individual feedback
MAIN BENEFITS OF THIS UKULELE WORKSHOP
This ukulele workshop is suitable for beginners but even intermediate ukulele players can learn a few more techniques when it comes to pattern - singing synchronisation, song transcription and live music performance.
The interactive and relaxed atmosphere will help you improve your musicianship and overall confidence by giving you the chance to perform live in a friendly and supportive environment.
The knowledge used to put together these interactive online workshops comes from months of online tuition and endless research hours focusing on finding the easiest and fastest way to transfer core musical skills to our regular students.
TOPICS WE'LL BE COVERING IN THIS WORKSHOP
- 2/2, 3/4 and 4/4 Time Signatures
- Shuffle, Country, Waltz, Reggae and Island Strum
- Well-known song examples for the above patterns
- Open strings chords and alternative shapes
- Popular music chord progressions
- Common music and lyrics forms
Event Details
Day: Wednesday, 30th September 2020
Time: 8pm-9:30pm (UK)
Cost: £10
Place: Zoom Online Meeting
Tickets: 15
Bonus
- Free PDF Summary of the workshop.
- Voucher for 1h online Ukulele group lesson with Remote Strumming.
About Us
Remote Strumming Ltd is a UK based music tuition company incorporated in 2016, delivering group music lessons to adults and seniors that value their time and want to develop their musical skills using the best methods.
We provide a series of online guitar and ukulele group lessons for adults covering Strumming and Fingerpicking Patterns, Solo Fingerstyle, Blues and Jazz Improvisation. We also host a weekly online Strum Along Ukulele Club and a monthly Playing & Singing Ukulele Workshop for those that enjoy singing as much as they like playing the ukulele.
Please see our website for more information:
I hope you will find this workshop compelling and useful and it will open your appetite for more in depth music study and ukulele skills training.
Regards,
Codrut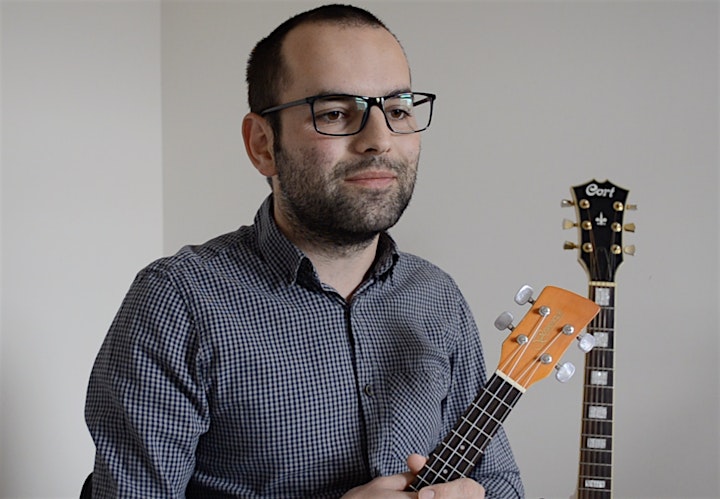 Date and Time
Location
Refund Policy
Contact the organiser to request a refund.
Eventbrite's fee is nonrefundable.