Sales Have Ended
Registrations are closed
Thank you for registering your details for the Tier 4 Premium Customer Service Team event in Roehampton. You should receive an email to the email address you provided containing your ticket for the event. This ticket contains a summary of all the details you provided. Should you wish to make any amendments to the details you have provided or have any queries or concerns please do not hesitate to contact us via the below inbox: premiumevents@homeoffice.gov.uk
Sales Have Ended
Registrations are closed
Thank you for registering your details for the Tier 4 Premium Customer Service Team event in Roehampton. You should receive an email to the email address you provided containing your ticket for the event. This ticket contains a summary of all the details you provided. Should you wish to make any amendments to the details you have provided or have any queries or concerns please do not hesitate to contact us via the below inbox: premiumevents@homeoffice.gov.uk
Description
We would like to invite two delegates from your institution to attend the event in Roehampton on 14th August 2019. Registration will begin at 09:00, with Licence Managers available to speak with you from 08:30. We expect the event to start at 09:30, aiming to conclude at 4:00pm. Refreshments and lunch will be provided.
The day will comprise of presentations and talks from our colleagues across the Home Office as well as a chance to liaise with your Licence Manager and to put your questions to the speakers during the Q&A session. Additionally there will be market stalls from various parts of the organisation to provide further information to delegates about specific topics.
A provisional time table for this year's event can be found below: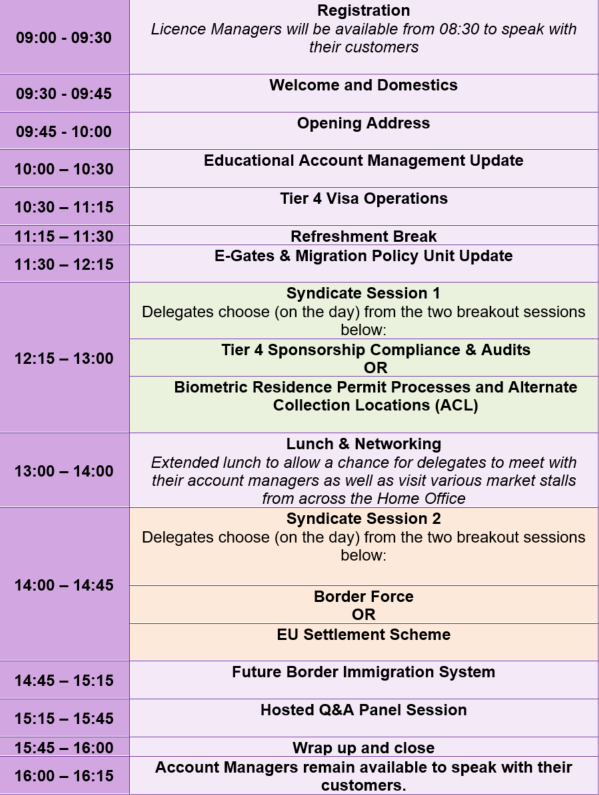 To register your institutions delegates for the event please click on the 'Attend Event' button or use the below link then click on the button marked register.
This will allow you to enter your delegates information and preferences as well as notifying us of any special access or dietary requirements.
Once this is completed you will receive an email containing your ticket to the event which will detail the information you have provided. Please bring this with you to the event to help us identify and register you.
Please note that this year we will not require you to specify which of the two syndicate sessions (at 12:15 and 14:00) each delegate will be attending. Since thre are only two options, each is in a large room which will cater for any split between the two sessions.
Please register your delegates before 2nd August to allow us enough time to collate all your responses.
If you need any help in registering, wish to make any amendments to the details you have provided or have any queries or concerns please contact us via the below inbox:
premiumevents@homeoffice.gov.uk
We look forward to seeing your there,

Kind regards,
Premium Customer Service Team