Uli Staiger 3d and Compositing Series : Cinema 4D Meets Photoshop!

Saturday, 7 December 2013 at 09:00

-

Sunday, 8 December 2013 at 17:00 (GMT)
Event Details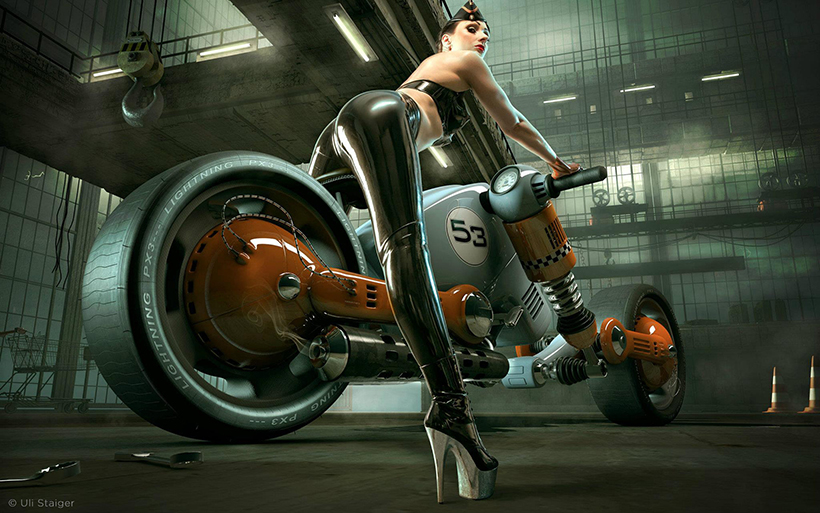 Train to Create and Wacom are thrilled to present Uli Staiger, 3d and Compositing Series: Cinema 4D Meets Photoshop! For our December event, Berlin-based photographer and digital artist Uli Staiger takes you through the ins and outs of Cinema 4D. He will reveal his methods and techniques that will enable participants to create stunning and unique 3D images. 
Limited to only 15 attendees
ONLY A FEW SPOTS LEFT
No previous knowledge of Cinema 4D is required. Some skills in Photoshop are helpful.
Founder of the studio, Die Licht Gestalten (To Create Light) in Berlin, Uli Staiger specialises in digital imaging and has developed a distinctive and extraordinary style that distinguishes him from other artists. Over the course of three days, Staiger will demonstrate how to incorporate Cinema 4D and photoshop, showing how the addition of 3D can enhance photographic work.  Celebrated for its intuitive interface and ease of use, Cinema 4D is an excellent tool for creating and enriching powerful digital art.  Over the three-day event, you will understand how to best utilize the software for your own work! 
The workshops on the 7th and 8th will take place in the conference room of a four-star hotel where both days you will be served a delicious restaurant lunch. Plenty of coffee, tea, and pastries will also be available while you work.
Uli Staiger, 3d and Compositing Series:  December 6th-8th, 2013 
 Cinema 4D Meets Photoshop!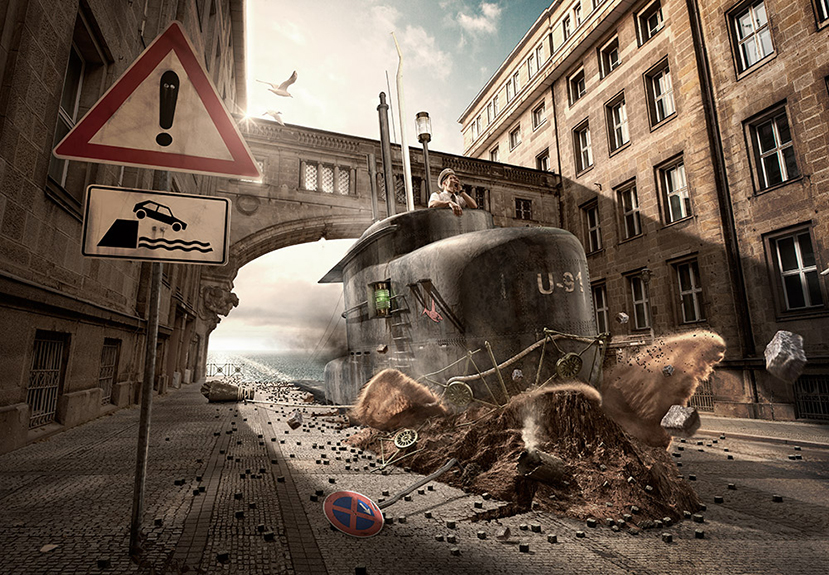 THE SEMINAR:  Friday, 6th of December, 2013
4:30 pm to 7:30 pm
Location to be announced. 

This seminar will cover:
Why and how adding 3D can enhance photographic work

The different kinds of 3D programs: Why choose Cinema 4D? 

How can you mix photography and 3D? 

Both simple and complex examples of how to incorporate 3D into a photograph.

Questions and answers throughout. 
DAY ONE OF WORKSHOP: Saturday, 7th of December, 2013
9:00 am – 5:00 pm
Locaton: Holiday Inn

The first day of the workshop will be a hands on exploration of how Cinema 4D "thinks," how to work with it and what you can create with it. After the first day you are all set to model and render simple objects like a cup, a chair and any other objects that you have in mind.  
This day will cover:
Intro to Cinema 4D 

How to use: Viewport and the managers 

The creation and movement of simple objects 

Working with paths and splines 

Modeling tools: create a cup! 

The surface: add color, transparency, reflection and structure to your objects! 

Lighting basics.

Lighting techniques. 

How to use a 3D camera 

How to achieve a realistic look: Rendering 
DAY TWO OF WORKSHOP: Sunday, 8th of December, 2013
9:00 am – 5:00 pm
Locaton: Holiday Inn
On the second day you will learn how to apply the knowledge you gained during day one. We will build a simple jet racer in Cinema 4D and bring it to life in a photoshop. All you need to know in order to realize a wild composition like this you learnt the day before. And if you have a different idea, that's no problem! We will be sure to support you with assistance, information, tips and tricks! 
15 min speed modeling session to create the jet racer 

Building the body 

Extrusion of the saddle 

Creating the handle bars and breaks 

Adding the exhaust 

Adaption of the 3D camera 

Adding color and reflection 

Lighting and rendering of the scene 

Finishing in photoshop 
Now you will be able to explore the software yourself. You know how it works and from here you will understand what is easy and what needs more practice and experience. Feel free to redesign your life! 
What you need:
Personal Laptop

Photoshop CS3+ installed (CS6 recommended but the workflow will work with every major version of Photoshop.)

Knowledge of layers, adjustment layers and masking
Please note: A Wacom tablet will be provided for your use during the workshops.
About the artist: Uli Staiger works with still life and landscape photography and specializes in the topic of digital composing. Once he completed his education, Staiger worked as a photographer's assistant in Barcelona, New York, and Berlin. In 1998, he earned his certificate as a photo technician and master of photography. At that time he founded the studio Die Licht Gestalten (To Create Light) in Berlin. Staiger spent many years working in professional studio photography and landscape photography, but it was the advent of digital imaging that enabled him to develop his own distinctive style that involves combining parts of many different images to form a new whole. 
http://www.dielichtgestalten.de/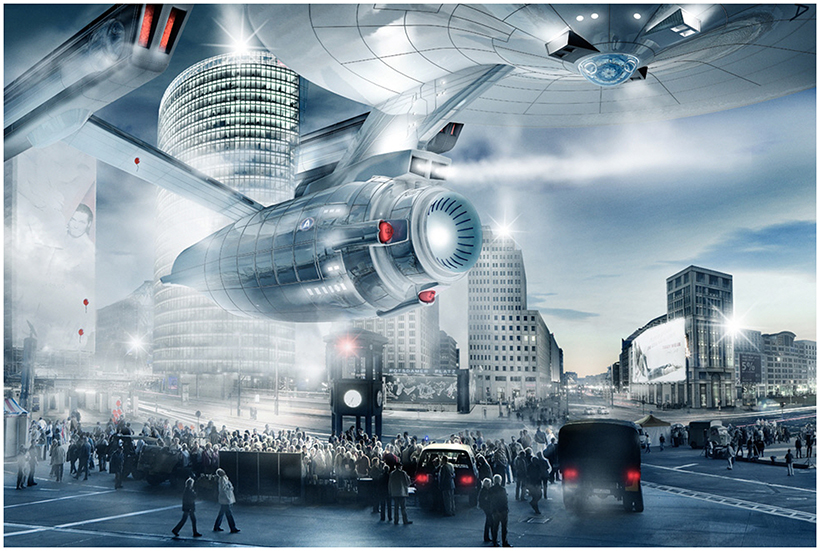 LOCATION: 
Holiday Inn London Commercial Road 261 – 267 Commercial Road, E1 2BT, London Located in the heart of East London.
You will be provided with: 
Hotel buffet lunch

Premium Hotel conference room

Tea, coffee, fruit, pastries, etc.
Do you have questions about Uli Staiger 3d and Compositing Series : Cinema 4D Meets Photoshop!?
Contact Train To Create
When & Where

Holiday Inn London Commercial Road
261 Commercial Rd
E1 2BT London
United Kingdom


Saturday, 7 December 2013 at 09:00

-

Sunday, 8 December 2013 at 17:00 (GMT)
Add to my calendar
Organiser
Train to Create is an invitation. A team of photography passionate people that facilitates visual creativity through workshops, conferences and networking.
Train to Create calls at London to connect all passengers interested in expressing their vision through photography, filmmaking and digital arts.
Welcome on board!
We believe in the importance of the creative impulse in human beings. Our mission is to provide opportunities to build on that impulse.
This is what we do:
We create an environment for the sharing of knowledge and expertise.
We maintain a network of lasting collaborations with international artists.
We organise a range of activities, from tailored laboratories to conferences, for the professional and amateur photographers, filmmakers and digital artist interested in developing their skills.
Our gatherings are opportunities for practical training within a professional environment. They are hosted by established artists and photography authors, each of them focusing on their particular area of expertise.
Whether you are a passionate amateur, a semi-professional or a professional photographer, you will have the opportunity to complete the process of a professional shooting, starting from the concept to the final retouching.
In an inspiring setting within London, your creativity will be encouraged by working with models and using the costumes, scenery and lighting equipment of a professional studio. It is a fun and inspiring atmosphere where all the participants are challenged to go through the barriers of their perceived limitations and freely experiment their ideas.