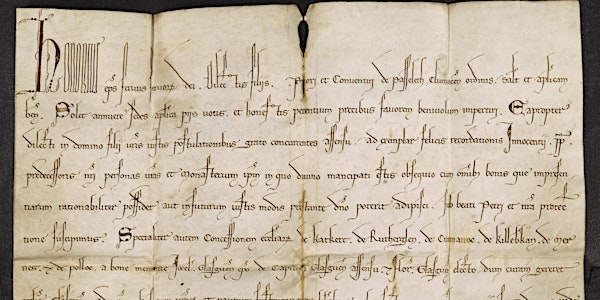 Ulster Scottish Connections: Marking 800 years of PRONI's oldest document
Event Information
Location
Public Record Office of Northern Ireland
2 Titanic Boulevard
Titanic Quarter
Belfast
BT3 9HQ
United Kingdom
Description
PRONI is delighted to invite you to an event to mark the 800th anniversary of PRONI's oldest document. The item is a Papal Bull issued by Pope Honorius III, dated 12 June 1219, and is one of four 13th century medieval documents within the Abercorn Papers. The Bull grants the priory and convent in Paisley to the churches of Katkert (Cathcart) in Scotland. It came into the possession of the Scottish House of Hamilton who came to Ireland in the 17th century. Speakers will explore the context of the document, the Abercorn Collection and the links with Paisley.
This event is in partnership with International Archives Day 2019, organised by International Council on Archives.
PRONI does not require you to print your ticket.
Date and time
Location
Public Record Office of Northern Ireland
2 Titanic Boulevard
Titanic Quarter
Belfast
BT3 9HQ
United Kingdom