Sales Have Ended
Ticket sales have ended
Ticket sales have now ended. Contact us about our up and coming sewing and fashion classes - we teach all levels from kids, students & adults. We also offer one to one tuition & our courses are 5 star rated! E mail us: info@maryrosemcgrath.com
Sales Have Ended
Ticket sales have ended
Ticket sales have now ended. Contact us about our up and coming sewing and fashion classes - we teach all levels from kids, students & adults. We also offer one to one tuition & our courses are 5 star rated! E mail us: info@maryrosemcgrath.com
Learn to sew from scratch in our 5 star rated Ultimate Beginner All Day Class! Taught by a professional fashion designer her Belfast studio.
About this event
ABSOLUTE BEGINNERS INTRODUCTION TO SEWING - LEARN-IN-A-DAY COURSE              
Would you love to learn how to use a sewing machine and start making your own clothes and accessories? Want to alter, or make gorgeous things for your home?
Join us for an action packed day of sewing and learning, this course is a best seller as we have taught hundreds to sew to date!
Our small classes help you succeed - as you will have as much one to one tuition as needed in class.
It is also ideal for busy people as 4 classes are in one day for speed of learning and convenience too. When the class is completed, you will leave confident, bursting with superb sewing knowlege and all set to expand on your new skills at home.
MaryRose, your tutor has 25 years experience in sewing and design. During her career, she has designed for many brands including Oasis, Debenhams, House of Fraser, M&S, Evans & Arcadia.
COURSE DETAILS:
A FULL DAY OF IN DEPTH SEWING TUITION IN A WORKING FASHION STUDIO:
1. Understand the sewing machine: 
The dials and knobs, what they are and what they do. Stitch sizes you need, thread tension explanation. How to thread a machine correctly, why all the bits matter. How to thread and insert the bobbin correctly. How to troubleshoot potential issues. How to clear jams. How to replace the machine needle.
2. Learn to sew like a pro: 
How to sew with milimetre precision. How to control the speed to gain confidence. How to use a backtack. Seam allowances and why they matter - how to sew variations in seam allowances.
3. Seam variations and different hemming techniques.
4. Your first projects, what you need to know: Learn how choose a  paper sewing pattern, understand the size charts, diagrams, symbols and other specifications.
5. How to cut fabric with accuracy - scissor cutting techniques and the rules of cutting.
6. How to pin properly.
6. How to measure the body properly and apply the measurements to sewing pattern choice.
7. Why you should make a mock- up sample as used in the fashion industry - your secret to a successful project.
8. Easy alterations: Be taught how to alter garments - the key starter techniques you need to know.
9. Fashion fabrics & fibres - what to buy & why. You will be supplied with a varied swatch pack to take home and use as references for future projects.
Who is the course suitable for?
This course is perfect for absolute beginners age 18+ who have never used a sewing machine before, do not know how to cut or pin fabrics, do not understand seam allowances and have never sewn before.
It is also a great refresher course for those who have not sewn for years and want to quickly regain their previous skills.
How old do you need to be to take part in class?
You must be age 18 or over to take part in class. Those age 12 to 17 can attend a booked class, provided they are accomanied by a parent / guardian who is also booked into the same class.
Do I need to bring a sewing machine with me?
No need - we supply all machines and equipment you will need, as everyone learns on the same machine in class. This ensures the smooth running of the course throughout the day.
How many students are in the class?
8 students maximum are in the class. We specifically keep classes small to ensure you get loads of one to one tuition with your tutor.
How much does the all day class cost?
The course cost is £120.
What do I need to bring with me?
A notebook and pen for taking notes.
Glasses for up close work and threading small needles.
Do I need to wear a mask in class?
Unless exempt, yes - you will be required to wear a mask in class.
Terms and conditions:
* Due to the niche nature of classes, we do not offer refunds or a new replacement class if the class booked has not been attended for any reason (including covid related issues / isolation / illness / other).
* Please ensure you can attend the date before placing a booking. Age 18+ to take part in class.
* We can transfer the booking to another name provided we are informed a minimum of 72 hours in advance of the class starting.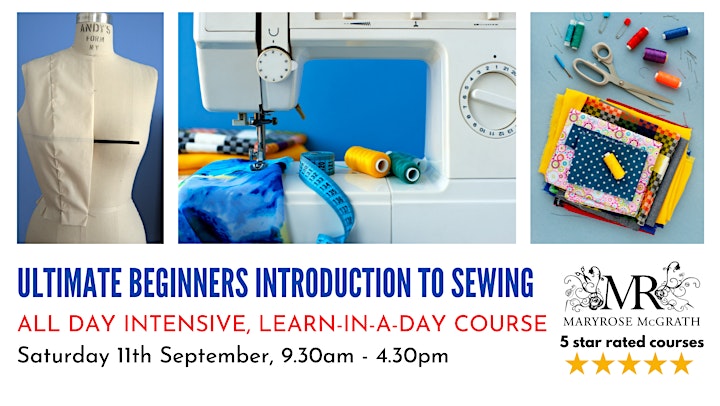 Organiser of ULTIMATE BEGINNERS INTRODUCTION TO SEWING: ALL DAY SATURDAY COURSE