In this event, I will give you the tools to make your players want to run through a brick wall for you in just 3 hours
About this event
Do you ever have players who turn up late to training?
Do you ever have kids who muck about in training?
Do ever feel that you are just not getting enough out of your team, you feel they could give just a little bit more?
Do you ever struggle with what to say at half time?
Do you have trouble with parents, those think they know it all, those who coach from the side, and those who are just a pain in the backside?
I feel your pain, I know exactly what you are going through, I have been there (30 years worth of experience).
On this 3 hour workshop we will cover all of these topics and many more, including, a whole section on motivation. You will learn how to deliver, inspirational team talks, when to deliver them, and how to prepare them.
There is a whole section on Visualisation, and how this can dramatically improve your players, and give you new ideas on how to prepare your team.
We also have a third section on Role Models and Influential figures, where we profile these people, and look to adapt some of their key strengths into our own game.
I guarantee you (no matter how much experience you have got), this workshop will open your mind to new ideas, and if implemented, these tricks, tips and techniques will have your players running through a brick wall for you in just 3 hours.
At the end of the 3 hours I promise that you will have the tools in place to be at least a 50% better manager.
This workshop is a must for all managers and coaches of grassroots football.
This workshop will change the way football is coached in this country, and if you don't join in, you will fall behind.
This workshop now includes my NEW Secret Step by Step guide to success.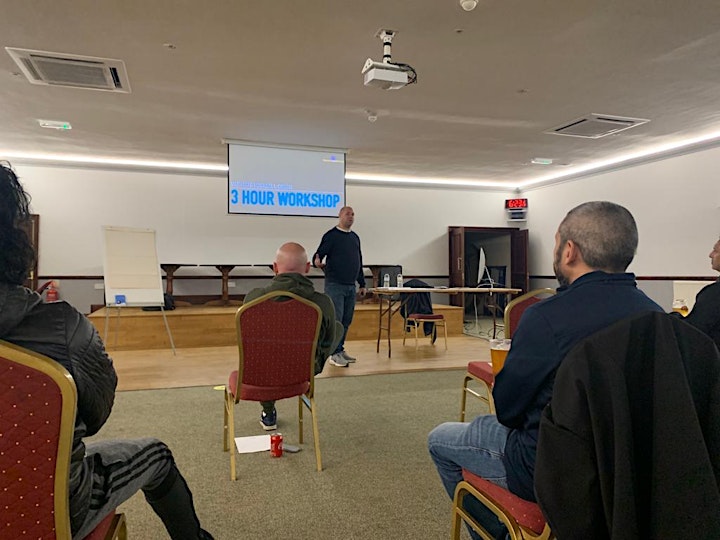 I left the 3 hour workshop re energised and re focussed on what my role is as a coach and made me consider the positive impact I can have on the team.
Matt McKenna U18's Coach
I've recently be privileged to attend a 3 Hour Workshop run By Gary Lazarus. I found the workshop extremely enjoyable and very Informative. Its Very inspirational and thought provoking in a great way. I would recommend this to a beginner and experienced coaches.
Heidi Shapiro
Powerful insight into the art of coaching and developing young minds to enhance performance on and off the pitch. The course is much needed in today's world where there is so much more to being a grassroots coach than just playing a game..Highly recommended for those who want to enhance the mindset of their players.
Suraj Bithal
I attended the Ultimate Football Coach course on the 21st of October 2020.
I really enjoyed the content, structure and delivery of the course. You can see how passionate Gary is about the topics we covered; his enthusiasm really came through in his delivery.
The content was really interesting and motivational; throughout the course I was able to think of many situations where I would be able to use it in reality - an example of this would be how important your energy and enthusiasm is, especially when it comes to coaching younger players.
During the course, it was very interesting to hear how Gary talked about his life experiences with stories of situations he has faced. It was valuable to hear of his struggles and how he had overcome them.
I would recommend this course for both managers of all levels and anyone aspiring to manage their first team.
Nick Rowe U8s football coach
Ultimate Football Coach Customer Product & Service
I understand the information supplied gives Ultimate Football Coach permission to communicate with me by mail, email, or phone to relay special offers, announcements and information I may find valuable in my business.
I further understand that the event I'm attending contains confidential copyrighted information that may not be copied or reproduced without written consent from Ultimate Football Coach.
We offer free content and promotional emails as a service to our customers. We will send communication periodically outlining special events, current products, specials and deals. However, you may 'opt-out' or unsubscribe by following any unsubscribe instructions in any email you receive from us. After doing so, if you have opted out of receiving all emails you will not receive future communications (as applicable), unless you open a new account, enter a contest, or otherwise subsequently sign up to receive communications again.
Terms of Booking
I understand all sales are considered final 14 days from date of payment being received. Should I request a refund on or before 14 days from the date of sale, I will supply written notice of said request (email is acceptable) to ultimatefootballcoach10@gmail.com. All cancellations and refunds must be authorised by Ultimate Football Coach.
Further Product Return Requirements and Conditions:
Written detailed reasons for cancellation should accompany my written notice of cancellation.
A copy of my sales receipt indicating payment type must accompany written notice of cancellation.
My name, address, telephone number and email address must be legible and contained within my written notice of cancellation.
Approval of Refund Request
I understand there will be no consideration or authorisation for a refund without meeting all cancellation requirements and conditions outlined above.
I understand upon approval of my refund request, any payments made under this written contract of sale will be refunded within 10 business days.
Ultimate Football Coach will not be responsible for honouring refunds that do not follow the process outlined above.
Whilst every effort is made to avoid changes to any live seminar or workshop, Ultimate Football Coach reserves the right to make changes to venues, speakers, or dates if necessary. In this case you will be notified no later than 30 days before the event. Ultimate Football Coach reserves the right to change venues of live events to anywhere within a 25 mile radius up to 4 weeks before the event itself. Ultimate Football Coach also reserves the right to change speakers.
Live Event Terms and Conditions
All advertised times are approximate and subject to change. It is your responsibility to make appropriate arrangements to ensure that you arrive at the venue in sufficient time in case the event starts early, and to ensure that you are able to stay until the close of the event, should you wish to, if it overruns. We will not be responsible to make any refund or meet the costs of any alternative travel arrangements or for any loss of enjoyment or other indirect loss as a result of an event not running to the precise advertised times.
Whilst every effort is made to ensure all events run as planned, in certain accentuating circumstances beyond our control, cancellation, postponement or alteration of the event may be necessary. This includes, but is not restricted to, natural disasters, acts of terrorism, and speaker illness. In the event of any cancellation, postponement or alteration you will not be entitled to a refund.
It is your responsibility to check that the event has not been cancelled, rescheduled or altered. Information on such matters will be made available on behalf of Ultimate Football Coach as soon as reasonably practicable on the Ultimate Football Coach website. Customers are advised that the website cannot always be updated immediately and that circumstances giving rise to cancellation, postponement or alteration can sometimes arise immediately prior to an event.
If you are unable to attend the event on date you have booked for, you may select an alternative date (if applicable) as long as you give notification more than 30 days before the event. Any alterations made less than 30 days before the selected event date will incur a charge of 20% of the original purchase price.
Organiser of Ultimate Football Coach 3 Hour Workshop
Gary has been involved in grassroots football for 30 years, managing and coaching players to get the best out of themselves. 
Gary has now turned his attentions to the managers and coaches at grassroots levels to teach them how to get the best out of their players.
Gary is a fully qualified NLP prractioner, Hypnotherapist, and Master Life Coach, he combines all of these tools with his expert knowlodge of the grassroots game to give you a new insight into handel even the most dificult of situations.
Gary focuses on you the coach first, so that you are in a better position to pass on what you have learnt.