Description
Introduction
Come down and see the youngest and brightest entrepreneurs showcase their products and services at the UK's #1 kids business fair! These young entrepreneurs DO WHAT THEY LOVE, make money from it and motivate and inspire their communities.
Hosted by ULTRA Education in partnership with The Granville and South Kilburn Trust we are very proud to present the next generation of business leaders and change makers.
Who should attend?
A inspiring day out for the whole family where you'll see entrepreneurs as young as 7 to 18 yrs old in business sectors such as:
Technology

Food

Fashion

YouTube

Books

Pets

Motivation

eCommerce

Music

And much more!
Who will be there?
At ULTRA Educations 4th kids business fair you'll find out more about how we teach entrepreneurship, meet our team of entrepreneur teachers and our founder The Ultrapreneur!
Want stall space for your young entrepreneur?
If you have a budding or experienced entrepreneur who is 7-18yrs old then please CLICK HERE to secure your stall space. LIMITED PLACES so be quick!
This is the simply the best young entrepreneur business fair in the UK and they'll have a great experience!
Did someone say PARTY?
Oh yes! Young entrepreneurs work hard and play hard! At 4pm we pack up the tables and let the kids and our visitors (that means you!) have fun until the early evening. There will be music, food on sale and entertainment as we enjoy the Summer vibe.
How to get there:
The Granville is a short walk from both Queens Park and Kilburn Park tube. Sunday parking is available on Carlton Vale but is subject to availability.
Got questions?
If you'd like to find out more or book a table for your young entrepreneur please email info@ultra.education or call 0800 211 8133
Share our flyer!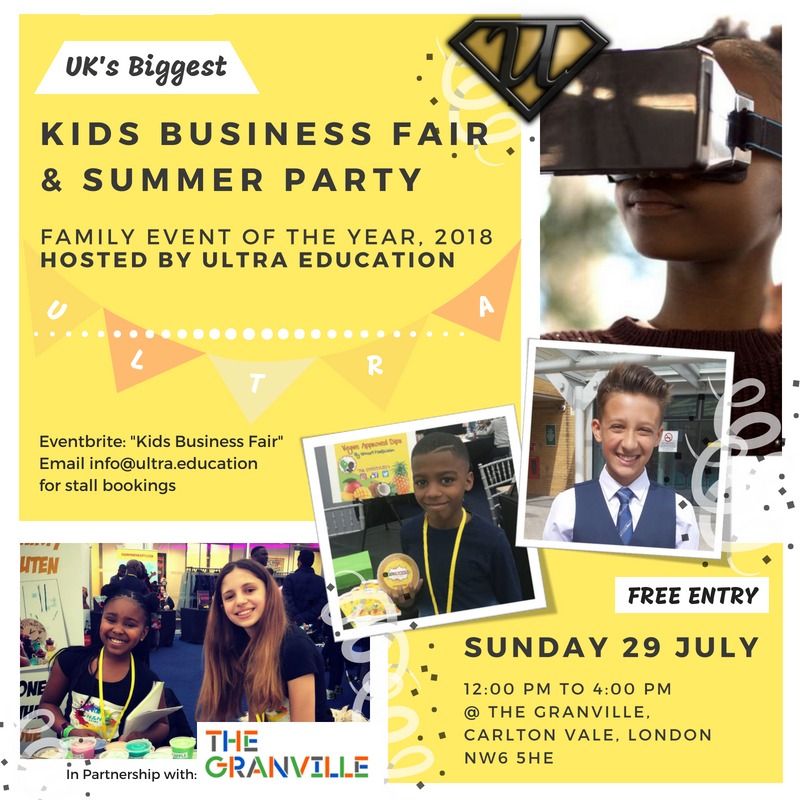 Show us some social media LOVE
Follow us on Facebook, Instagram and Twitter
In partnership with