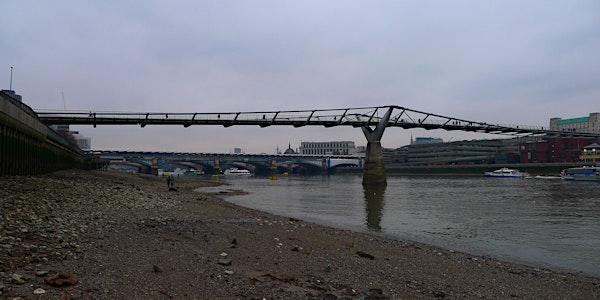 Un-Earthed Festival Soundwalks: Blackfriars Soundwalk with Peter Cusack
Location
Blackfriars Bridge
Blackfriars Bridge
London
United Kingdom
Un-Earthed Festival Soundwalks with Peter Cusack
About this event
CRiSAP Presents:
The Blackfriars Soundwalk
With Peter Cusack
20 May 2022, 11.30am or 3.30pm
Meeting at Blackfriars Bridge (at the mid-point on the east side pavement).
** Please only book a place if you can definitely attend, there are very limited placed available, thanks **
The Blackfriars Soundwalks with Peter Cusack explores the soundscapes and sonic places either side of the River Thames between Blackfriars and Southwark bridges. The route takes in the sounds of the river itself, those of the surrounding city, the Tate Modern area, the singing Millennium bridge, the bells of St Paul's Cathedral, clattering railways, buskers and the shear variety of sound to be heard at the time. It is a part of London full of historic alleys, hidden spaces, unexpected beaches under bridges (depending on tides) as well as busy traffic streets, pedestrian areas and the latest corporate architectural developments. The walk seeks to draw some of the complex audible connections between the river, the area's physical geography, its history and how people use and relate to the locality today.
Details
Durations: 1 hour
Start / End: Blackfriars bridge, meeting at the mid-point on the east side pavement.
About Peter Cusack
Peter Cusack is a field recordist, musician and researcher with a long interest in the sound environment. Projects include community arts, researches into sound and our sense of place and documentary recordings in areas of special sonic interest (Lake Baikal, Siberia). His project Sounds From Dangerous Places explores soundscapes at sites of major environmental damage - Chernobyl exclusion zone; Caspian oil fields; UK nuclear sites. This project continues and is currently researching the regeneration of the North Aral Sea, Kazakhstan. He describes the use of sound to investigate documentary issues as sonic journalism.
He initiated the Favourite Sound Project in London 1998. It aims to discover what people find positive about their everyday sound environment and has since been carried out in Beijing, Berlin, Manchester, Southend-on-Sea, Prague, Birmingham and Taranto. He co-produced the environmental sound program Vermilion Sounds for ResonanceFM, London and was a research fellow on the multidisciplinary 'Positive Soundscapes Project' 2006/9.
During 2011/12 he was a DAAD artist in residence in Berlin, where he worked on the collaborative project Berlin Sonic Spaces that explored the relationship between soundscape and city development.
He has had a long-term interest in improvised music, usually on guitar. CDs include Where is the Green Parrot? (ReR PC1); Your Favourite London Sounds (Resonance); A Host of Golden Daffodils (Platelunch) with Nic Collins; Operet (Rere121) with Viv Corringham; Day For Night (Paradigm) with Max Eastley; Baikal Ice (ReR PC2); Favourite Beijing Sounds (KwanYin 022); Sound from Dangerous Places (ReR PC3&4); Favourite Berlin Sounds (ReR PC5).
https://www.crisap.org/people/peter-cusack/
- - -
This event is part of:
Un-Earthed: A festival of listening and environment
A critical celebration of our relationships with the environments that we share with other people and other species
On May 19th Katrinem will be leading two soundwalks, full details and booking are available here.
https://www.crisap.org/research/projects/un-earthed-festival/