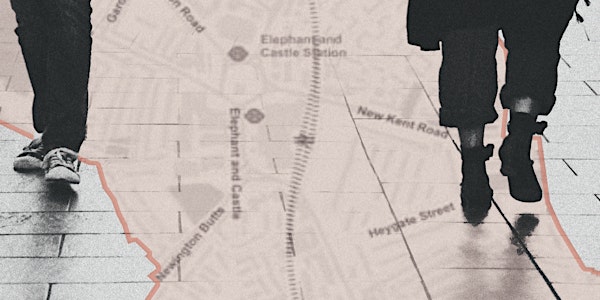 Un-Earthed Festival Soundwalks: Path of Awareness with Katrinem
Location
London College of Communication
CRiSAP
Elephant & Castle
SE1 6SB
United Kingdom
Un-Earthed Festival Soundwalks with Katrinem
About this event
CRiSAP Presents:
Path of Awareness _Elephant and Castle
With Katrinem
19 May 2022, 2pm or 7pm
Meeting at London College of Communication
Katrinem will lead two guided walking and listening performances along 'Path of Awareness_Elephant and Castle', at 2pm and repeated at 7pm.
** Please only book a place if you can definitely attend, there are very limited placed available, thanks **
'The format Path of Awareness explores an individual's personal experience of space through walking, particularly the interplay between sound event (footsteps) and surrounding architecture, influenced by the constantly changing interactions in the environment. 
A route will be created around the college of communication that offers numerous opportunities to engage with the city's dynamics. Walking itself, the sonic character of footwear, the walkability of this urban habitat, as well as its architectural and atmospheric qualities are all major features of this soundwalk. My soundful shoes become instruments, soloists in the space, creating a dialogue with the surroundings and situating us sonically in the places we walk.'
Details
Duration: 1 hour
Start / End: London College of Communication
Please travel as light as possible and wear soft soled shoes.
About katrinem
katrinem, born 1969 in Augsburg, lives and works in Linz (A) and Berlin (D).
The examination of sound and space has long been an integral part of katrinem's artistic work.
Comprehensive training in classical music (violin/viola) with constant performance practice (orchestra, ensemble) formed the broad early foundation that led to a specialization in spatial performances and new performance practices.
Gaits, walking rhythms and their imprints on public space were subject areas already being explored in her master's degree in composition.
For over 12 years, katrinem has been investigating in her artistic research the walkability of cities and its associated spatial perception.
Two aspects of her current artistic research and process are emphasized: Observing a site (Platzstudien) and personally experiencing space while walking (SchuhzuGehör_path of awareness). For the project GANGARTEN (go your gait! part_6), katrinem received a grant from Linz Export and with gaits in albufeira (go your gait! part_13) was prizewinner of the competition, Europe – a sound panorama.
katrinem is continually broadening, challenging and refining her individual approaches to the subject of sound and space through exchange and collaborations with artists and researchers. Of particular mention are:
Sam Auinger, Elena Biserna, Gernot Böhme, Elen Flügge, Annea Lockwood, Bruce Odland, Holger Schulze, Penelope Wehrli u.a.
https://www.katrinem.de
- - -
This event is part of:
Un-Earthed: A festival of listening and environment
A critical celebration of our relationships with the environments that we share with other people and other species
On May 20th Peter Cusack will be leading two soundwalks, full details and booking are available here.
https://www.crisap.org/research/projects/un-earthed-festival/