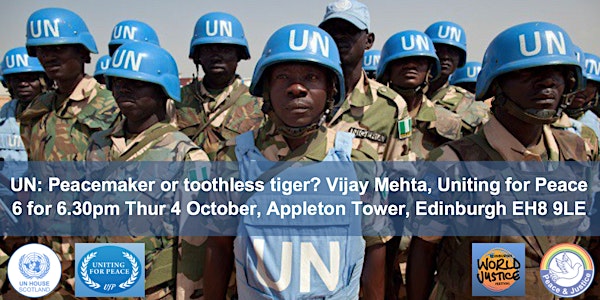 UN: Peacemaker or toothless tiger? 6for6.30pm Th 4 Oct Appleton Twr EH8 9LE
Location
Appleton Tower Lecture Theatre 5
University of Edinburgh
11 Crichton Street
Edinburgh
EH8 9LE
United Kingdom
Description
UN: Peacemaker or toothless tiger? Are you interested in how to reform the United Nations and bring about a more peaceful world?

Come and hear Vijay Mehta, Chair of Uniting for Peace

and Dr Claire Duncanson, Senior Lecturer in International Relations, University of Edinburgh

explore how the UN can become a relevant organisation fit to tackle 21st Century

challenges



6 for 6.30-8.30pm Thursday 4 October MOVED TO APPLETON TOWER Lecture Theatre 5, 11 Crichton Street, Edinburgh EH8 9LE. Free All welcome. Book via https://un4oct.eventbrite.co.uk
The United Nations was created after World War 2 to save succeeding generations from the scourge of war. Now, the UN is commonly viewed as a talking shop, a toothless tiger, needing revitalisation and urgent reforms.
While no world war has been fought since 1945, there has been continuous warfare - killing hundreds of millions including civilians - recently in Afghanistan, Iraq, Syria and Yemen; the UN has been incapable of bringing peace. Rising racism, xenophobia and far-right nationalism undermines the legitimacy of internationalist values and of the UN itself.
To be effective in the 21st century, the UN must contain big power rivalries, tackle gross human rights violations and challenge escalating inequality. Vijay will share his vision of the reforms needed to reboot the UN as an effective instrument for peace.

Vijay's book Peace Beyond Borders: How the EU brought peace to Europe and how exporting it would end conflicts around the world is available in print and ebook (published by New Internationalist - each £9.99) with a foreword by former president of Timor-Leste - Jose Ramos-Horta, Nobel Peace Laureate. Buy online from www.europeforpeace.org.uk or New Internationalist or locally from Lighthouse - Edinburgh's radical bookshop.

Timetable
6.00pm Registration in Appleton Tower Concourse
6.30pm Welcome and introductions
6.35pm Vijay Mehta, Chair of Uniting for Peace, speaks on UN: Peacemaker or toothless tiger?
7.00pm Dr Claire Duncanson, Senior Lecturer in International Relations, University of Edinburgh
7.20pm Rev Brian Cooper, UfP Interfaith Secretary, on UN & World Religions
7.30pm Facilitated discussion among all the participants and attendees
8.250pm Close