Beautiful Black people of the diaspora you are welcome to our non-linear UNAPOLOGETICALLY BLACK yoga for health & wellness in body & mind
About this Event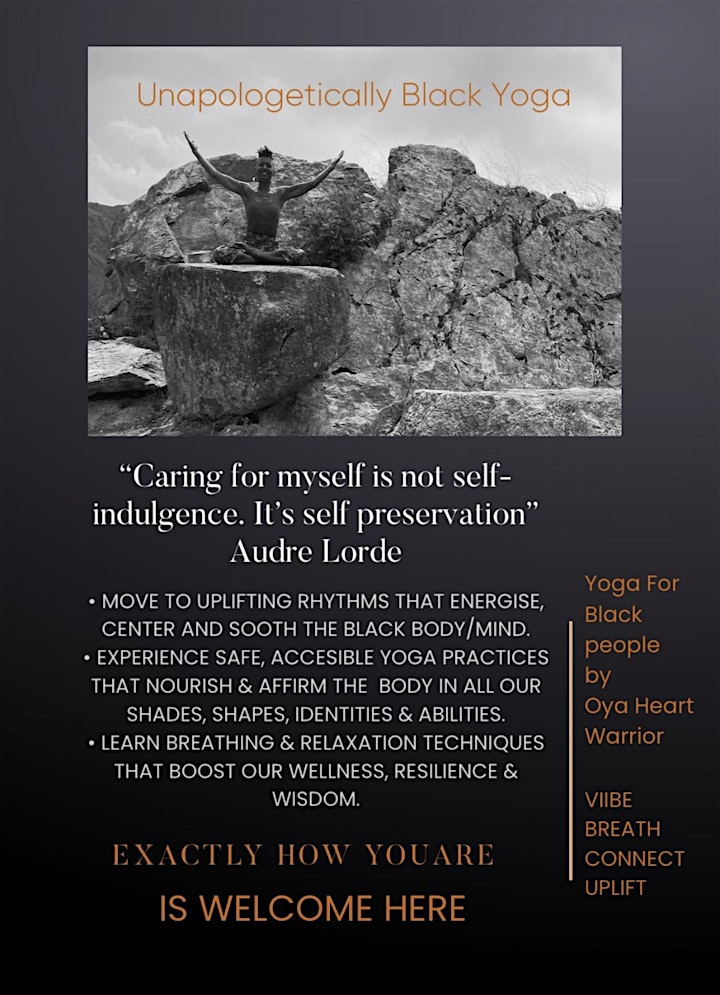 This non-linear, therapeutic, yoga is created for Black people and is original. It offers kind, therapeutic movement, restorative energy and relaxing meditation. We honour ourselves & each other in a positively, loving Black space.
This is very different from classical, and what I call performance yoga that sculpts you into pre-set, dry poses, perfected by the teacher, with no recognition of our vibe, our discomfort, or our ancestral vitality.
I've developed original sequences to re-connect to this felt vibration that support you to move with dignity and sovereignty over your body. (You won't find the traditional yoga sequences or approaches here).
This is a welcoming, space for Black people that visibly affirms Blackness and the intersectionality of our identities. I acknowledge this label to 'other' us Black, is not of our own making and we have a right to our unique complexity and rich humanity.
This practice is trauma informed, counteracting the drain of racial depersonalisation by bringing compassion and collective self acceptance to our practice.
You are encouraged to experience vitality with your movement and breath and also to slow down with restorative energy, meditation and mindfulness. I support you to find your optimal, kind range of motion that nurtures choice, wellbeing and honours our Black bodies. Our class offers comprehensive, safe exercises for joint mobility, muscle flexibility, physical fitness, organ nutrition, pain relief, heart health, mental calming, and self love for our Black body/mind.
I encourage you to take up space unapologetically, unlocking new breathing patterns and ways of moving to release stress, and to feel deeply connected to your resources.
We move mindfully and intuitively to uplifting rhythms that affirm Blackness in all of our complex diversity. There is also an educational element to learn about practices that support your mind/body which you can choose to take home to integrate into your everyday wellness habits. We celebrate the dynasty of the free, Black body in all its shades, shapes, identities and abilities.
I use a range of techniques including, therapeutic movement, breath work, sound, yoga nidra, guided meditation and dynamic body declarations, to bolster health and soothe stress. Most importantly, we come together in a positive, welcoming space for each other, which is felt really powerfully, even online. We give energy to the body and overdue permission for the mind/ body to rest and recuperate. I hope our Black positive space and quiet time for your mind, may leave you with a deep sense of peace, self acceptance and wellbeing.
Black people in all of our diverse complexity are warmly welcomed, valued and respected here.
The subtle and gross presence of epigenetic racial trauma in mind, body and spirit, is lovingly held here, without picking at our wounds. The designation of Black by no means make us the same. We did not create this designation for ourselves. Indeed having space to honour Blackness and the room to feel, explore and be yourself outside of this boxed perception is our birthright, which we are often denied by racism putting us into a homogeneous container to limit how we can be free to perceive ourselves.
You don't have to be flexible, look, or be a certain 'Black way', feel political, spiritual, or have done yoga before. All Black body identities and abilities are welcome here.
This yoga is accesible by being non standard. It's designed to bring the taste of joy and pride to being in our Black skin, whilst not being contained by it. You are always invited to do what feels good for you and to take away or add what feels right. Your wisdom and choice is priority here.
This is a unique expression of Yoga that I don't think you will find anywhere else.
NOTE - You are required to have your camera on and to be visible during the practice for our safe practice as a community & to bring a presence for each other. This group is a positive, loving space for Black people to feel acknowledged and encouraged to move off the yoga mat. We often fall into reflexive, stress survival patterns, that are unconsciously ignited when White bodies are present*. For this reason I have tried to create a Black yoga space for Black people.
This practice is offered freely to Black people. Thank you for all the gifts you give so freely to this world.
Oya Heart Warrior
* see My Grandmother's Hands - By Resmaa Manakem