Unblocking Innovation: Launching the HIF's Surface Water Drainage Challenge
Sales Have Ended
Registrations are closed
Thank you for registering and we look forward to seeing you at the launch!
Sales Have Ended
Registrations are closed
Thank you for registering and we look forward to seeing you at the launch!
Description
We're launching a new Challenge!
The Humanitarian Innovation Fund (HIF) are looking for proposals in response to the challenge of Surface Water Drainage in emergency humanitarian contexts and want to invite you to join a 1-day innovation workshop to be part of the solution.

Why this challenge?

Effective surface water drainage is critical in safeguarding the health and surroundings of refugees or internally displaced persons in emergencies. Stagnant water can support the development of vector-borne diseases such as malaria, cholera or dengue, as well as worm infections, hepatitis E, or typhoid. Poor surface water drainage can also pose accessibility problems, making it difficult for people to move around, but also for vehicles to make their way through the camp and provide essential water and sanitation services. Read more in our Problem Exploration Report.

We've identified two major areas in need of innovation in emergency response:

1. Tools and guidance to support field practitioners decide between existing drainage options.
2. Development of new or adaptation of existing products, components and processes that could improve drainage.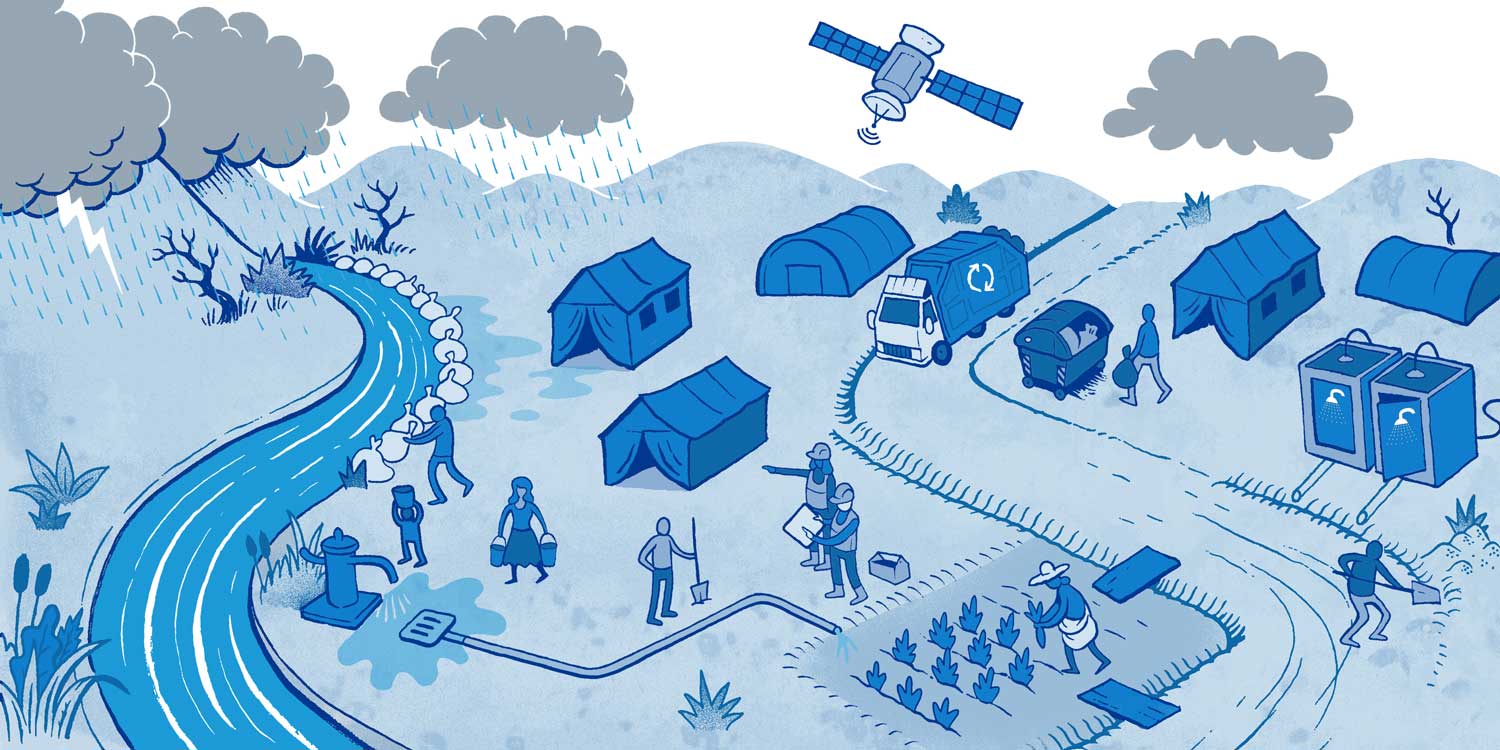 Who is this event for?
This launch is aimed at individuals or organisations interested in better understanding the challenges posed by surface water drainage in emergencies, and/or those wishing to develop solutions and put forward project proposals for this new HIF challenge.
What happens after the launch?
Following the event a call for proposals will be made. Submitted proposals will be evaluated carefully by the HIF's Technical Working Group and the strongest ones will be selected and funded. Depending on the nature and scale of the project, funding between £20k to £150k will be made available for each project to realise its ambitions.
About the launch
At the event, we'll be talking in more detail about the identified challenges, share insights from our research and field practitioners, and explore options for new developments. This will be an opportunity to find collaborators, hone your innovation skills and learn more about what projects we are looking to fund.
Agenda
9:00am – Registration and breakfast

9:30am – The first part of the day will be focused on building a clear and shared understanding of the problem that we want to solve. We will hear from humanitarian practitioners with first hand experience of drainage challenges in emergency settings. Speakers include Andy Bastable, Head of Water and Sanitation at OXFAM. The HIF will also explain parameters and criteria that will be used when selecting proposals.

1pm – Lunch break

2pm – The second part of the day will focus on generating and sharing diverse ideas to improve drainage, making new connections and exploring potential project concepts. Feedback will be provided by members of the HIF Technical Working Group who will later be involved in the assessment of submitted proposals.

4:30pm – The final session will be an opportunity for participants to find out more about the HIF's application process and next steps, and answer any remaining questions about the challenge.

5pm – Drinks & Networking
See you at the launch!

---
Have a question about the event? Drop us a line at ana@science-practice.com.