Uncertainty Quantification and Management Study Group with Industry
Description
Uncertainty Quantification and Management
Study Group with Industry.
Date: 17th – 20th July 2016
Time: 09:00 – 18:00
Location: University of Liverpool, Institute of Risk and Uncertainty
The Special Interest Group is delighted to open registrations to take part in the Uncertainty Quantification and Management Study Group with Industry. This Study Group will consist of an extended, interactive workshop over the course of THREE DAYS to work through some of the industrial challenges posed to the Special Interest Group.
Please note, we are only accepting registrations from research organisations
Background: For background on the group, see here http://tinyurl.com/UQMSIG or click on the report below: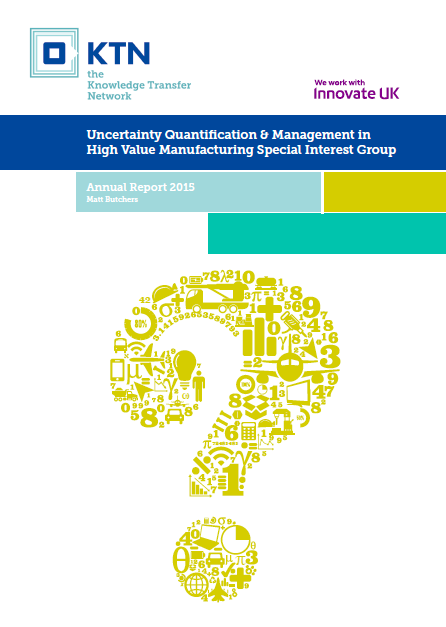 Format: Representatives from industry will present their problems on the first day. Mathematical scientists (staff and early stage researchers) work together with industrialists towards practical solutions / first steps in approaching new tools. The format of this activity borrows heavily from the highly successful European Study Group with Industry Study groups that have been running for decades.
The Study Group represents a vital part of the group's progress in identifying good practice, and state of the art approaches to deal with industry problems and identify where there are UK strengths and weaknesses.
Problems (Subject to change, and some TBC)
Problem descriptions can be found here

CLICK FOR PROBLEM USE CASE

CLICK FOR FINAL PROBLEM
CLICK FOR PROBLEM USE CASE

PROBLEM USE CASE COMING SOON
Why take part in the Study Group?
Academics
Get new problems.

Expand research portfolio.

Vital contact with industry.

Meeting other academics from different fields.
Industry
Get new solutions.

Access to highly qualified individuals.

Written report.
Costs to take part: The Study Group is free to take part in, accommodation and meals will be covered by the sponsoring parties (below). We do ask that travel costs should be sought from delegates own research groups.
Programme
Sunday 17th
Monday 18th
Tuesday 19th
Wednesday 20th
09:00
Registration
Group Work
Group Work
09:20
Introduction
09:35
Industry Problem Presentations
11:00
Tea and Coffee
11:30
Group Work
Review Session
Group Work
13:00
Lunch
14:00
Arrival
Group Work
Group Work
Group Work
15:30
Tea and Coffee
16:00
Group Work
Group Work
Presentations
18:00
Dinner
Conference Dinner
Finish
Organisers