Uncommon Yoga of Inconceivability - Weekend Course with Gen Kelsang Gomchen...
Description
Uncommon Yoga of Inconceivability
Weekend Course with Gen Kelsang Gomchen on Fri 21 - Sun 23 June 2019
Discover an extraordinary practice through which we can quickly reach Keajra Pure Land without abandoning our human body. (For those who have received Highest Yoga Tantra empowerments or take the commitment to do so.)
"May the door to Keajra Heaven be open to everyone,
So that all living beings may attain
The state of Heruka Father & Mother"
-Dedication Prayer from the Sadhana
During this course we will explore the profound transference of consciousness practice called the Uncommon Yoga of Inconcievability. This practice is unique to Vajrayogini Tantra and reveals a priceless instruction through which we can accomplish Keajra Pureland in this life without abandoning our human body.
The weekend will include a commentary and transmission of the practice with an opportunity to gain practical experience alongside other faithful practitioners.
PLEASE NOTE: This course is only for those who have received the Highest Yoga Tantra Empowerment of Heruka Body Mandala and Vajrayogini or have a strong wish to do so at the next available opportunity. Contact epc@kmclondon.org if you have any questions.
Also, even those who have received these empowerments are strongly advised to attend the introduction on the Friday night if they have not previously recieved the transmission of the practice.
Friday
7-8:30pm Introduction & Commentary
Saturday
10– 11:30am – Session 1
12 – 1pm – Session 2
2 – 3pm - Q & A
3:30 - 4:30pm – Session 3
Sunday
10 – 11:30am – Session 4
12 – 1pm – Session 5
ABOUT THE TEACHER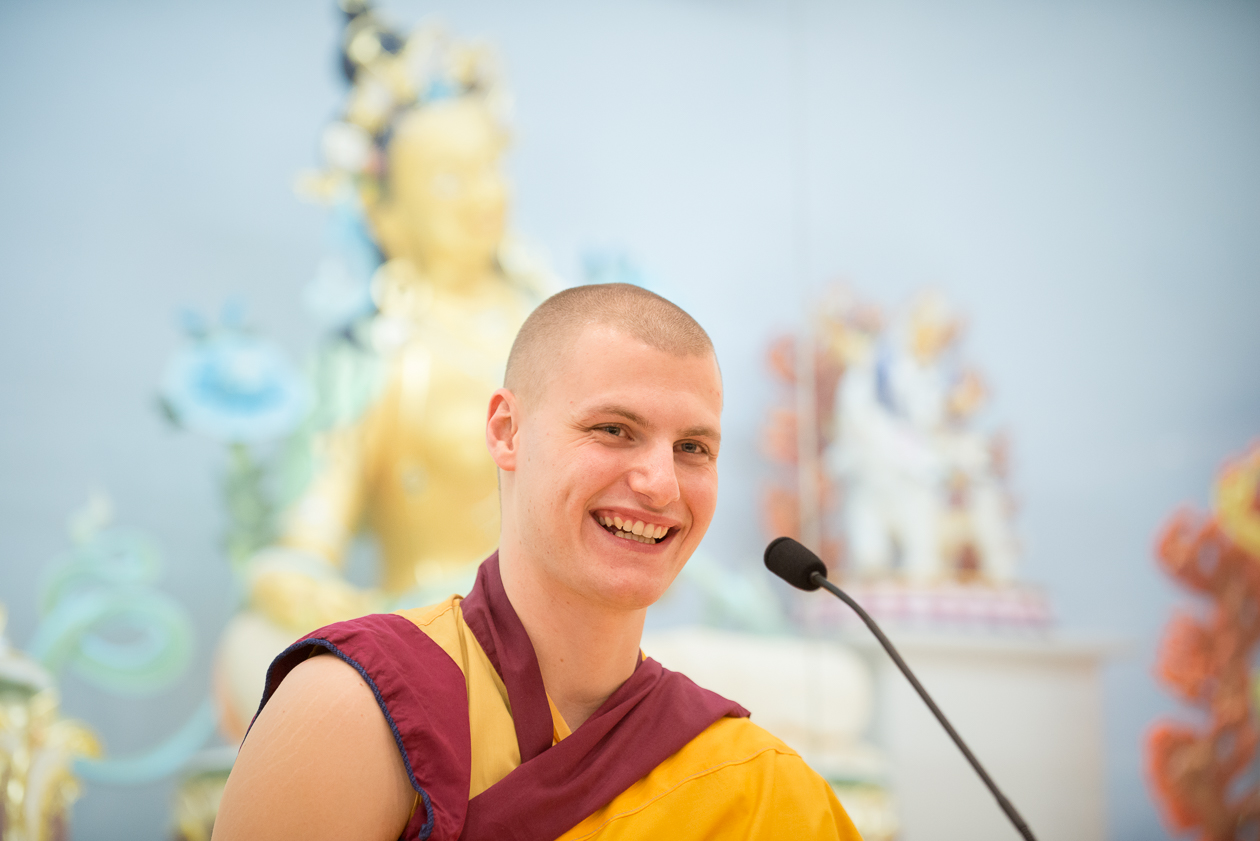 Gen Kelsang Gomchen is a qualified Kadampa practitioner and teacher of Kadampa Buddhism who has taught widely throughout the UK. He has received extensive teachings of both Sutra and Tantra including the empowerments of Highest Yoga Tantra from Venerable Geshe Kelsang Gyatso Rinpoche. He has completed an intensive Special Teacher Training Programme with our General Spiritual Director, Gen-la Kelsang Dekyong, and engaged sincerely in meditation retreats on both Sutra and Tantra.
Gen Gomchen is known for his ability to inspire others through sincere practice and to present the deeper meanings of Venerable-Geshe-la's books in a way that is practical and relevant to all who listen.
This course is suitable for everyone from complete beginners to experienced meditators.
What will each session consist of?
Each session will include a combination of teachings and guided meditations with an opportunity to ask questions at the end and socialize with like-minded people during the break time.

Do I need to bring anything or wear anything special?
No. All sessions will take place on chairs but there are optional cushions if you prefer to sit cross-legged. You don't need to bring anything else with you, but some people like to take notes during the session, so feel free to bring a paper and pen.

What if I'm new to this?
Everyone is welcome to participate in this course and will benefit both new and experienced people alike. Our reception staff will happily recommend some follow on reading or classes after the course if you are interested.
More questions?
Contact info@kmclondon.org and someone will happily help you with your query.